A bejeweled trip through Europe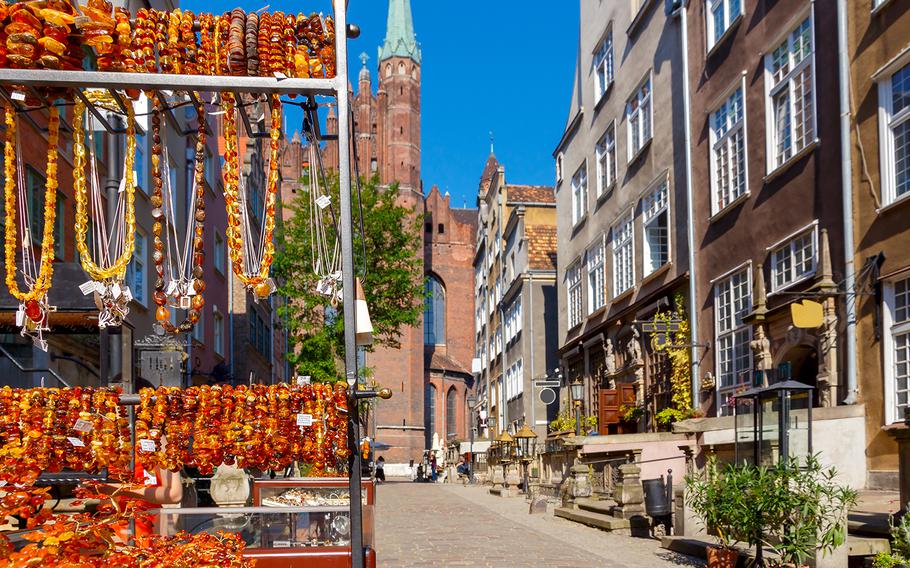 Conduct an internet search for the gems of Europe and you'll find enticing list of under-the radar destinations promising stunning nature and heaps of charm. But Europe has plenty of gems in the literal sense of the word too. Here we put under the microscope a trio of precious substances sure to put a sparkle in your eye once we are mobile again. Some of them you can even take home with you.
Garnets of the Czech RepublicVying for your attention amongst the Bohemian crystal, Prague's shop windows dazzle with jewelry set with small stones of a fiery or blood-red color. Czech garnets have been collected in river silt since ancient times and long used as decorative elements, particularly on religious artifacts. The use of garnets in jewelry became widespread sometime around 1700. In 1762, Empress Maria Teresa issued a ban on the export of Bohemian garnets from the country, thus protecting the local industry. The city of Turnov, 60 miles northeast of Prague, is a long-established cutting center. The only locality being mined for garnets at present is just outside the village of Podsedice, close to the German border. Garnets are traditionally gifted for second wedding anniversaries and are the birthstone for those born in January.
Although not prohibitively expensive, garnets are true eye-catchers: During her visit to Prague in 2009, Michelle Obama acquired a garnet brooch. Most garnet sold is set in silver or gold-plated metals, which helps to keep the price of even larger pieces in check. A much rarer, olive green garnet is the moldavite, referred to as vltavín in the Czech language.
Caution should be exercised in purchasing, as fakes are sold in abundance, and many tourists return home with pretty pieces of colored glass. Request a certificate of authenticity from the jeweler. The Granat Turnov Cooperative, with four locations in Prague and four in other cities, has a long tradition and a satisfied clientele. The Museum of Czech Garnet, located at Karlova 8 in Prague, presents the history of garnet mining, displays jewelry from past centuries, and serves as a retailer too. Online: mcgp.cz/en/bohemian-garnet-museum-prague
Baltic amberAmber, the fossilized resin of coniferous trees such as pines, has been appreciated for its warm yellow color since Neolithic times. Long a healing agent in folk medicine, amber necklaces for teething babies persist as a trend despite choking and strangulation risks. Paleontologists appreciate amber for how it trapped insects or bits of fur, feathers or even spider silk, preserving the remains of long-extinct creatures from ancient ecosystems. Color, clarity and size determine amber's worth, with inclusions considered prized features.
Baltic amber is estimated to be between 30 and 90 million years old and found in Denmark, Germany, Estonia, Latvia, Lithuania, Norway, Poland, Sweden and the Russian enclave of Kaliningrad. Europe's major amber producing countries today are Russia and Poland.
The price of amber pieces shot up dramatically about a decade ago, as Chinese consumers flocked to the product. Diminished demand as tastes changed and their economy cooled, as well as oversupply in the market, have led to a decrease in amber's price in recent years. An illegal amber trade in Ukraine has also damaged the market.
A popular place to shop for amber is the Polish port city of Gdansk, a frequent stop on cruise ship itineraries. Vendors will demonstrate how a genuine piece of amber floats in water, and are known to offer discounts to cash buyers. The city's St. Bridget's Church can boast of an amber altar, dedicated in December of 2017, as well as an amber monstrance containing the relics of the heart and blood of Pope St. John Paul II. A pretty 16th century building that once served as a prison houses Gdansk's amber museum. Online: poland.travel/en/museum/amber-museum-in-gdansk
Europe's largest museum dedicated to amber is the Palanga Amber Museum in Palanga, Lithuania. The stately building is home to a collection of 28,000 pieces, some 4,500 of which are on display. Shops in this coastal city well off the tourist track do a lively trade in the substance too. Online: tinyurl.com/yyc75w4r
Opals of SlovakiaFor centuries, the mountains of eastern Slovakia yielded opals highly prized for their stunning interplay of colors. The gems admired back in Roman times originated in Slovakia, and by the late 16th century, these precious stones had gained widespread popularity throughout Europe. Napoleon's wife, the Empress Josephine, wore a famous example known as the Burning of Troy or the Trojan Fire opal, so named for the brilliant red flash across its face. As Slovakia once made up part of the Hungarian empire, these stones are also known as Hungarian opals. Opals are a traditional gift for 24- or 34-year wedding anniversaries and those born in October.
The biggest Slovakian opal in the world, measuring over 5 inches long and weighing in at 1.3 pounds, was discovered in 1775. Known as Harlequin, it can nowadays be admired in the Museum of Natural History in Vienna, Austria.
The mines between the villages of Zlata Bana and Cervenica experienced their heyday between 1845 and 1880, when the Viennese jeweler Solomon Goldschmidt and his family were at the helm of operations. Following the cessation of mining operations in 1922, the opal mines in Cervenica slumbered until 2015, when they were reopened as a tourist destination. During non-COVID times, they welcome visitors daily. For underwater adventurers, a unique experience awaits – scuba diving in the frigid but beautiful waters of a flooded mine shaft. Online: slovenskeopalovebane.sk