USS Bonhomme Richard's tilting overnight forces firefighters off ship
by
Caitlin M. Kenney
July 16, 2020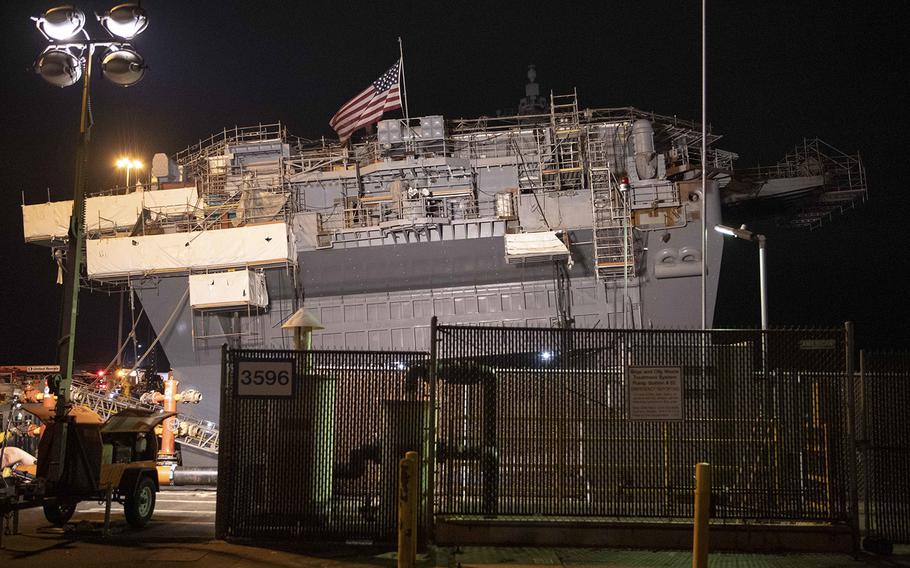 WASHINGTON — Firefighters temporarily evacuated the USS Bonhomme Richard overnight Wednesday as a safety precaution when excessive amounts of water used to fight the fire caused the ship's tilt to worsen, according to the Navy.
Crews were cleared from the ship and the pier at Naval Base San Diego, Calif., "due to an initial shift in the ship's list" as officials monitored the situation as the ship settled, according to a statement from Naval Surface Force U.S. Pacific Fleet late Wednesday.
The ship is tilting due to the amount of water being used inside the Bonhomme Richard and dropped on top of the ship from helicopters to extinguish the fires aboard.
Firefighters were off the ship for less than an hour before they were able to board again and continue their work, Lt. Cmdr. Patricia Kreuzberger, a spokeswoman for Naval Surface Force U.S. Pacific Fleet, said in a statement Thursday.
No other information was provided about the shift of the ship's tilt, known as listing.
As of Thursday, 40 sailors and 23 civilians have been treated for minor injuries including heat exhaustion and smoke inhalation while fighting the fire aboard the amphibious assault ship, according to the Navy.
Since the fire began Sunday morning, it spread throughout the ship from the cargo hold, where Navy officials believe it started. The fire has destroyed the ship's forward mast and damaged its superstructure, which sits on top of the ship and where the bridge is located, according to Rear Adm. Philip Sobeck, the commander of Expeditionary Strike Group 3, which includes the Bonhomme Richard.
The more than 400 firefighters have had to move compartment to compartment to contain the fire and are encountering fallen debris such as scaffolding from the maintenance work that was being done.
"There is no threat to the fuel tanks, which is well below any active fires or heat sources. The ship is stable, and the structure is safe," Sobeck said earlier this week.
Kenney.Caitlin@stripes.com Twitter: @caitlinmkenney