USNS Comfort now taking coronavirus patients in NYC, crew member tests positive
by
Rose L. Thayer
April 7, 2020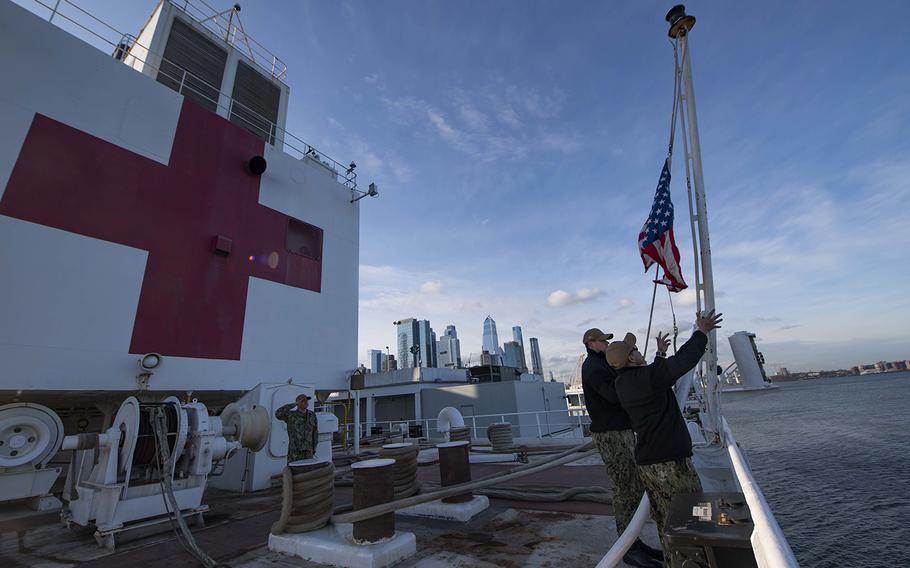 Stars and Stripes is making stories on the coronavirus pandemic available free of charge. See other free reports here. Sign up for our daily coronavirus newsletter here. Please support our journalism with a subscription.
With a confirmed case of coronavirus already among the crew members of the USNS Comfort, the hospital ship docked in New York City formally will begin accepting patients with the respiratory illness, U.S. Northern Command announced Tuesday.
The Comfort's transition to coronavirus care is to help relieve mounting pressure on the city's hospital system, according to a news release from Northern Command, which is taking the lead on the Defense Department's coronavirus operations in the United States.
"Effective immediately, USNS Comfort will accept trauma, emergency and urgent care patients without regard to their coronavirus status," Northern Command said.
The crew member who tested positive for the virus Monday is isolated from patients and other crew members, said Cmdr. Ashley Hockycko, spokeswoman for the U.S. Second Fleet.
"There is no impact to Comfort's mission, and this will not affect the ability for Comfort to receive patients," she said in a statement. "The ship is following protocols and taking every precaution to ensure the health and safety of all crewmembers and patients on board."
However, the ship will have to reduce its 1,000-patient capacity by half to accommodate highly contagious coronavirus case, New York Gov. Andrew Cuomo said Tuesday during a news conference.
"It's still a tremendous benefit," Cuomo said.
The governor said he called President Donald Trump on Monday to ask that the Comfort treat coronavirus patients because there aren't many non-virus patients. He said stay-at-home orders have reduced traffic accidents and crime.
While the number of hospitalizations has begun to plateau in the state, New York saw 731 people die from the virus Monday — higher than any other day, Cuomo said. In total, the state has more than 130,600 positive cases of coronavirus, the highest in the nation.
Across the U.S., positive cases were approaching 370,000 on Tuesday, according to the Johns Hopkins Coronavirus Resource Center.
Prior to Tuesday, the Comfort had received more than 41 patients, including several who later tested positive for coronavirus, Air Force Brig. Gen. Paul Friedrichs, the Pentagon's Joint Staff surgeon, said Monday during a news conference. Of those patients, 16 were in intensive care.
"Our commitment has been, if a patient comes to us, we would take care of them," he said.
By Tuesday morning, the number of patients aboard the Comfort rose to more than 50, Hockycko said.
Because the ship is geared toward trauma and emergency care, coronavirus patients who are stable are transferred to the Jacob K. Javits Convention Center in Manhattan. That facility has been transformed into a 2,500-bed hospital with more than 1,000 military medical personnel managing care.
thayer.rose@stripes.com Twitter: @Rose_Lori