Senate confirms Gilday as chief of naval operations
by
Caitlin M. Kenney
August 1, 2019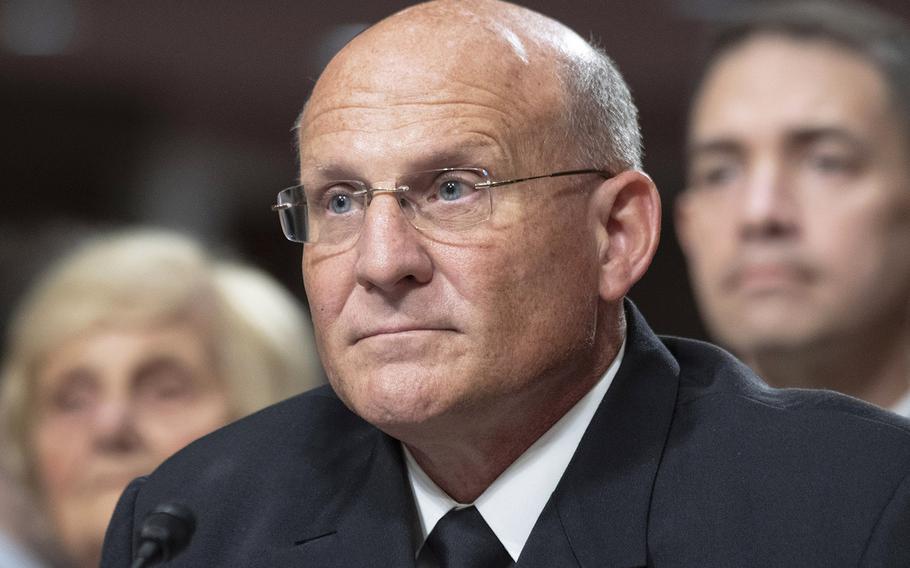 WASHINGTON — The Senate confirmed Vice Adm. Michael Gilday to be the next chief of naval operations in a voice vote Thursday, a few hours after the Senate Armed Services Committee approved his nomination.
The confirmation comes one day after his confirmation hearing as the Senate prepares to leave for its August recess.
Now that Gilday is confirmed to the Navy's most senior military leadership position, he also will be promoted to admiral. The position also makes him a member of the Joint Chiefs of Staff. Gilday has been serving as the director of the Joint Staff since March.
During his confirmation hearing before the Senate Armed Services Committee on Wednesday, Gilday was questioned about reported incidents of misconduct by Navy SEALs as well as problems with the new USS Gerald R. Ford aircraft carrier.
About the Navy SEAL incidents, Gilday said they are being investigated and he would deal with the root causes behind them and hold people accountable.
"If there is a problem with the culture of the community, [it will be] addressed very quickly and very firmly," he said.
Gilday also said he shared the same concern as Sen. James Inhofe, R-Okla., chairman of the committee, about equipment issues on the Ford, including the weapons elevators and the aircraft catapult system.
Adm. John Richardson, the current CNO, is scheduled to retire this summer after 37 years of service. He has been serving in that position since September 2015.
Gilday, a native of Lowell, Mass., is the son of a career sailor and has served as a surface warfare officer in the Navy since graduating from the U.S. Naval Academy in 1985, according to his service biography.
Gilday has served in Navy and joint senior leadership positions, including as the director of operations for NATO's Joint Force Command Lisbon and U.S. Cyber Command.
Kenney.Caitlin@stripes.com Twitter: @caitlinmkenney