Richard V. Spencer sworn in as new Navy secretary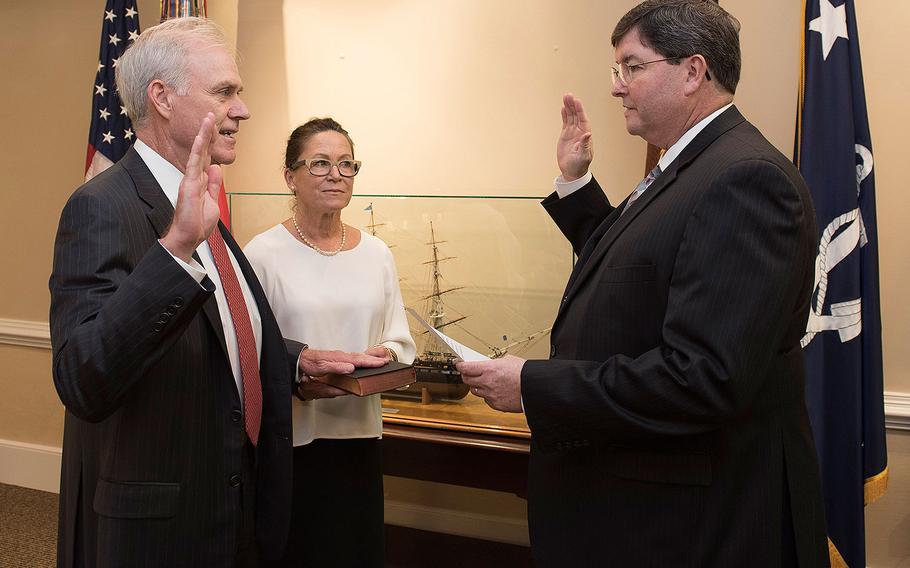 Richard V. Spencer was sworn in as the new Navy secretary in a ceremony at the Pentagon Thursday morning.
The Marine aviation veteran and businessman is the second service secretary to be sworn into office since President Donald Trump's inauguration in January.
Air Force Secretary Heather Wilson was sworn in as the service's top civilian in May. Two Army secretary nominees withdrew from consideration before Trump settled on Army veteran and Raytheon executive Mark Esper, who has yet to be confirmed.
Spencer was Trump's second nominee to lead the Navy and Marine Corps. His original choice, former Army reservist and financier Philip Bilden withdrew from consideration in February over financial concerns.
Spencer is a native of Connecticut and he graduated from Rollins College in 1976 with a bachelor's degree in economics, according to a Navy statement. He served in the Marine Corps as an H-46 pilot from graduation until 1981. He left active duty and entered the private finance sector.