New education strategy pushes Naval officers to pursue advanced degrees for career success
---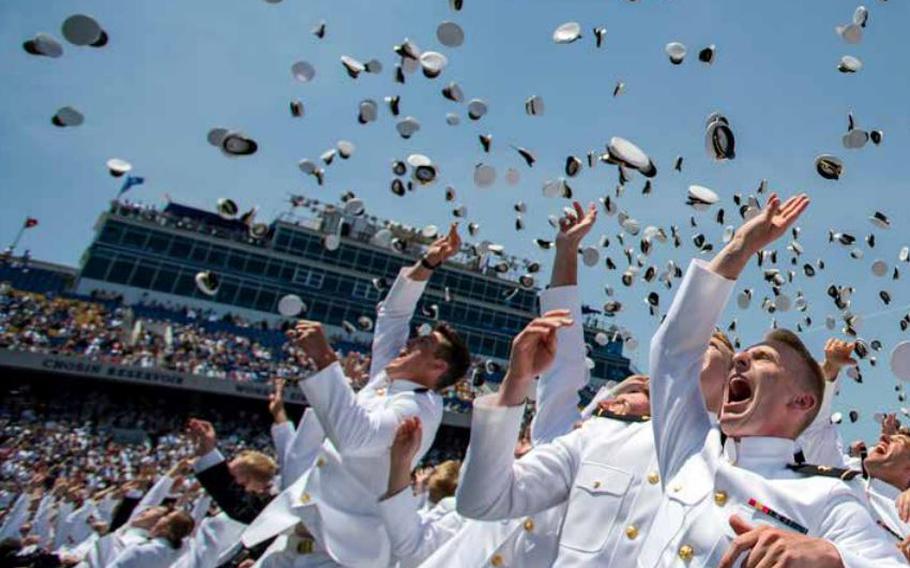 WASHINGTON — The Navy has a new strategy for officers that will make education more accessible and more critical to their success, a change from the sea service's historical emphasis on operational experience.
Naval officers can take online or in-residence programs now, but the Navy has not seen degrees as crucial to career success as time on a ship. With the new Naval Education for Seapower Strategy 2020, the Navy leadership says that they want more leaders to pursue their education.
"Learning is integral to every aspect of a naval leader's career," according to the strategy document, released Monday.
Only about 20% of flag officers have gone to the Naval War College, compared to almost 98% of flag officers who attended the school as the country headed into World War II, Acting Navy Secretary Thomas Modly said recently at the Brookings Institution, a Washington think tank. Currently, more Army officers go to the school than naval officers, he said.
"When I talk with junior and mid-career officers, they are very eager to pursue their educations," John Kroger, the Navy's first chief learning officer, told reporters Tuesday. "And they don't express to me worries about burnout; they express a concern that they may not have an opportunity to do as much educationally as they want."
The Marine Corps changed its culture regarding education about 25 years ago, Kroger said, and has made it normal for officers to pursue graduate education throughout their career. He wants to replicate that culture in the Navy.
Currently, only 2.9% of naval officers are taking in-residence programs and 6.7% are doing online or executive programs. In comparison, the Marine Corps, which has fewer personnel, has 4.7% of officers pursuing in residence programs and 11.9% in online or executive programs.
The challenge with pursuing degrees while in the Navy is that many sailors are deployed or in jobs that cannot spare personnel, such as F-35 pilots, Kroger said.
One way to overcome the challenge is through executive degree programs where the student can visit a nearby campus a few days a month and do the rest of the course work on their own.
"We're going to do a first pilot program of this starting in late 2020, early 2021," Kroger said. "And we're going to identify somewhere between 50 and 100 Navy officers who are in warfighting communities that have trouble getting away for traditional in-residence education. And we're going to get them enrolled in world class low residence programs."
Kroger says that top universities like Harvard and the University of Pennsylvania have similar executive programs that the Navy wants to use as models.
The Navy is also developing a "warfighting curriculum" of online courses for mid-career officers "focused directly on key capabilities that we need to produce well-rounded, very advanced, professional maritime fighters," Kroger said.
Officers will pick from about 20 courses.
The Navy is investing in sailors' intellectual growth so they can compete in a world where America's economic and technological advantages are narrowing against China, he said.
"I think this really represents a piece of the National Defense Strategy. The NDS really called out the importance of our human capital. It said that our military educational systems had grown stagnant. And this really represents a response to that," he said. "This is a core piece of the Navy and Marine Corps' warfighting strategy for the coming two decades."
The Navy has historically focused on an officer's operational experience when it comes to promotions.
"It's not that we're shifting away from operational capabilities, which is the core of what we do," he said. "But we're also going to make sure that people have time within their career paths to pursue a graduate education for the officers and reward them for doing so."
Officers will also be evaluated on how well they encourage educational opportunities for their sailors.
---
---
---
---