Navy scraps E-4 advancement exams this cycle to maintain social distancing
by
Joshua Karsten
April 28, 2020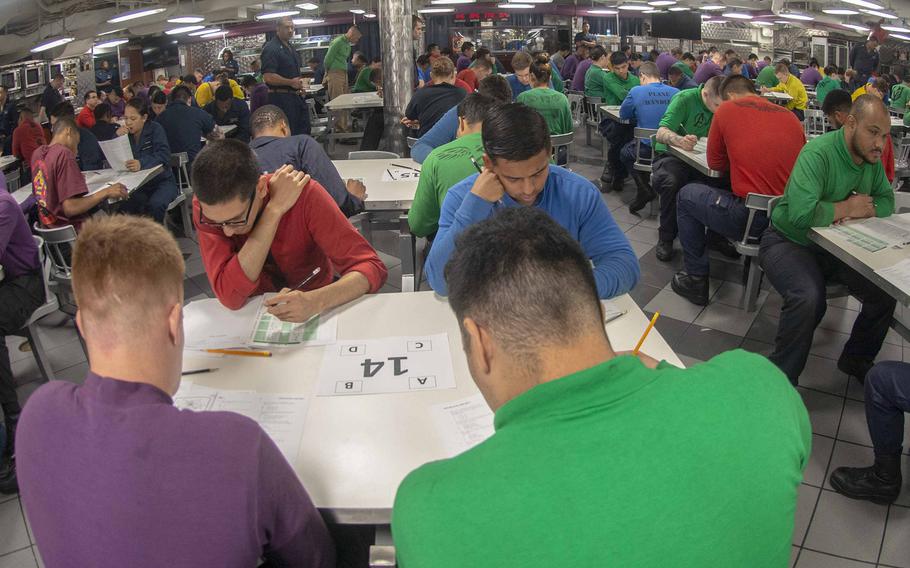 Stars and Stripes is making stories on the coronavirus pandemic available free of charge. See other free reports here. Sign up for our daily coronavirus newsletter here. Please support our journalism with a subscription.
Sailors looking to tack on their petty officer crows this cycle won't be taking an advancement test, following a decision by the Navy to scrap the exams as a coronavirus prevention measure.
The Navy will instead rely on an advancement scoring formula that more heavily weighs job performance, a service statement said.
The exam is normally conducted in large groups aboard ships or in packed gymnasiums, where social distancing can't be enforced, the statement said Monday.
About 20,000 sailors are eligible for advancement from E-3 to E-4, the Navy said.
The Navy "has determined that it is in the best interest and safety of our Sailors to not administer the E-4 exam," senior Navy personnel official Vice Adm. John B. Nowell said in the statement.
The formula for this cycle will use a "rank-order" method dominated by sailors' performance mark average, which averages rank-based annual evaluation scores and counts for 72% of the calculation. Other factors include awards, previous pass-but-not-advance points, time in rank and education. The Navy also directed sailors to ensure their enlisted advancement worksheets are accurate and up to date — 35,000 of them are not, the statement said.
About 65,000 exams for advancement to pay grades E-5 and E-6 were conducted prior to coronavirus prevention measures being put in effect. Another 5,000 exams will be conducted in May in small enough groups to maintain social distancing measures, the statement said.
"Our primary goal continues to be keeping all Sailors safe and healthy, while ensuring every advancement candidate has an equal and fair opportunity to advance despite the challenges of the current COVID-19 environment," Nowell said in the statement.
karsten.joshua@stripes.com Twitter: @joshua_karsten