Navy says more than 1,150 Roosevelt sailors have tested positive for virus; probe is launched into outbreak
---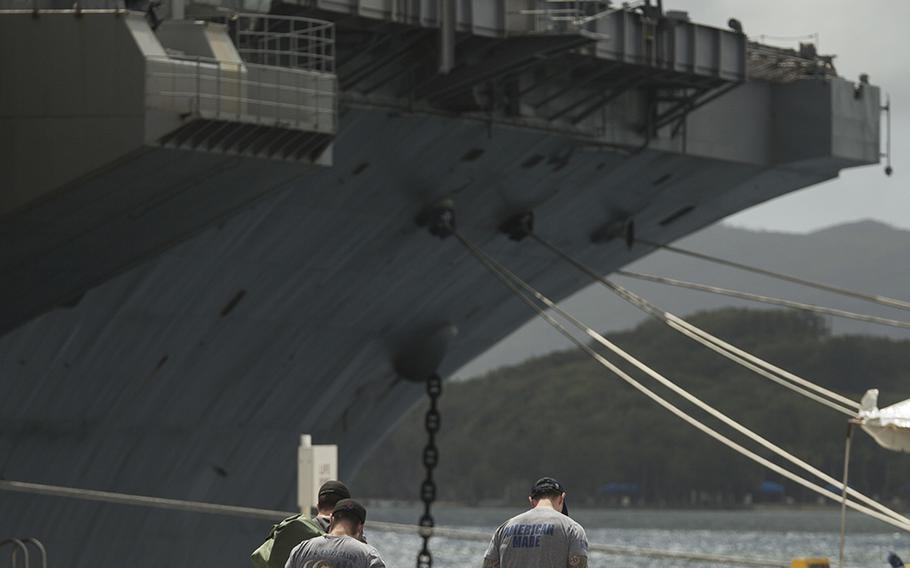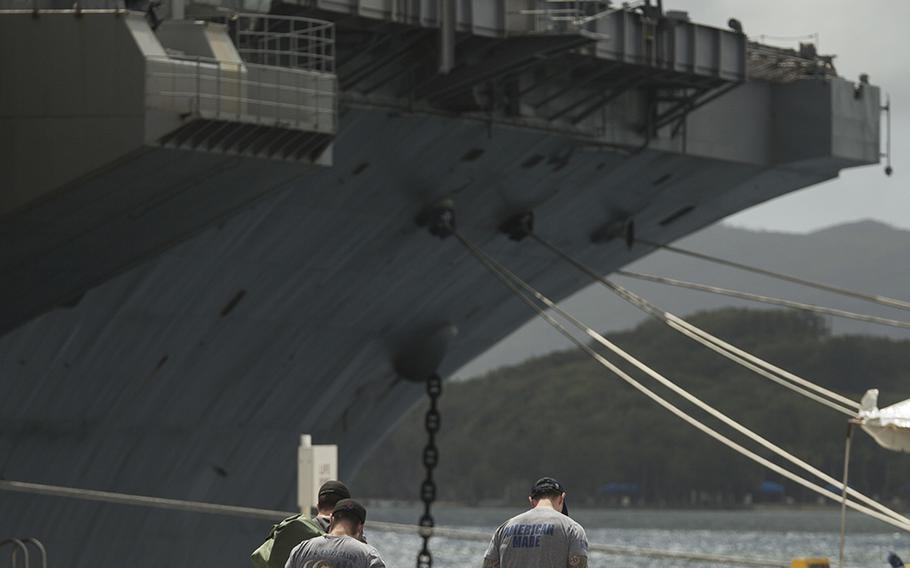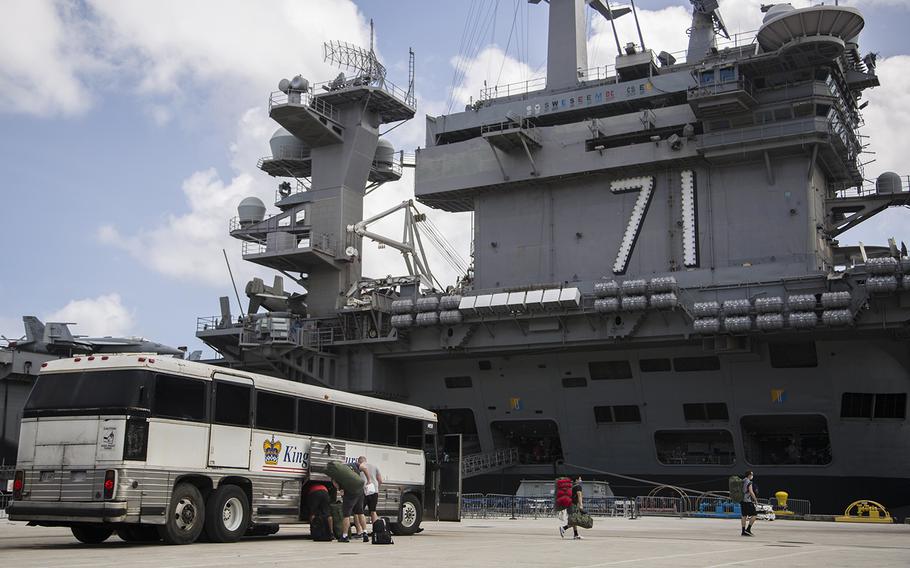 Stars and Stripes is making stories on the coronavirus pandemic available free of charge. See other free reports here. Sign up for our daily coronavirus newsletter here. Please support our journalism with a subscription.
YOKOSUKA NAVAL BASE, Japan — More than a fourth of the 4,000 crewmembers assigned to the aircraft carrier USS Theodore Roosevelt have tested positive for the coronavirus, according to the Navy's latest update Thursday.
After more than a month of isolating sailors, sanitizing the ship and testing every crew member, there are 1,102 active cases of coronavirus among Roosevelt sailors, three of whom are hospitalized at U.S. Naval Hospital Guam, the Navy said. An additional 53 sailors have recovered and one has died.
The numbers have been increasing as previously negative sailors test positive for coronavirus in "exit tests" before leaving isolation despite not having symptoms, the service said.
The aircraft carrier was patrolling the Western Pacific when it diverted to Guam on March 26 after several of its sailors tested positive.
The prevalence of asymptomatic sailors with coronavirus has emphasized the importance of testing, Task Force 70 spokesman Lt. Cmdr. Sean Brophy said in an email Tuesday.
An undisclosed number of sailors assigned to the carrier USS Ronald Reagan showed no coronavirus symptoms but tested positive in pre-boarding tests. The Reagan, in port at Yokosuka, is preparing for a deployment.
Brophy said catching the positive cases among sailors who otherwise appear healthy "highlights how our measures are working as they were designed to."
As of Thursday, the Navy reported 1,822 cases of coronavirus servicewide, according to a Defense Department daily update. That means about two-thirds of all coronavirus cases among active-duty sailors are associated with the Roosevelt.
Officials began moving sailors who have tested negative three times for the virus back onto the carrier Wednesday, according to a statement this week from the Joint Region Marianas Public Affairs Office in Guam.
On Friday, chief of naval operations Adm. Mike Gilday directed vice chief of naval operations Adm. Robert Burke to "conduct a follow-on command investigation into the events surrounding the [coronavirus] outbreak aboard USS Theodore Roosevelt," Gilday spokesman Cmdr. Nate Christensen said in a statement Friday.
He said the investigation will expand on a recently completed preliminary inquiry prompted by the removal of the Roosevelt's commanding officer after a letter he sent pleading for additional help for his ship was leaked to the public.
The investigation, due to Gilday by May 27, will "provide a more robust documentation of events and give a fuller consideration of the circumstances surrounding the matter," Christensen said.
In San Diego, the guided-missile destroyer USS Kidd continues to battle an outbreak among its sailors. There were 78 active cases among its crewmembers as of Thursday, according to the Navy. None were hospitalized.
Kidd sailors have disembarked and will be required to spend "at least 14 days in quarantine or isolation and achieve two negative tests before returning to the ship," the Navy said in its update.
Because all sailors on the Roosevelt and Kidd have been tested, the Navy will no longer provide daily tallies, instead reporting only "significant changes on these vessels and new cases on other deployed vessels," according to its Thursday update.
---
---
---
---