Navy's newest destroyer is named for a former top enlisted man and Pearl Harbor survivor
by
Christian Lopez
September 28, 2020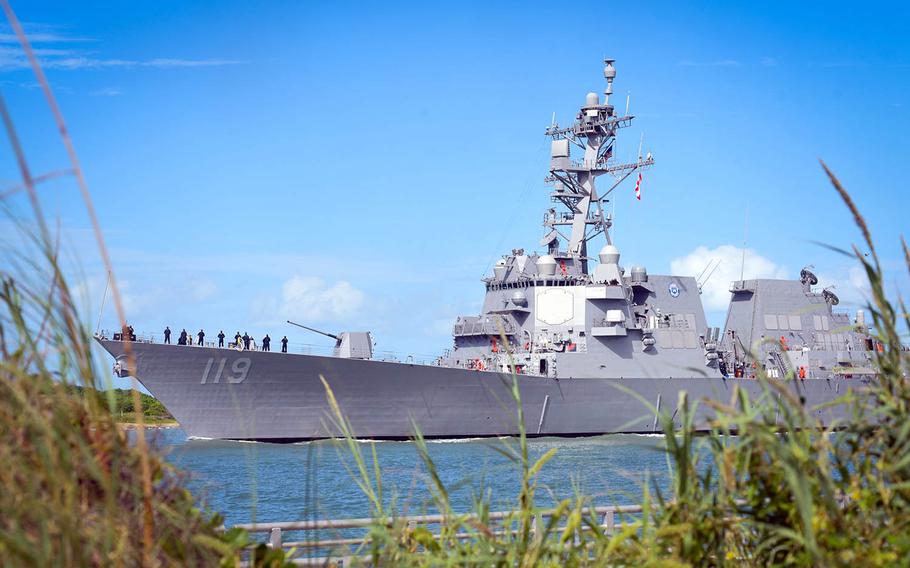 The USS Delbert D. Black, the Navy's newest destroyer, entered service Saturday, more than a year after being damaged in a shipyard collision.
The Black, the 68th Arleigh-Burke class destroyer, is the first destroyer commissioned by the Navy this year. The ceremony at Port Canaveral, Fla., was kept small and private, like many other Navy ceremonies this year, due to coronavirus restrictions.
The destroyer is named for former Master Chief Petty Officer of the Navy Delbert D. Black, the first to hold that rank, and is equipped with the Aegis air-and-missile defense system. It's the 32nd vessel of its class built by Ingalls Shipbuilding, according to a company press release.
Next stop for the Black is its new homeport, just up the coast at Mayport Naval Station, Jacksonville, Fla.
Ima Black, Master Chief Black's widow and a Navy veteran, gave the first order to "man our ship and bring her to life," as sponsor.
The principal speaker for the ceremony was Master Chief Petty Officer of the Navy Russell Smith. Secretary of the Navy Kenneth J. Braithwaite also spoke.
"Commissioning a ship after the first Master Chief Petty Officer of the Navy is an honor without equal," Braithwaite said during the ceremony, according to the Navy. "The Navy has always been and will always be indelibly influenced by the leadership of our senior enlisted sailors epitomized by Delbert Black."
In March 2019, the Delbert D. Black had completed its acceptance trials from Ingalls' shipyard in Pascagoula, Miss., when a heavy-lift vessel, the M/V Hawk, delivering a floating dry dock, struck a testing barge alongside it, according to USNI News.
The barge in turn collided with and damaged the destroyer, which took on water, according to a statement from Huntington Ingalls Industries, the shipbuilders' parent company.
The collision delayed the destroyer's entry into service by nearly a year. The warship had been launched in 2017.
The 510-foot-long Black will be homeported alongside the destroyers USS Farragut, USS Lassen, USS The Sullivans, USS Thomas Hudner and USS Paul Ignatius.
Prior to the Black, the Paul Ignatius, commissioned in July 2019, most recently entered the Navy inventory. Ingalls has four more destroyers under construction and in June won a $936 million contract for a fifth, according to an Ingalls news release.
Black was a World War II veteran who managed to survive the attack on Pearl Harbor and eventually reached the highest possible enlisted rank.
Black defined the senior enlisted adviser position, established in the Navy in 1967, during the Vietnam War. He retired in 1971 after 30 years of naval service and died March 5, 2000. He is buried at Arlington National Cemetery, Va., according to Naval History and Heritage Command.
"Master Chief Black fought for increased sea-pay, family support programs, expanded uniform guidance and a host of other issues that improved the quality of life of not only junior enlisted, but all sailors and officers," Braithwaite said, according to the Navy. "By making life better for sailors, he made our Navy stronger for us all."
lopez.christian@stripes.com Twitter: CLopez_Stripes