Navy's big Triton drone completes ninth test flight
---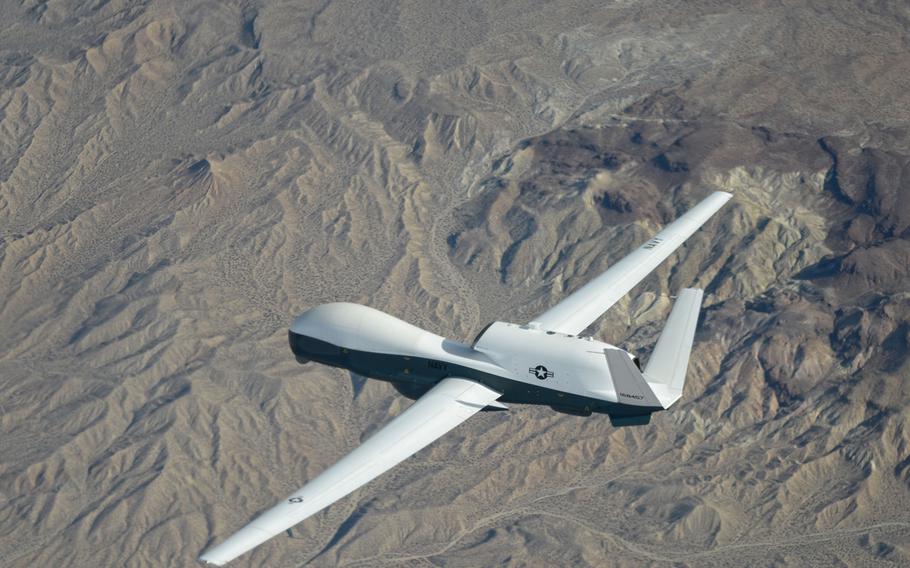 The U.S. Navy's next big drone aircraft finished its ninth test flight recently, bringing it to the halfway point of "envelope expansion," according to its American manufacturer.
The dimensions of the unmanned Triton drone (MQ-4C) are almost identical to the Global Hawk—defense manufacturer Northrop Grumman Corp.'s other big drone used by the U.S. Air Force—but it has specific enhancements meant to make it better at tracking ships at sea.
Besides upgrades to the frame and de-icing mechanisms, the new Triton drone will be able to gather 360-degree views at a radius of over 2,000 nautical miles, all from a very high altitude.
During the 9.4-hour flight test reported last week the Triton reached an altitude of 50,000 feet and handled simulated turbulence after taking off from a facility in Palmdale, Calif.
Design-wise the Triton and Global Hawk look very similar and both also have a 130-foot wingspan, almost as long as the C-130 Hercules.
"Completion of envelope expansion will allow the test team to prepare for installation and further testing of Triton's surveillance sensors," said Mike Mackey, Northrop Grumman's Triton program director, in a release.
When completed, the Triton will be used in conjunction with the Navy's P-8A Poseidon reconnaissance plane, which specializes in submarine detection. The Navy plans to buy 68 of the MQ-4C Tritons, according to the Northrop Grumman release.
Other recent developments in U.S. Navy drone technology:
Launched the XFC unmanned aircraft from a submerged submarineFirst flight for MQ-8C Fire Scout drone helicopterX-47B drone makes landing on aircraft carrier decksuzuki.toshio@stripes.com Twitter: @ToshJohn
---
---
---
---