Navy goes mobile-first, offering more incentives to attract and keep sailors
---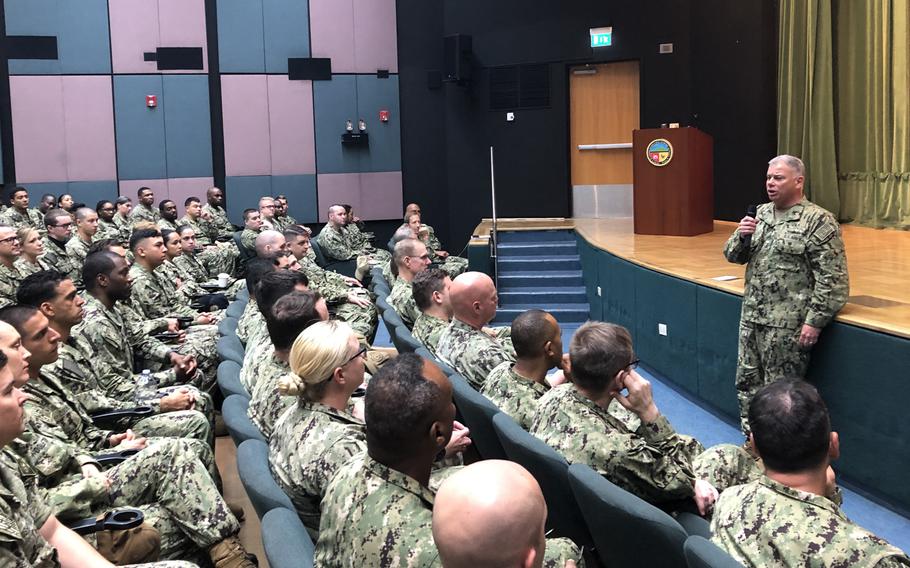 NAPLES, Italy — The Navy is going more digital and making it easier for sailors to access information on their phones as it seeks to attract new recruits and retain sailors, the service's top human resources officer said Thursday.
"The way we're configured now doesn't support how we need to manage talent in the 21st century for high-end warfare," Vice Adm. John Nowell, chief of naval personnel, told sailors during an all-hands call at the Navy's base in Naples, Italy.
"We're driving most everything to mobile devices, where most of you live in your personal lives," Nowell said.
The changes are part of the "Sailor 2025" program, which is trumpeted as changing how the Navy recruits, promotes and delivers information to sailors.
Several phone apps and websites were developed in the past year, and databases have been consolidated on a digital cloud to make them easier for sailors to access, he said.
Before policy changes are made, discussion groups are held with sailors of all ranks, Nowell said. Input from those discussion groups is then used by thousands of people working under Nowell to research and draft new policies.
The end of permanent shaving waivers for sailors suffering razor bumps is a change that arose from the new policymaking method, Nowell said. Eighteen months of research and review confirmed that beards impede breathing devices such as gas masks, and the waivers were scrapped, he said.
The Navy has also stepped up efforts to recruit and retain sailors in the past several years as U.S. relations with Russia and China have grown more tense and adversarial, Nowell said.
The ultimate aim is to build a stronger fighting force in "the great power competition," Nowell told Stars and Stripes in an interview before the meeting.
The recruiting efforts are yielding results, he said. The Navy added 39,000 sailors this year and in 2018, compared with 30,000 in 2016, he said.
The overall retention rate is 79%, which is near an all-time high, Nowell said.
Paying bonuses for high-demand jobs, offering more opportunities for career advancement and better accommodating sailors and their families all help to boost retention, he said.
The Navy continues to look for and implement ways to ease the stress of military life, he said. One new retention incentive reimburses sailors up to $500 to cover the cost of their spouses' professional licenses if they must move to a different state.
Another policy, enacted last year, lets sailors' spouses move earlier or stay behind for up to six months to allow their children to complete the school year, wrap up a job or care for a chronically ill family member.
wyland.scott@stripes.com Twitter: @wylandstripes
---
---
---
---