Navy gets 'earful of feedback' from sailors to return rank insignias to uniform covers
---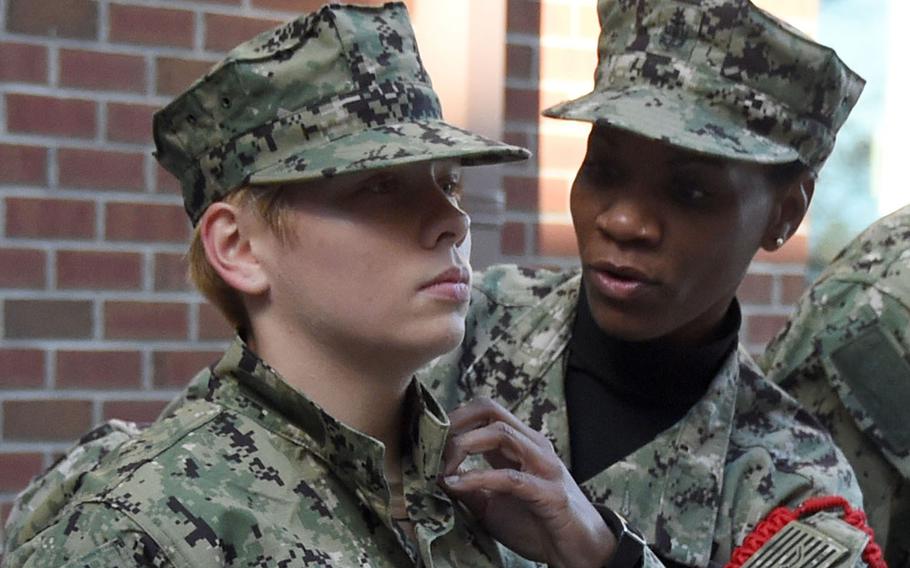 WASHINGTON — The Navy's personnel leadership is looking at putting rank insignias back on the working uniform cover after receiving "an earful of feedback" from sailors to make a change.
The issue was raised during a Facebook live event Tuesday with Vice Adm. John Nowell, the chief of naval personnel, and Fleet Master Chief Wes Koshoffer for Manpower, Personnel, Training and Education.
The Navy currently has only the anchor, Constitution and eagle, or "ACE" emblem, on its green Navy working uniform eight-point covers, also known as utility caps. The sailor's rank insignia on the uniform is only on the chest.
The issue was raised at the event, submitted by a sailor and read aloud, stating it was "uncomfortable staring at a female's chest to see her rank."
The rank insignia "is hard to identify even from just a few feet away" on the chest of the Navy working uniform Type IIIs. "Why can't we go back to ranks on eight-point covers or somewhere different on the uniform blouse?" they asked.
The ranks were removed from the covers to be more in line with the Marine Corps, which has its eagle, globe and anchor emblem on its caps, as well as to save money for sailors, Koshoffer said.
"Since we've done that, we have gotten an earful of feedback. One of the issues, visibility of the rank insignia on the chest. And the fact that female sailors ... have communicated they are uncomfortable with that," he said.
Koshoffer said the Navy would consider the feedback in the Navy's uniform process. Nowell has also been testing insignia options with his office staff.
"We've looked at collar devices and other ways to either improve the visibility or try another thing," Koshoffer said of the testing.
The Navy is not ready to go back to having ranks on the covers, Koshoffer said, but assured sailors they were working on the issue.
"We're just going to go to work on that problem. It's going to take us a little bit. We don't want to knee-jerk back the other direction so quickly," he said. "But we'll solve that, and your input will be important to that."
---
---
---
---