Navy awards almost $800M contract for next generation of frigates
by
Caitlin M. Kenney
May 1, 2020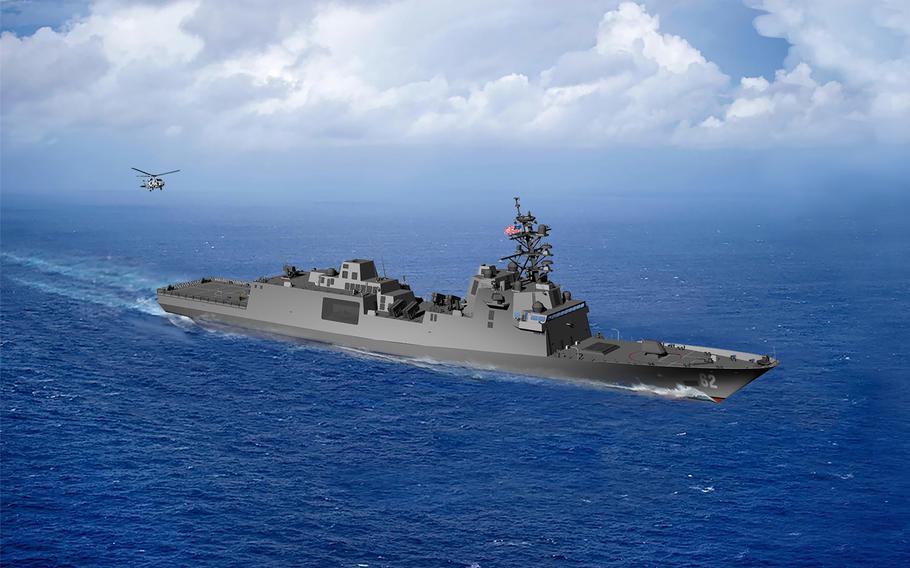 WASHINGTON — The Navy has agreed to spend an initial $800 million on the newest class of guided-missile frigates as the service looks to develop a more flexible surface fleet to take on other naval powers around the globe, the service announced Thursday.
"The Navy's guided-missile frigate will be an important part of our future fleet," Adm. Mike Gilday, the chief of naval operations, said in a prepared statement. "[The guided-missile frigate] is the evolution of the Navy's small surface combatant with increased lethality, survivability, and improved capability to support the National Defense Strategy across the full range of military operations."
The Pentagon's 2018 National Defense Strategy shifted the military's focus from counterterrorism operations to "great-power competition" with China and Russia. The Navy has aligned its budget, ship building, and training with the strategy.
The new ship is the next generation of frigates for the Navy, improving on the capabilities of the littoral combat ships. The frigates will be capable of conducting multiple missions, including anti-submarine warfare, surface warfare and electronic warfare.
The new ships will be part of the Navy's ongoing effort to grow their battle force fleet to 355 ships by 2030.
The ship will be constructed by Marinette Marine Corporation of Marinette, Wisconsin. The design is by Fincantieri based on a frigate design used by the French and Italian navies, according to U.S. Naval Institute News. The company owns the shipyard in Wisconsin where it will be built.
"This is going to be a real workhorse for the United States Navy, supporting distributed maritime operations in the future. So, we are super excited about this ship," said Vice Adm. Jim Kilby, the deputy chief of naval operations for warfighting, requirements, and capabilities.
The initial contract for $795 million to Marinette Marine Corp. is for the design and production of the first ship in the class. The contract has the option to allow for production of up to 9 additional ships as well as provide several supplies and services including training equipment and post-delivery availability support. The total cost for the first ship is $1.281 billion, which includes the $795 million for the shipbuilder for design and construction
The contract is being awarded three months ahead of schedule despite the coronavirus pandemic, said James Geurts, the assistant secretary of the Navy for research, development and acquisition.
Detailed design for the ship will start in May and construction on the first frigate for the class will start no later than April 2022, with its delivery to the Navy in 2026, according to Geurts. The ship is expected to reach full operational capability between 2031 and 2032.
kenney.caitlin@stripes.com Twitter: @caitlinmkenney