More sailors eligible for selective reenlistment bonus, performance pay
by
Caitlin M. Kenney
April 23, 2020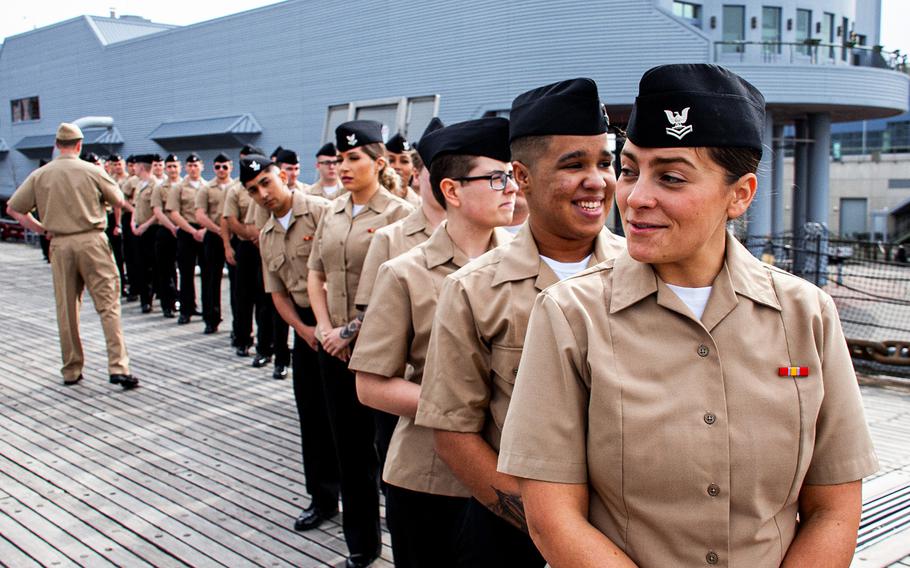 WASHINGTON — About 10,000 more sailors are now eligible for a reenlistment bonus as part of the Navy's effort to retain needed personnel.
The selective reenlistment bonus update allows all sailors to reenlist a full year before the end of their active-service obligation to receive the bonus instead of waiting to be within 270 days of the end of their hitch.
"By expanding the eligibility window, more sailors are now eligible to reenlist at any given time," Cmdr. Dave Hecht, a spokesman for the chief of naval personnel, said in a statement.
Sailors can receive up to a $100,000 reenlistment bonus, with the amount calculated based on a sailor's job, their time in service and the Navy's retention needs.
The Navy is updating its 2020 selective reenlistment bonus program as part of its regular adjustments that are based on which sailors are leaving the service. Some jobs might need more financial incentives right now to keep those sailors, whereas other jobs are doing better with retention.
The Navy has also included an additional 27 "skillsets" to the bonus eligibility list, meaning sailors with specific time in service and with certain qualifications are now able to apply.
"Although overall enlisted retention is high, the Navy continues to use the selective reenlistment bonus program to offer competitive financial incentives to sailors in needed skillsets across the fleet," Capt. Angela Katson, who leads enlisted plans and policy for the chief of naval personnel, said in a statement.
As part of the Navy's Pay for Performance pilot program under their Sailor 2025 talent management initiative, sailors in nine ratings who meet specific performance criteria also have an opportunity to make an additional $5,000 "kicker," but only if their selective reenlistment bonus is less than $100,000, according to the service.
Ratings eligible for the kicker are: electrician's mate; engineman; gas turbine systems technician; machinist's mate (surface); damage controlman; hull maintenance technician; machinery repairman; culinary specialist (submarines), and naval aircrewman helicopter.
Kenney.Caitlin@stripes.com Twitter: @caitlinmkenney