Iranian drone buzzes US aircraft carrier
by
Corey Dickstein
August 14, 2017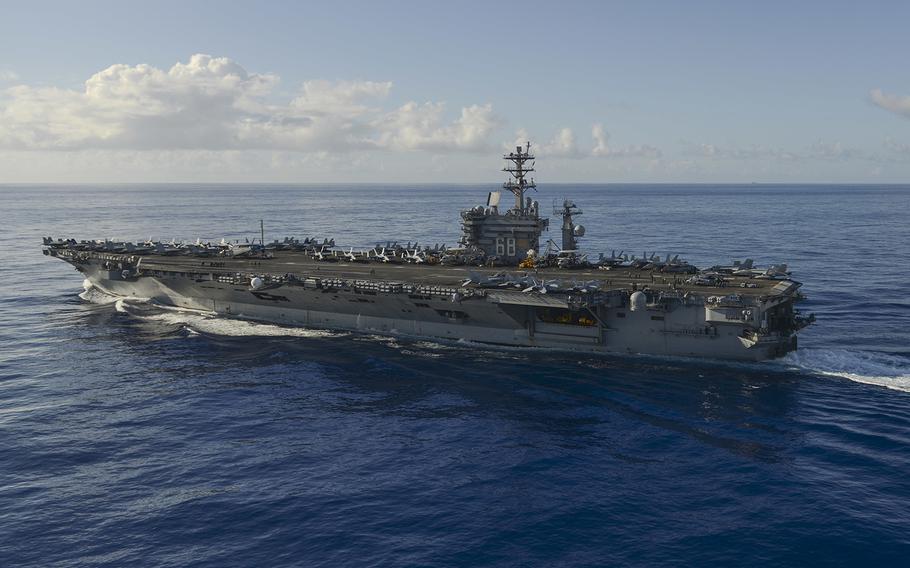 WASHINGTON — An Iranian drone harassed a Navy aircraft carrier and its jets Sunday night, in the second dangerous interaction between the two nations in less than a week, a Navy spokesman said.
The Iranian QOM-1 drone made several close passes of the USS Nimitz aircraft carrier and other ships escorting it in international waters in the central Persian Gulf, said Lt. Ian McConnaughey, a spokesman for U.S. Naval Forces Central. The drone did so without turning on its flight navigation lights, he said.
The unarmed drone's operators ignored repeated radio calls warning it to stay clear of the area while fighter jets operated nearby, McConnaughey said. The drone flew within about 1,000 feet of a Navy aircraft during the incident that was deemed unsafe and unprofessional.
"The failure of the Iranian [drone] to utilize standard, internationally mandated navigation lights during a night time approach of a U.S. aircraft carrier engaged in flight operations created a dangerous situation with the potential for collision and is not in keeping with international maritime customs and laws," McConnaughey said.
The incident followed a similar unsafe and unprofessional interaction between a Navy F/A-18E Super Hornet and an unarmed QOM-1 drone on Aug. 8.
In that incident, the drone executed "dangerous" altitude changes and flew within about 100 feet of the jet as it prepared to land on the Nimitz, the Navy said.
The incident Sunday was at least the 14th interaction between American and Iranian military forces in and around the Persian Gulf in 2017 that the United States has deemed unsafe and unprofessional.
dickstein.corey@stripes.com Twitter: @CDicksteinDC