If Navy wants that sailor for a lifetime career, treat 'em like family, study suggests
by
Wyatt Olson
October 8, 2020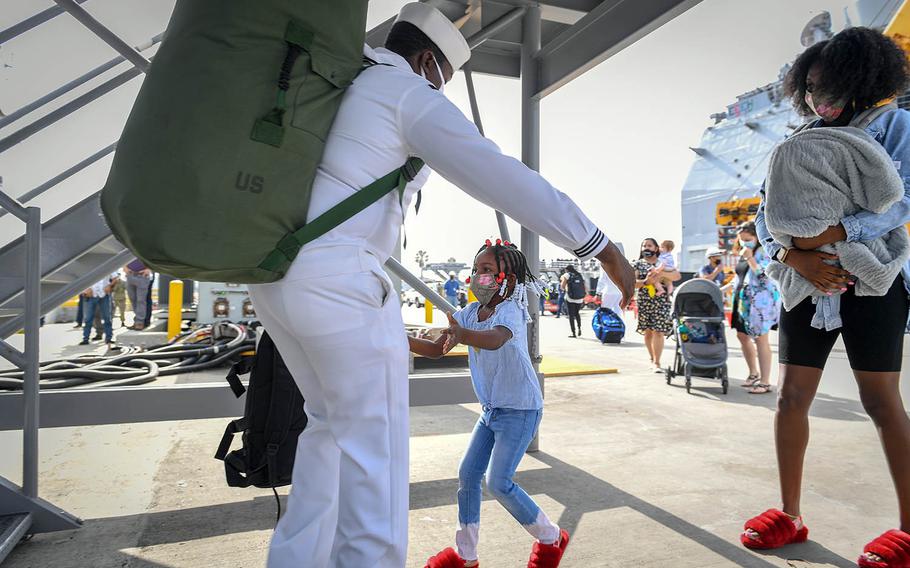 Fostering a sense of kinship among sailors while mitigating feelings of depression and stress could be the Navy's key to keeping them in the service, a just-released study found.
Retention of personnel is a priority for the military, but the factors influencing why some sailors stay in while others leave are not fully understood, according to "Toward a 'Dashboard' Indicator of Retention in U.S. Navy Personnel," published this month in the journal Military Medicine.
The Navy increased deployment lengths for some ships at sea this year as a means of preventing the coronavirus' spread, a measure that can potentially elevate work and family stress leading to early separation from the Navy.
The study found that the most "robust" predictor of job satisfaction and retention among sailors was "affective organizational commitment," which in the context of this study means the level of a sailor's emotional attachment to the Navy.
"This notion of feeling a sense of belonging — or seeing your employer as a family and having the sense that you are part of a family — seems to be a very strong predictor of one's intention to remain in the military long term," Marcus Taylor, a study co-author and researcher with the Naval Health Research Center's Warfighter Performance Department in San Diego, told Stars and Stripes.
While this key predictor seems intuitive, Taylor said, "it's the type of thing that organizations can act upon and promote in order to enhance or sustain retention in its members."
The study said: "Synthesized with prior research, our findings suggest that affective organizational commitment may not only be the most instrumental subtype of organizational commitment in relation to retention, but it may also be one of the most influential of all human factors that influence job satisfaction, career intentions, and related occupational outcomes."
Researchers sampled 798 Navy men and women who were asked about personal and unit morale, unit cohesion, affective organizational commitment, social support, symptoms of depression or anxiety, post-traumatic stress symptoms, aggressive behavior, quantity of sleep, leadership satisfaction and perceived stress. They were also asked a series of questions to determine their overall job satisfaction and career intentions in the Navy.
The participants were a "convenience sample" selected from the Naval Unit Behavioral Health Needs Assessment Survey so the results of the study cannot be "seamlessly" generalized to the broader Navy population, the study said.
Just over half the participants were white and 83% male. Almost all were enlisted.
Researchers found other variables were also significant in career decisions made by sailors.
Other predictors of job satisfaction were depression symptoms, unit cohesion and feelings of stress.
Additional predictors of career intentions were years of military service, marital status and race and ethnicity.
The authors wrote that further research was needed to better understand why non-white, married sailors expressed strong intentions to remain in the Navy long term.
"Future research is also needed to determine whether spousal support is causally implicated in married individuals' decision to stay long term," the study said.
Family separation comes with the job for many sailors, but the coronavirus pandemic added a new layer of strain.
The destroyer USS Stout recently set a Navy record for 208 consecutive days at sea, which followed record-length deployments by the aircraft carrier USS Dwight D. Eisenhower and the cruiser USS San Jacinto earlier in the year.
Sailors headed to sea now face an extra two-week quarantine before getting underway as a precaution against spreading the coronavirus, adding extra time to deployments.
The Navy is pushing Congress to extend deployment pay to include time sailors spend in quarantine as part of the deployment schedule, Vice Adm. John Nowell, chief of naval personnel, told reporters last week.
Adm. Mike Gilday, chief of naval operations, told NBC News last month that ships were making fewer port calls and sailors were being given days off while at sea rather than port liberty.
"We have to have ships stay at sea another month or so longer as they do their training and instead of taking leave right after training before deployment, they roll right into deployment," he said.
Deployment lengths are an important factor when considering sailor retention, Taylor said. It's essential to break up periods of operational stress with rest and recovery, he said.
"If that isn't happening, periods of acute stress can turn into periods of chronic stress, and then people can develop stress-related symptoms that impact not only their performance, but also their health," he said.
When that job-related stress unsettles a sailor's family dynamic, "it could play into one's decision to stay in or to not stay in the military service," Taylor said.
olson.wyatt@stripes.com Twitter: @WyattWOlson