Hagel orders cut to LCS plans; reduced operations for carriers
By
Erik Slavin slavin.erik@stripes.com
February 25, 2014
---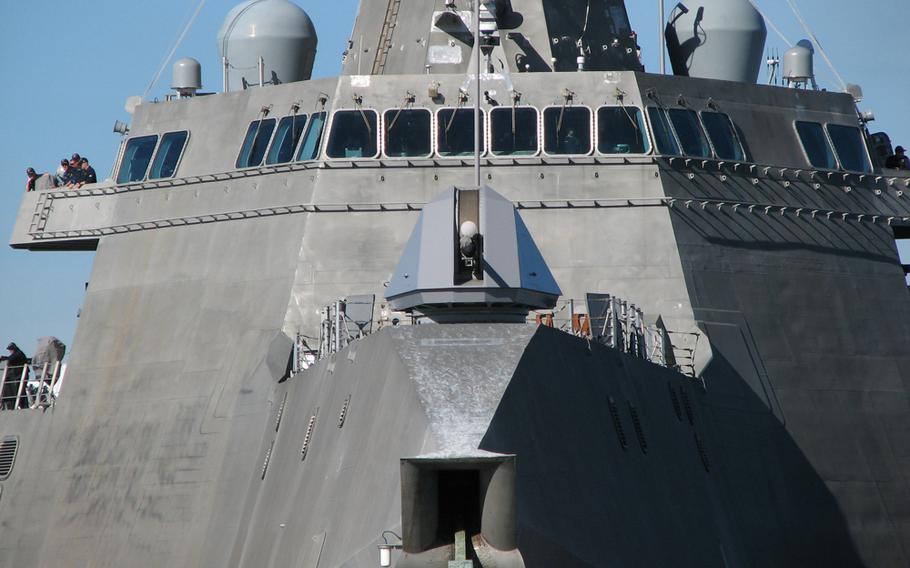 The Navy will not contract for any more than 32 littoral combat ships, 20 less than the Navy planned for, Defense Secretary Chuck Hagel said Wednesday in Washington.
The coastal ship has come under criticism in recent years for its lighter armament and lower survivability standard than some of the larger ships currently in the fleet. The planned 52-ship order would have meant that LCSs would have made up about one-sixth of the Navy fleet.
Supporters of the program, including Secretary of the Navy Ray Mabus, say the LCS's top speed — upwards of 50 mph — and its low draft allow the Navy to easily go into areas it can't with its current fleet makeup.
But the Navy is "relying too heavily on the LCS to achieve its long term goals for ship numbers," Hagel said during a news conference.
Hagel's announcement came as he and Joint Chiefs of Staff Gen. Martin Dempsey outlined the Pentagon's proposals for the fiscal year 2015 defense budget. Congress still may have a say in the LCS's future, though powerful lawmakers such as Sen. John McCain have been critical of the program in the past.
In January, acting Deputy Defense Secretary Christine Fox, in an unreleased memo, directed the Navy to halt LCS production after 32 ships — 20 less than planned — and begin development of a "more capable surface combatant."
Despite pushback from top Navy officials, it appears that Fox and those in the Pentagon who share her point of view have won the argument.
Hagel also reiterated President Barack Obama's pledge to maintain the aircraft carrier fleet at 11 ships. However, he conceded that funding would be a challenge.
"We would have no other choice than to retire [the USS George Washington] should sequestration-level cuts be re-imposed," Hagel said.
About half of the carrier fleet will reduce operations as a cost-saving measure.
The Navy's plans to continue buying two destroyers and fast-attack submarines per year remain on course, Hagel added.
slavin.erik@stripes.com Twitter: @eslavin_stripes
---
---
---
---