Former sailor awarded for rescue of injured mountain climber
By
Matthew M. Burke burke.matt@stripes.com
April 25, 2013
---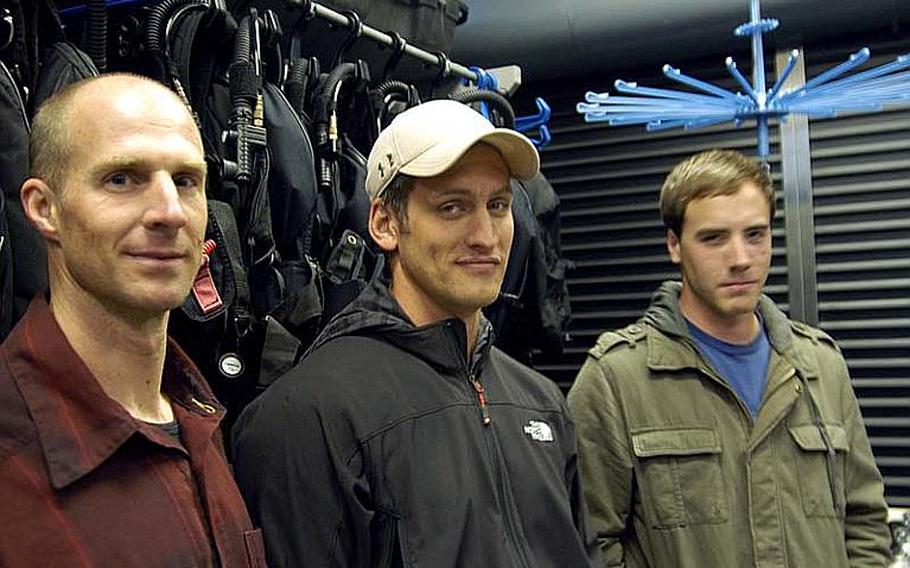 SASEBO NAVAL BASE, Japan — A former Sasebo-based sailor has been awarded a Navy and Marine Corps Medal for risking his life to save a severely injured Japanese man near the summit of Mount Fuji in December 2011.
Retired Petty Officer 1st Class Corey Baughman, an explosive ordnance disposal technician, donned his dress blues one more time to receive the medal from Navy Expeditionary Combat Command commander Rear Adm. Michael Tillotson at the Colorado State Capitol building in Denver on April 17, according to a Navy news release. The medal is awarded to any sailor or Marine who distinguishes himself with heroism not related to combat with an enemy, for acts of lifesaving or attempted lifesaving, at the risk of one's own life.
Baughman got mild frostbite in his toes after spending a night on the unforgiving mountain with an injured hiker who had suffered a devastating fall. The sailor was credited with saving the man's life.
"Corey Baughman is a real life hero," Tillotson said during the ceremony, according to the release. "He embodies everything that is good about our Sailors and our citizens."
On Dec. 10, 2011, Baughman and fellow Sasebo sailors Petty Officer 3rd Class Adam Andryc and Petty Officer 1st Class Dillon Mudloff were within 100 meters of the summit of Japan's tallest peak when they decided to turn back because the weather was too bad and they did not have the proper climbing gear.
As they were packing up, a 60-year-old Japanese man fell from a ridge above and went flying past them, tumbling 600 meters in an instant.
The sailors, who caught the fall on camera, quickly rushed to the man's aid. It took about 30 minutes to reach him. He was semi-conscious and it was feared he might have spinal injuries.
Fearing the man would die if he wasn't moved to immediate medical attention, Baughman worked with several other hikers to carefully lower the man down the icy slopes in a sleeping bag. Temperatures continued to drop as nightfall crept in. With minimal survival gear, Baughman broke into a mountain hut and started a fire. He kept the man alive through the night until a rescue helicopter could make the rescue the next day.
Despite mild frostbite on his toes, Baughman summited the mountain after the man was rescued.
"This was a very unexpected honor," Baughman, now 38, said at the ceremony. "It is its own reward when you find yourself in a position to do something worthwhile and you are able to do it. I would like to share the honor of this award with the courageous people I served with, particularly those who paid with their lives and limbs. I am humbled by their sacrifices."
---
---
---
---