Essex begins 18 months of maintenance, upgrades in San Diego
By
Matthew M. Burke burke.matt@stripes.com
April 23, 2013
---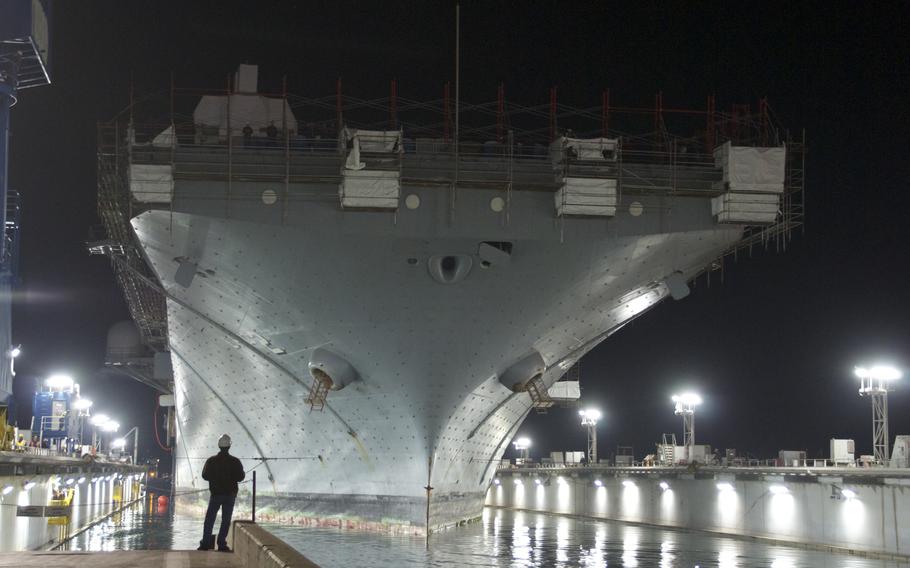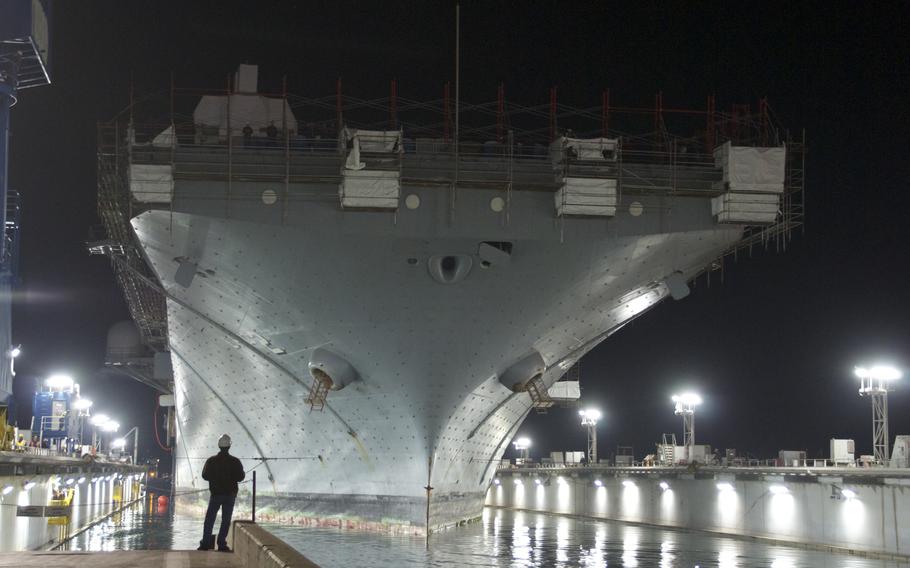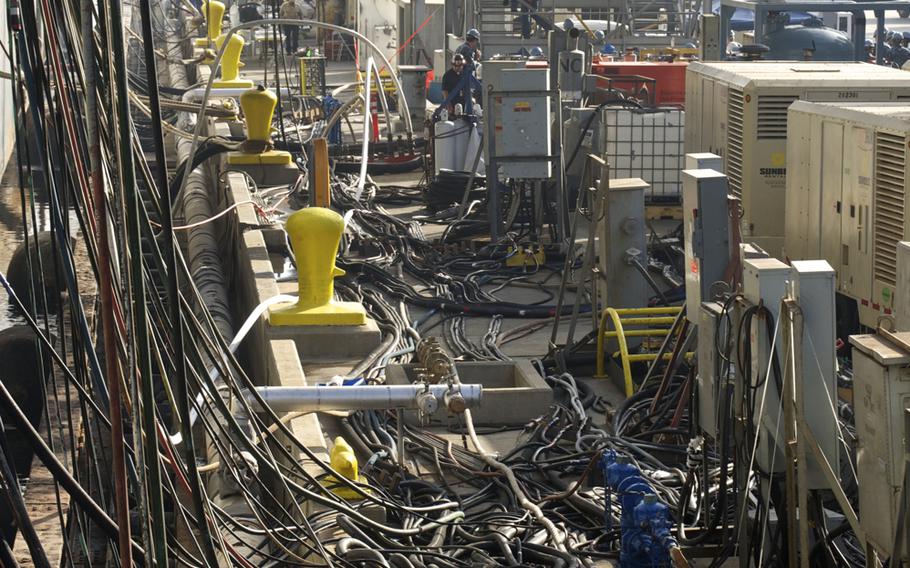 SASEBO NAVAL BASE, Japan — After a rough-and-tumble 12 years of being forward deployed to the 7th Fleet's area of operations — a tour punctuated by a high operational tempo, missed maintenance and a steady stream of disaster relief operations — the USS Essex finally is getting the tender loving care it needs to carry it through the next two decades.
The Wasp-class multipurpose amphibious assault ship, known as the Iron Gator, is in the beginning stages of an 18-month, $150 million maintenance and upgrade period, ship spokesman Senior Chief Petty Officer Joe Kane said last week. It is the largest non-carrier upgrade ever undertaken in San Diego, Kane said.
Upgrades to the San Diego-based ship include improvements to both boilers as well as the trim loop system, which will allow the ship to operate at maximum fuel-to-air ratio efficiency, Kane said. In addition, the Essex will receive a fuel oil compensation modification that will use the pressure from sea water to transfer fuel within the ship, resulting in an 80 percent reduction in manpower required for fuel-handling and movement.
"Ships like Essex when they are forward deployed have many high demands placed upon them," Kane said. "While the work being done on her now is very much needed, it is neither unplanned nor unexpected. Planners utilize a process of looking two to three years out to properly plan and fund such a major overhaul."
The ship also will receive modifications to accommodate the MV-22 Osprey aircraft, which is replacing the aging fleet of CH-46E Sea Knight helicopters, Kane said.
"The goal for this work package is to position the ship for the next 20 years or so," Kane said.
The Essex departed Sasebo last April for U.S. 3rd Fleet rotational forces in San Diego after its crew took over the USS Bonhomme Richard in a hull swap ceremony. A few weeks into its journey stateside, it crashed into a fleet replenishment oiler off the coast of Southern California after encountering a steering malfunction. Kane said that while the damage to the Essex was "minimal," it cost about $2.5 million in repairs.
Capt. Chuck Litchfield was fired as a result and administrative action was recommended for four of the ship's officers.
The 22-year-old Essex was responsible for providing extensive humanitarian assistance during its 12 years in Sasebo. This included providing relief to Indonesian victims of the 2004 tsunami, survivors of the Leyte mudslide in the Philippines in 2006 and victims of the Japanese earthquake and tsunami in 2011.
However, it often missed maintenance due to its commitments and its final years were marred by missed deployments and a sailor's death that was attributed in part to non-functioning systems.
The maintenance availability avoided sequestration because it has been planned since fiscal 2009, Kane said. It was funded by Naval Sea Systems Command's Program Office and Commander Naval Surface Forces Pacific.
During the maintenance period, the crew will paint and address corrosion control, upgrade watertight doors and decking, and upgrade their work stations and major equipment, Kane said. They will also participate in training and professional development opportunities.
The maintenance period will be completed in the spring of 2014. Their schedule after that is still being planned.
"Essex has been a vital piece of our Navy's arsenal since she was commissioned in 1992," Kane said. "Undoubtedly, getting USS Essex through the Extended Dry Docking Phased Maintenance Availability and back under way will greatly enhance regional stability wherever she is stationed."
---
---
---
---