Caretaker crew exits USS Kidd after clearing destroyer of coronavirus
by
Wyatt Olson
May 20, 2020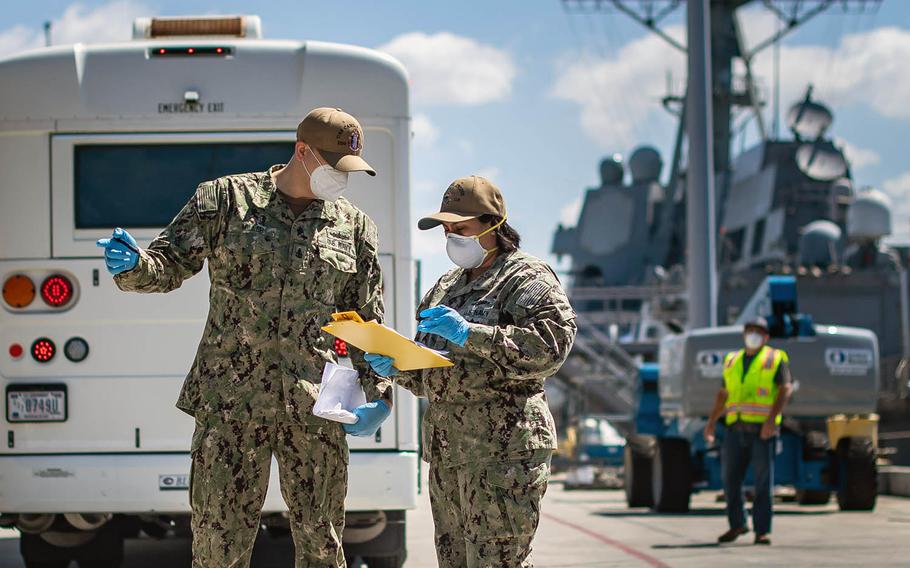 Stars and Stripes is making stories on the coronavirus pandemic available free of charge. See other free reports here. Sign up for our daily coronavirus newsletter here. Please support our journalism with a subscription.
The Navy on Monday swapped out the caretaker crew aboard the USS Kidd with about 90 sailors confirmed to be free of the coronavirus.
The guided-missile destroyer has been at Naval Base San Diego since April 28 dealing with an outbreak of COVID-19, the disease caused by the virus, that occurred while the ship was at sea, the Navy said in a news release Monday.
The ship underwent disinfection after arriving at port, and a group of a sailors remained on board to operate essential services, the Navy said.
Other crew members and anyone testing positive for the virus were removed from the ship and placed in either isolation or quarantine, the Navy said.
The news release did not indicate the number of Kidd sailors testing positive.
The Associated Press reported earlier this month that 78 sailors of the crew of 330 had been infected.
Cmdr. Nathan Wemett, the ship's commanding officer, told the AP that lessons learned from the coronavirus crisis aboard the aircraft carrier USS Theodore Roosevelt had helped the Kidd avoid wider contagion.
The Roosevelt has been sidelined in Guam since late March dealing with an outbreak that has infected more than 1,000 sailors and left one dead.
The carrier is expected to set sail later this week with a crew of roughly 3,000, leaving behind about 1,800 crew members still in quarantine.
The Navy described the Monday crew swap as "the next phase of its aggressive response" to the outbreak on the Kidd and getting the ship back to deployment at sea.
The entire crew of the Kidd was retested before the transfer, and the results of those tests "informed decisions about who to transfer and who should remain in quarantine or isolation," the Navy said.
"Our number one priority is to protect the health of our force and our families," Vice Adm. Richard Brown, commander of Naval Surface Forces, said in the news release. "By doing that, we also help to protect the health of our communities where we serve. Before we clear any Sailor to return to the ship, they must receive two separate negative test results."
Cleaning of the ship and medical oversight and care of the crew is expected to continue for about two more weeks, the Navy said.
All crew members will be retested before getting underway for deployment, the Navy said.
olson.wyatt@stripes.com Twitter: @WyattWOlson