Austal USA delivers 12th fast transport to the Navy from Alabama shipyard
by
Christian Lopez
September 4, 2020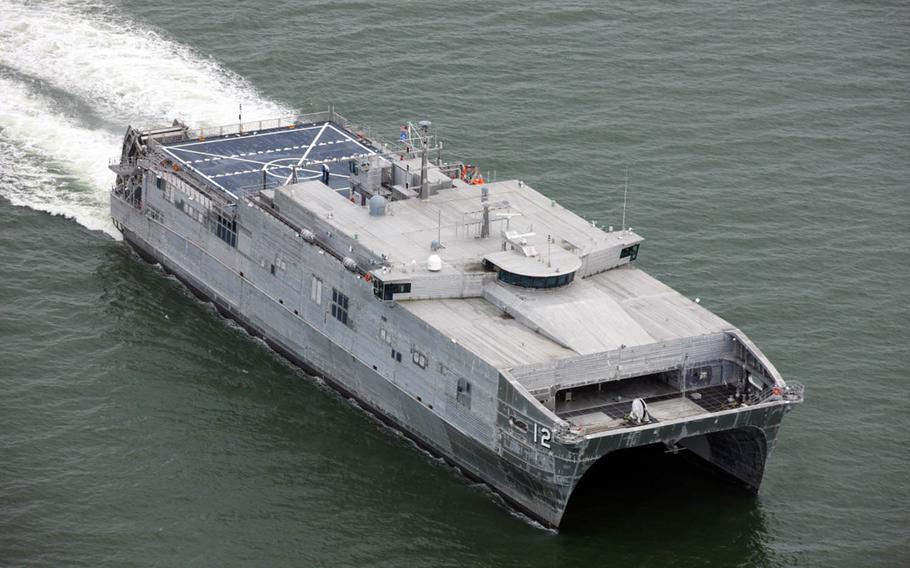 The U.S. Navy accepted delivery of its 12th Spearhead-class expeditionary fast transport ship from shipbuilder Austal USA's shipyard in Mobile, Ala., on Wednesday.
The USNS Newport is the third Austal delivery to the fleet this year. Earlier, it handed over two Independence-class littoral combat ships — USS Kansas City and USS Oakland.
The Newport, 337-feet-long and capable of an average of 35 knots will be operated by Military Sealift Command. The command provides ocean transport and sealift to all U.S. military branches as well as government agencies.
"I'm proud to be a part of delivering this highly-capable ship that can successfully meet a wide range of missions," Tim Roberts, strategic and theater sealift program manager, Program Executive Office, Ships, said in a Navy release Thursday. "Newport will continue to provide flexible warfighting capabilities around the globe."
The Navy in 2008 awarded Austal USA, the American branch of an Australian defense firm, a $1.6 billion contract for 10 Spearhead-class vessels. Two more contracts followed: $248.8 million in 2016 for the 11th and 12th fast transports, and $261.8 million in March 2019 for the 13th and 14th ships, according to Austal USA.
Fast transport ships are non-combatant ships that specialize in high-speed transportation of military vehicles and troops in shallow waterways. The ships also have a flight deck to support aircraft launches, helicopter operations and recovery operations.
Austal is building the 13th fast transport ship, the USNS Apalachicola, and construction on the 14th, the USNS Cody, is expected to begin before the end of the year.
Alongside the fast-transport program, Austal has delivered 12 littoral combat ships out of a contract to build 19. Five of the remaining ships are under construction, according to Austal USA.
lopez.christian@stripes.com Twitter: @CLopez_Stripes