Aboard carrier, Trump touts plans for big Navy fleet
by
Travis J. Tritten
March 2, 2017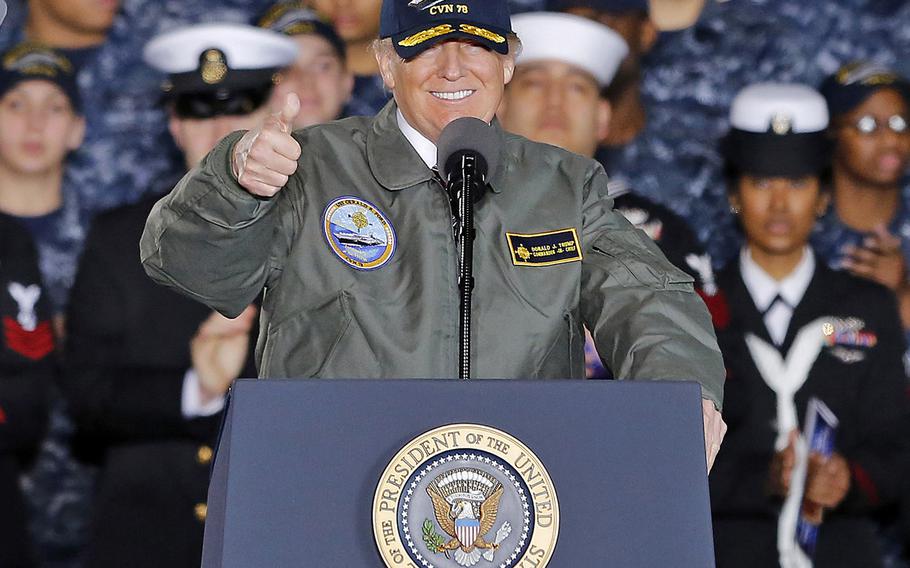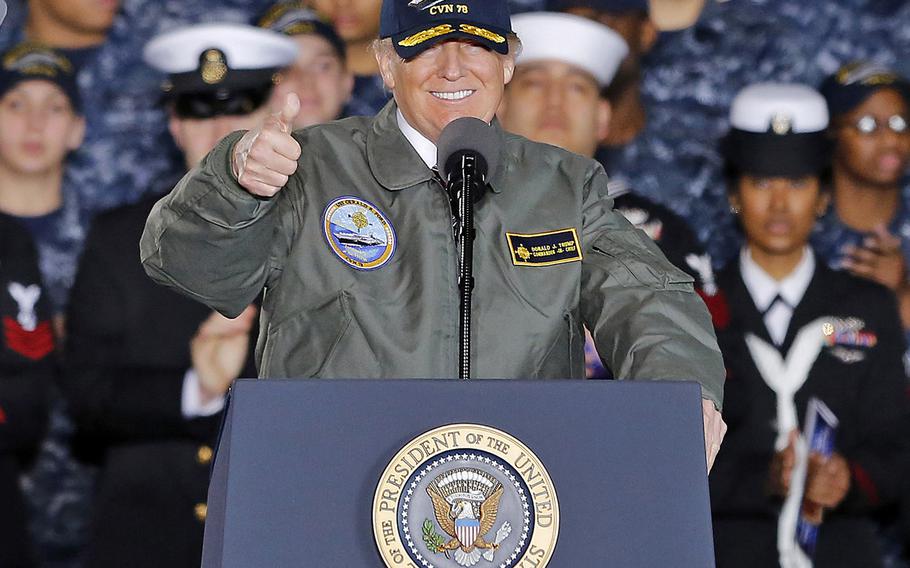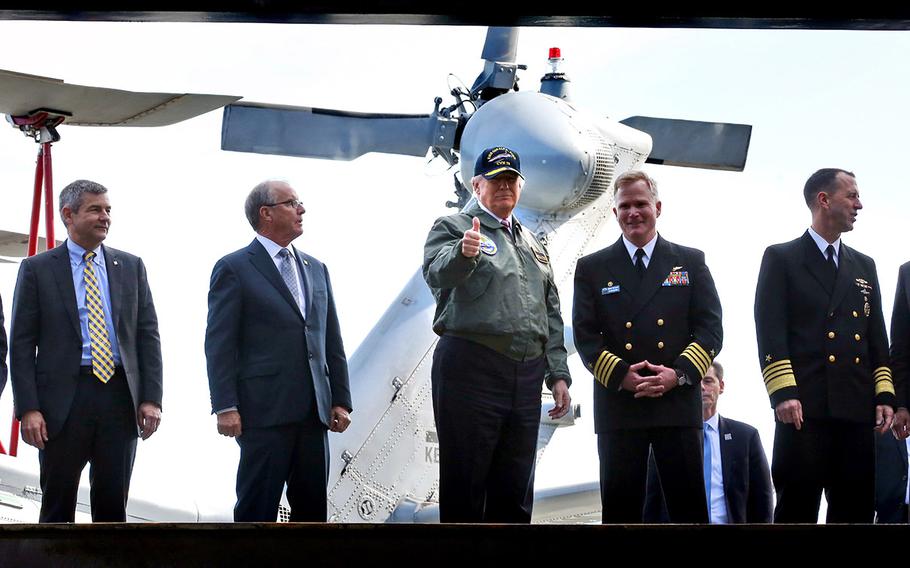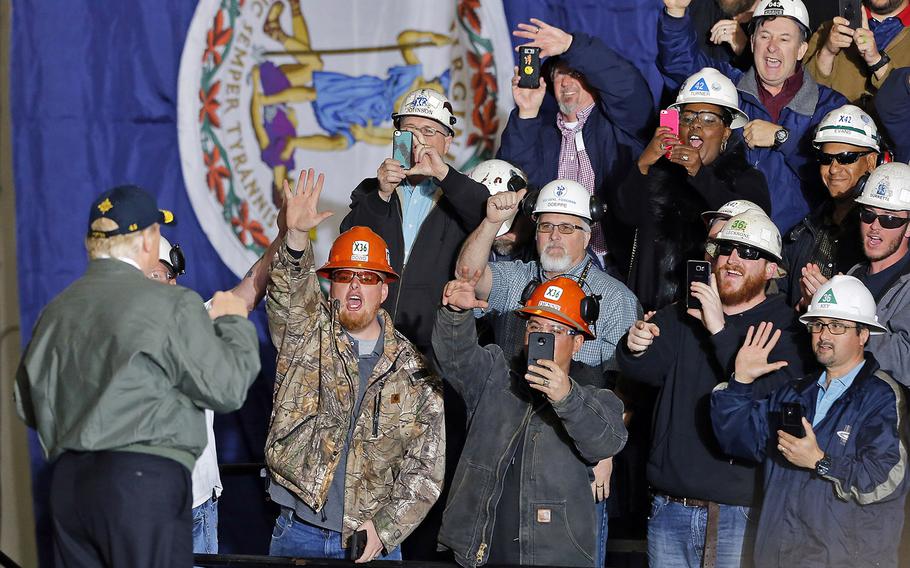 WASHINGTON — President Donald Trump said Thursday he spoke with the Navy and shipbuilding industry about a major expansion of the U.S. fleet as he pushes ahead with a proposed boost to defense spending.
Trump said the Navy is "soon going to be the largest it's been" during a speech aboard the soon-to-be commissioned Gerald R. Ford aircraft carrier in Newport News, Virginia. The president has called for a 350-ship fleet that would significantly grow the current 274-ship force but would fall short of the more than 800 surface warships active at the end of World War II.
The call for a bigger fleet came after the president unveiled a proposed $603-billion defense budget earlier this week – about a 3-percent increase over spending projections by President Barack Obama's administration – and sparked a debate with congressional Republicans who believe it is not enough money to rebuild depleted military forces. Congress must approve funding for any Navy or military buildup.
"Our Navy is now the smallest it's been believe it or not since World War I," Trump said.
The Navy had 204 surface warships out of its total 774 active ships in 1918 when that war ended, though ship technology has changed over the past century and a direct comparison to today's high-tech warships is not exact, according the Naval History and Heritage Command.
Trump, who was wearing a Ford carrier baseball hat and jacket, said he has urged Congress to repeal the budget caps that have held down military spending since 2013 and provide the Pentagon with sustained and stable funding for a buildup.
"After years of endless budget cuts that have impaired our defenses, I am calling for one of the largest defense spending increases in history and by eliminating the sequester and the uncertainty it creates, we will make it easier for the Navy to plan for the future and thus to control costs and get the best deals for the taxpayer, which of course is very important," he said.
Along with a larger fleet, the president also said the military must modernize and repair its aircraft, boost its force levels and improve its cyber capabilities.
The Republican chairmen of Congress' armed services committees, who play a key role in crafting the defense budget, have been at odds with Trump since his budget proposal was released.
Sen. John McCain, R-Ariz., chairman of the Armed Services Committee, said during a town hall event Wednesday night that Trump's claim that his $603-billion budget proposal would be an historic boost in defense spending is "not true."
"That is only a 3 percent increase," McCain said during the CNN broadcast. "We need a much larger increase in defense spending."
McCain and Rep. Mac Thornberry, R-Texas, the chairman of the House Armed Services Committee, are pushing for a $640-billion defense budget for 2018 – an increase of $37 billion over Trump's proposal.
"When we have gone through over the last several months to try to answer the question, 'What would it take to begin to repair our readiness problems and to increase the force size – Army end strength, Navy ships – the way the president has talked?' We believe that that is roughly $640 billion," Thornberry said.
The additional $37 billion proposed by McCain and Thornberry could cover a variety of military needs, according to estimates put together by the House Armed Services Committee.
Here are some examples of what the additional spending could buy, the committee said:
$15 billion to modernize Marine Corps ground combat units, Army aviation and combat vehicles $11 billion for more F-35 fighter aircraft, F/A-18 Super Hornets and maintenance upgrades to F-16 aircraft $9 billion for a Navy aircraft carrier, destroyer, Littoral Combat Ship frigate and upkeep of cruisers $5 billion to increase Navy ship operations and buy equipment for repair facilities $4 billion to sustain, modernize and build new military maintenance facilitiesThornberry said the debate is part of an ongoing negotiation with the White House, which is expected to release a full military budget proposal in May.
"This is a work in progress, a conversation between the two branches of government, and that's the way it should work," he said.
tritten.travis@stripes.com Twitter: @Travis_Tritten