Shooting at Marine base in California deemed a suicide, commanding general says
by
Caitlin M. Kenney
July 8, 2020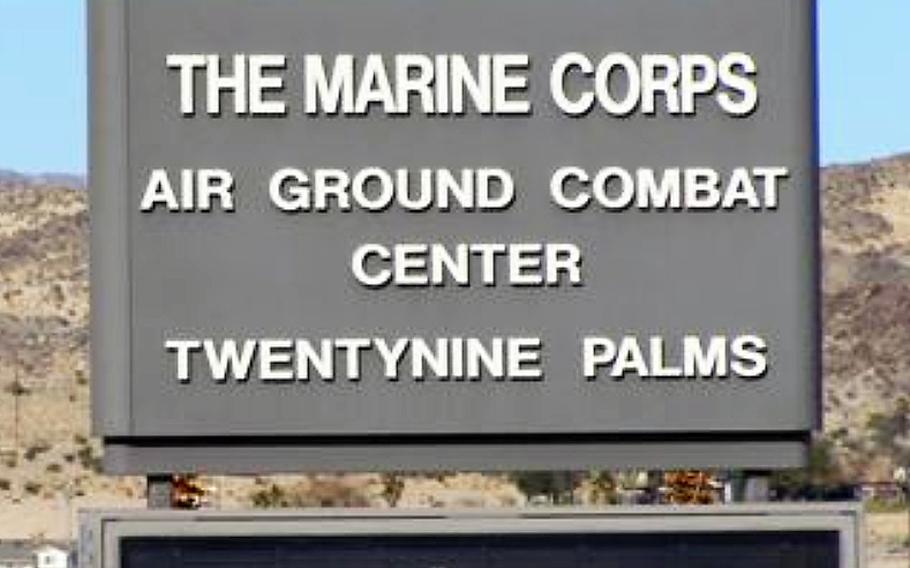 WASHINGTON — The shooting Tuesday morning at Marine Corps Air Ground Combat Center Twentynine Palms, Calif., that forced the training base to close its gates and shelter in place has been deemed a suicide by base leadership.
The Marine who died was a member of the 7th Marine Regiment, 1st Marine Division stationed at the base, 1st Lt. Cameron Edinburgh, a spokesman with 1st Marine Division, said Wednesday.
The identity of the man is being withheld until 24 hours after his next of kin is notified per Defense Department policy, Edinburgh said.
The first reports of gunshots came in Tuesday morning at 6:30 a.m., and military police responded to the area cordoning it off, according to the Marine Corps. The Marine sustained a self-inflicted gunshot wound at about 8:30 a.m. and was given first aid on the scene, Edinburgh said. He was transported to Desert Regional Medical Center in Palm Springs, Calif., where he died at 9:49 a.m., according to Edinburgh.
Additional information about the incident could not be provided, Edinburgh said, citing the ongoing investigation.
The Marine's death was deemed a suicide in a statement by Marine Corps Brig. Gen. Roger Turner, the commanding general of Marine Corps Air Ground Combat Center Twentynine Palms, on the installation's official Facebook page Tuesday evening.
"I want to express my deepest condolences to his family and his fellow Marines. I was extremely proud of the response from our military police, fire and rescue, and Mercy Air. They did their very best," he said in the statement.
Turner also said the incident revealed "some gaps in our mass notification processes on base. We'll work to rectify these problems immediately."
The base, about 150 miles from Los Angeles, is the Marine Corps' premier training facility and the largest Marine base in the world at 932 square miles. More than 11,000 Marines and sailors are station at the combat center, according to the base website.
Kenney.Caitlin@stripes.com Twitter: @caitlinmkenney