Recent Marine battalion commander, 43, dies of heart attack after short illness
by
Corey Dickstein
April 29, 2020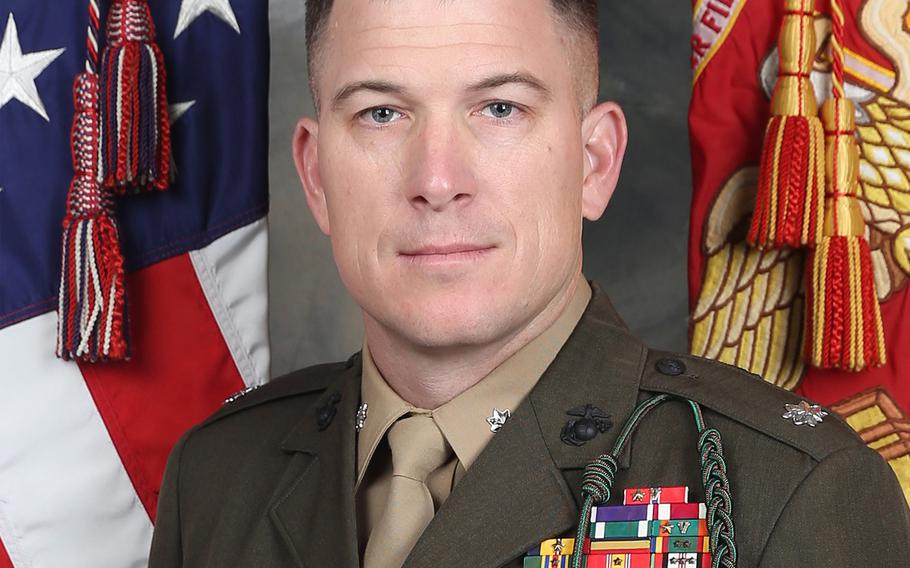 WASHINGTON — A 43-year-old Marine officer and multiple-combat-tour veteran died following a short illness earlier this month just one week after relinquishing command of the Marine Corps' Dark Horse Battalion at Camp Pendleton, Calif., Marine officials said Tuesday.
Lt. Col. Geoff Hollopeter, the former commander of 3rd Battalion, 5th Marine Regiment, died April 3 in San Diego after going into cardiac arrest, the 1st Marine Division announced Tuesday in a statement. Hollopeter served more than 20 years in the Marines, initially as an enlisted service member before he was commissioned as an officer in 2001, according to his biography.
Marine leaders said the Corps would miss Hollopeter, a veteran of the wars in Iraq and Afghanistan and a recipient of a Purple Heart and multiple Bronze Star medals, including one with a combat "C," denoting it was awarded for meritorious service under fire.
"Lt. Col. Hollopeter was well known throughout the Marine Corps for his impeccable character and intellect," said Col. Robert Weiler, the commander of the 5th Marine Regiment. "He led his Marines with humility and was a servant leader of impeccable moral and ethical code shaped the lives of countless Marines."
According to an obituary for Hollopeter published Tuesday in the San Diego Union-Tribune, he was a father of four children between the ages of 7 and 12. He had been married to his wife, Michelle, for more than 20 years.
"Geoff loved sharing his passion for camping, running, beer and root beer brewing and working on his truck and jeep with his family, and built countless and cherished memories doing the things he loved with the ones he loved," the obituary read. "The strong virtues of hard work, compassion, selflessness and kindness that exemplified Geoff's character will continue to thrive in his children."
Hollopeter enlisted in the Marine Corps in 1996, serving as a light armored vehicle crewman in the 1st Light Armored Reconnaissance Battalion for about one year before entering the Naval ROTC program at the University of Wisconsin. He was commissioned as an infantry officer upon graduation in 2001, according to his Marine biography.
In 2003, he deployed to the Philippines on a counterterrorism mission, according to his bio. He then deployed to Iraq from 2004 to 2005 with the 31st Marine Expeditionary Unit. He served in Afghanistan from 2009 to 2010 and again in 2011. In 2019, he deployed to the western Pacific aboard a Navy ship with the 11th Marine Expeditionary Unit.
Hollopeter also spent time commanding infantry students at the Marine's School of Infantry West at Camp Pendleton and leading the Marines' Indianapolis Recruiting Station. He took command of 5th Marine Regiment in February 2018 and relinquished it to Lt. Col. Benjamin Middendorf on Feb. 27. He soon was set to take on a new assignment at Marine Corps Base Quantico in Virginia, a Marine official said.
Marines who served with or for Hollopeter took to social media in recent days to share news of his death. In Facebook posts and comments on an announcement of his death, individuals describing themselves as having served with Hollopeter said he was "one of the best Marines I've ever known," and described him as a "an amazing leader who was never out of touch with the enlisted" Marines.
His family intends to hold a memorial service later in the summer at Camp Pendleton, according to his obituary. He will be interred at Miramar National Cemetery in California.
dickstein.corey@stripes.com Twitter: @CDicksteinDC