Marines dropping 'man' from 19 job titles
by
Alex Horton
June 28, 2016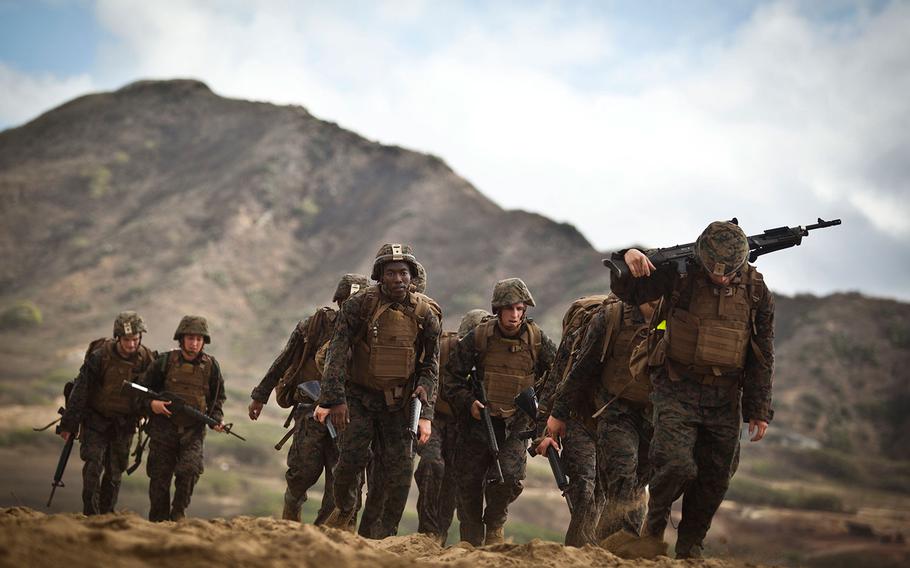 SAN ANTONIO — The Marine Corps will remove "man" from 19 of its job specialty titles and shift to more gender-neutral names after a senior level review, a Marine Corps official said Tuesday, channeling a broader discussion on gender roles in the military.
The rifleman and mortarman classifiers will remain, as they are embedded in Marine Corps culture, and other changes were meant to align with updated terminology, said a Marine personnel official, who spoke on the condition of anonymity.
The change comes after Navy Secretary Ray Mabus in January ordered Gen. Robert Neller, the Marine Corps commandant, to end gender-segregated training. In a separate memo, Mabus asked for a review of the gendered Military Occupational Specialty Codes.
"This is an opportunity to update the position title and descriptions themselves to demonstrate through this language that women are included," Mabus wrote, adding "man" should be removed from titles.
The memos followed Defense Secretary Ash Carter's decision in December to open all combat-related jobs to women.
Now, 15 job titles for the Marines will replace "man" with "Marine." The remaining changes will reflect specialties.
Antitank missileman, for instance, will become antitank gunner. Field artillery operations man is expected to become field artillery operations chief. The reconnaissance man identifier and its subcategories will shift to reconnaissance Marine, according to Marine Corps documents obtained by Stars and Stripes.
A terminology overhaul is a welcomed moment in the social discussion on gender, said Kayla Williams, a former Army intelligence specialist who is director of the Center for Women Veterans at the Department of Veterans Affairs and authored "Plenty of Time When We Get Home."
"All of these steps making job titles gender neutral, like the change from fireman to firefighter, are really important to help young girls understand they can grow up to tackle any challenge they are qualified to do," she said.
Female veterans are less likely to identify as former troops and terminology updates like this might help women feel more strongly connected to their service, especially in the Marine Corps, which has the fewest percentage of women serving compared to all other branches, Williams said.
"This change, while it seems subtle, is part of a broader shift of inclusivity in our country and our military, which is important to today's women and tomorrow's girls," she said.
The decision to keep some gendered names for historical reasons does not surprise some veterans, who said branch lineage is a point of pride.
"One of the things that distinguish the Corps is the way Marines relate to their own history and identity," said Phil Klay, a former Marine officer and National Book Award recipient for "Redeployment." "Keeping the most iconic titles the same as they have always been does not strike me as wrong."
The Navy is still reviewing its gendered job names, according to a news release this month. The Air Force is not considering a change, according to media reports.
Army officials confirmed Tuesday they will not make changes similar to the Marines.
"Right now, we are not considering changing terms of our job titles," Army spokesman Lt. Col. Jerome Pionk said.
Infantryman and armor crewman are still used in Army titles.
Klay does not see the job title shift as a big moment in its own right, but it's a signal to the force that culture change is important, he said.
"The more important thing to look at is what decisions the Marine Corps leadership is making about gender inclusivity that translate to change on the ground," he said.
horton.alex@stripes.com Twitter: @AlexHortonTX