Marines' Cold Response exercise in Norway is latest drill to be nixed over virus fears
---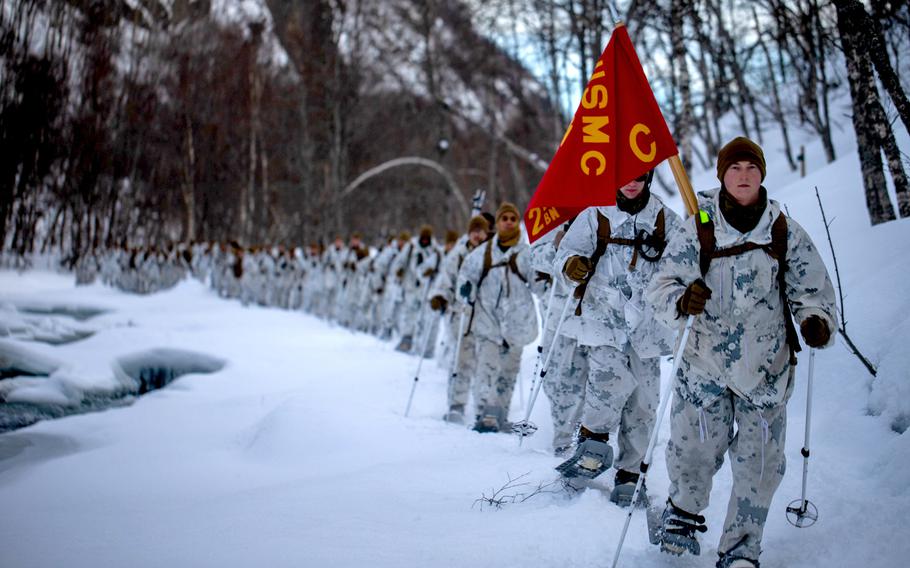 • See more coronavirus coverage from Stars and Stripes.
STUTTGART, Germany — A U.S.-led cold weather exercise in Norway has been cut short because of concerns over the new coronavirus, U.S. European Command announced Wednesday.
"The decision is a precautionary measure in response to the ongoing outbreak of COVID-19 and to protect the health and safety of all participants and local population," EUCOM said in a statement.
After consulting with allies, Norwegian authorities made the decision to cancel the remainder of the Cold Response 20 exercise just two days after it started.
The cancellation comes days after nearly two dozen U.S. soldiers who were in Norway for the exercise were quarantined amid fears they might have contracted the virus from a Norwegian service member who tested positive for it.
Maj. Adrian J.T. Rankine-Galloway, spokesman for U.S. Marine Corps Forces Europe-Africa, said Wednesday that no troops taking part in the exercise ever exhibited symptoms of the virus, including those who were isolated.
"Norwegian military health personnel have lifted the isolation of those personnel and we are working closely with their parent unit to return them to their duty stations," he said.
Several military exercises have been called off or scaled back because of coronavirus fears. Last week, EUCOM canceled a missile defense drill in Israel and on Tuesday, Africa Command said it was reducing the scope of a large exercise in Morocco to eliminate activities where troops were in close quarters.
For now, however, EUCOM said it still intends to move forward with Defender-Europe 20, the largest Army exercise on the continent in 25 years.
About 1,500 U.S. troops were part of Cold Response, which is one of the largest exercises in Europe.
"We are working closely with our Norwegian allies to manage the safe and orderly transition of our personnel," EUCOM said.
Other participants in the exercise, which focused on building up cold-weather warfighting capabilities, were the United Kingdom, Netherlands, Germany, France, Belgium, Denmark, Finland and Sweden. In total, about 15,000 troops were taking part.
Concerns about the new coronavirus hampered training from the start. On Sunday, the Finnish military announced it was pulling its 400 troops from the exercise, which was slated to run until March 19.
Even before the concerns about the virus emerged, planning for Cold Response was challenged by world events.
About 10,000 U.S. troops initially were supposed to take part in the exercise, but many of them were shifted to other missions, including in the Middle East following the killing in an American drone strike near Baghdad airport of Iranian Maj. Gen. Qassem Soleimani.
vandiver.john@stripes.com Twitter: @john_vandiver
---
---
---
---