Marine Corps to study how it can train female recruits in San Diego for the first time
by
Caitlin M. Kenney
September 24, 2020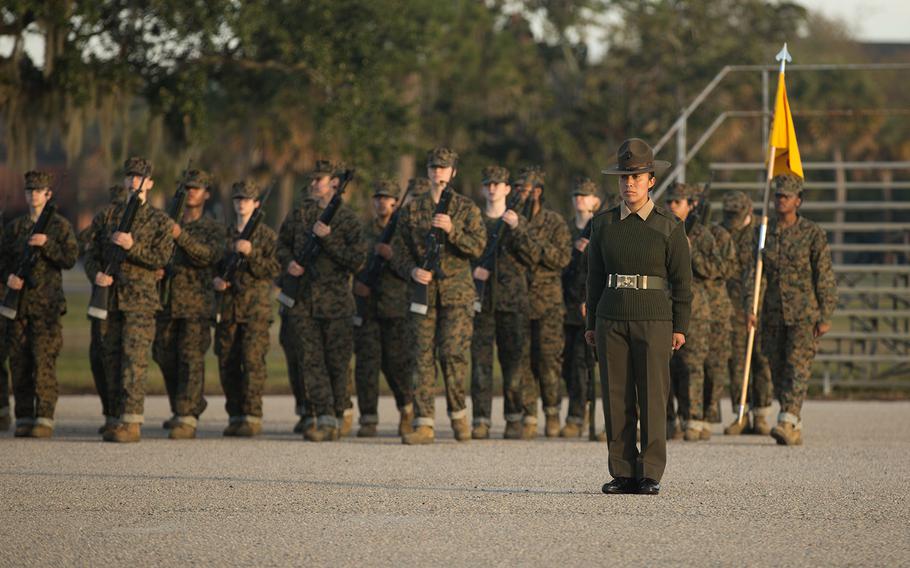 WASHINGTON — The Marine Corps will send a group of female drill instructors to Marine Corps Recruit Depot San Diego in the winter to study how the service can train female recruits at the base for the first time, Marine Commandant Gen. David Berger said Thursday.
"We're going to run a couple trials this winter time actually moving drill instructors from South Carolina to San Diego, like [temporary duty travel, temporary additional duty] and train recruits on the West Coast to see how this is going to work. But there's no provisions on the West Coast, there have never been, for females," he said during a virtual event with DefenseOne, a news organization.
The Marine Corps has two locations for training new recruits: Marine Corps Recruit Depot Parris Island, S.C., and Marine Corps Recruit Depot San Diego, Calif. Female recruits train at Parris Island but not at San Diego. The reason that the Marines have kept training for women at only one location is because, for years, the number of female recruits was low, Berger said.
The Marine Corps also remains the only service that does not fully integrate recruits in all levels of training. While Parris Island has recently begun integrating male and female recruits at the company level, it is only done when there are smaller numbers of female recruits during the slower training months.
The fiscal year 2020 National Defense Authorization Act has a section mandating the Marine Corps to end gender-segregated training at Parris Island within five years and integrate the training at San Diego within eight years.
"We're not set up on the West Coast at all, for zero females. So we could go all the way to Nirvana on the East Coast and still have half the Marine Corps training without any female recruits there. That's not Nirvana in any way, in anybody's construct," Berger said.
The two biggest challenges standing in the way of fully integrating Marine Corps boot camps is infrastructure and staffing, the commandant said.
Parris Island has limited barracks space for women, and San Diego has none, so even getting women and men to train on both coasts immediately cannot happen, Berger said.
"It's definitely not as simple as build a couple buildings, and we'll be there," he said about infrastructure concerns at boot camps.
But getting the buildings is the first step, and the funding for those buildings needs to happen now, Berger said, but they still will not have all of them ready in place in the next five years.
In July, Berger highlighted the staffing difficulties the Marine Corps now faces with attempting to train more women at San Diego.
"Even if we had the facilities in San Diego, for us to dedicate [to developing] the female leadership at San Diego … we would be ripping them out of platoons, ripping them out of squadrons where they're at right now. We don't want to do that," he said.
Berger said they will need to work with Congress to find the best solution, but it would still take several years to get to that point.
But in five years, despite not having all the buildings and infrastructure in place, he said he would like to see as many companies as possible training platoons comprised of men and women.
Kenney.Caitlin@stripes.com Twitter: @caitlinmkenney