Marine Corps details fitness requirements, training exemptions for pregnant troops in updated policy
by
Caitlin M. Kenney
April 24, 2020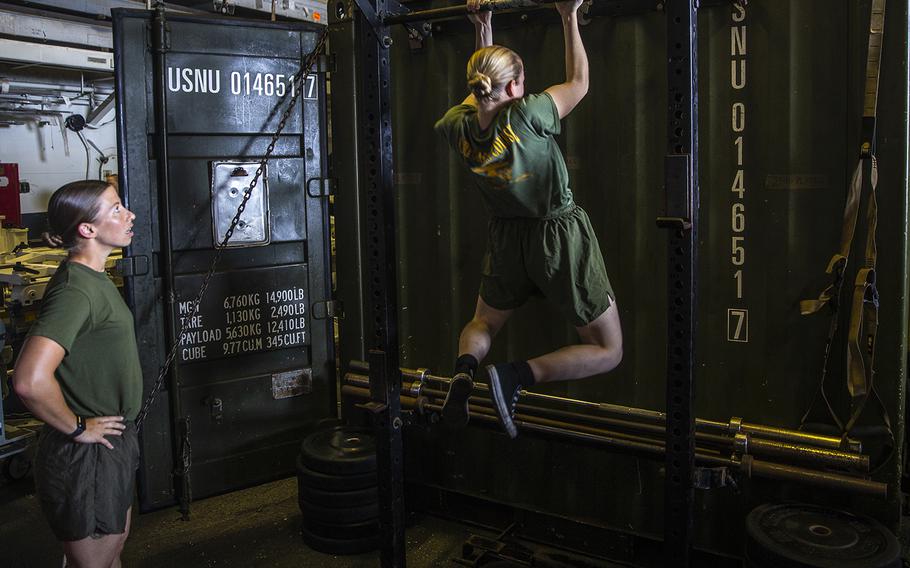 WASHINGTON — Marine mothers now are expected to continue physical fitness during their pregnancies, as directed in a new policy focused on parenthood and pregnancy.
The new order updates the 2004 pregnancy and parenthood policy with the inclusion of updated standards and procedures in one place. The policy focuses on how best to prepare commanders, Marines and their families for this important part of their life.
"The intent really is to emphasize support from their commands to help Marines have the tools available to execute a successful, particularly entry into parenthood, because anyone that's been a parent knows that the first child is the scariest occurrence," Col. Douglas Mayer, the chief of staff for the Manpower Plans and Policy Division of the service's Manpower and Reserve Affairs, said Thursday. Mayer helped with updating the policy document released recently.
The new, 44-page document lays out specific guidance on the whole spectrum of parenthood topics from pregnancy to postnatal care, as well as adoption and loss of a child.
Marines now are expected to continue with a physical fitness program during pregnancy as well as to start six months after giving birth for their health and the health of their children. Mayer said that is based on updated science on individual fitness during pregnancy. A Marine is excluded from having to participate in unit fitness programs, tests, or fitness standards during their pregnancy and for nine months after the child's birth.
"Pregnant Marines are encouraged to consult their health care providers to modify personal fitness programs for their unique situations. For some Marines, this means continuing an advanced [physical training] program, while for others with more complicated pregnancies, it may mean reducing training intensity," Mayer said.
The policy clarifies Marines who have given birth are expected to meet physical fitness and body composition standards within nine months after the birth, excluding medical extensions. It is the same length of time they currently have, but it gives an official point from which to base their return to standards that the previous policy lacked.
The new policy document now requires each Marine who is about to become a parent to notify their commander in writing within two weeks. Whether they are pregnant, their spouse is, or if the family is planning to adopt, the notification is meant to help the commander provide the Marine and their family with the support and educational resources they need, according to Mayer.
Maternity convalescent leave gives the birth parent 42 days — 6 weeks — to recover medically from the birth, starting the day after they are released from the hospital or facility where they gave birth.
The primary caregiver leave is also for 42 days and is given to the Marine designated as providing primary care to the child, which is usually assumed to be the birth parent. That leave can be taken consecutively with the maternity convalescent leave, but it is not required, giving the parent up to 12 weeks of leave. Mayer said primary leave can be taken at any time within the first year of the child's birth, the foster care, or the adoption.
Secondary caregiver leave is only for 14 days because they are designated as providing less care for the child, Mayer said.
In July, Gen. David Berger, the Marine Corps commandant, released his planning guidance, which stated that in the future, he wants to see Marine mothers be able to take up to a year off to care for their children. A longer paternity leave was not mentioned even though more private-sector companies are offering the benefit as an incentive for new hires and for retention of their workforce.
Among the several changes in the update are the expanded timelines and deferments for Marines who have given birth and are returning to certain responsibilities such as training or deployments.
Marines who have given birth have a 12-month deferment when it comes to deployments or an overseas tour for which family members are restricted from accompanying them. The previous policy document only gave Marines a six-month deferment after a birth. Marines who are breastfeeding are now exempt from training on pistol and rifle ranges as well as in a tear gas chamber for 12 months because of exposure to harmful chemicals that can harm the child.
kenney.caitlin@stripes.com@caitlinmkenney