Marine Corps begins field testing pistol that will replace models used since Cold War
by
Wyatt Olson
September 23, 2020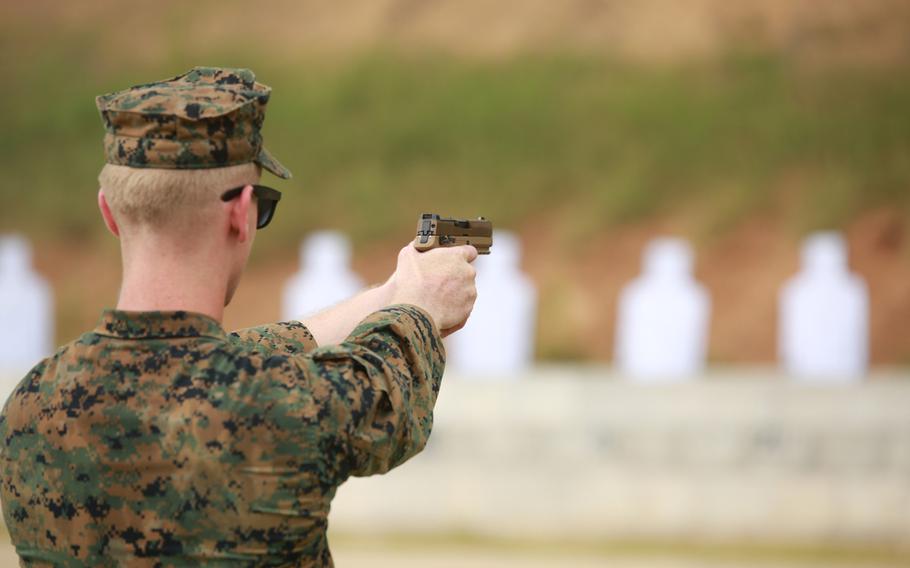 The Marine Corps has begun fielding its new service-wide 9-millimeter pistol, replacing handguns that the service had been using since the 1980s.
The Marine Corps Systems Command began fielding the Sig Sauer pistol, based on the company's Model P320, earlier this month, the Marine Corps said in a news release Wednesday.
The M18 "modular handgun system" will replace all other pistols in the Marine Corps inventory, including the M9, M9A1, M45A1 and M007, the statement said.
"All Marine Corps units with a pistol will receive an M18," said Brian Nelson, the M18 project officer at the Systems Command.
The Marine Corps collaborated with the Army's program that developed the compact M18 and the larger M17 pistols.
The Army began fielding the Sig Sauer pistols in 2017.
The Air Force has also made the switch to M18s, with field testing that began for some units early last year.
The first Marine Corps units to receive the M18 will be Formal Marksmanship Training Centers, Reconnaissance Battalions, Provost Marshall Offices and Marine Corps Security Forces, the statement said.
Fielding is slated to be complete by Oct. 1, 2021.
The M18 offers greater flexibility and easier handling than pistols used until now by the Marine Corps.
The M9, the most widely used handgun in the Corps, has a steel frame, making it heavier than the M18.
The M9 has a single- and double-action trigger, meaning that in order to fire the first shot, the pull of the trigger first cocks the hammer and then fires the round. Subsequent rounds are fired as a single action.
The M18 always fires with single action.
"For some Marines, having two trigger pulls, like with the M9, is difficult to get used to because different forces are acting upon the gun," Sgt. Randall McClellan, pistol program manager with the Weapons Training Battalion at Marine Corps Base Quantico, Va., said in the statement. "With the M18, the trigger is going to be the same weight every time."
The M18 is versatile, featuring interchangeable components to fit small, medium or large hands, the statement said.
An accessory rail will allow users to attach lights or lasers beneath the barrel, such as a red-dot sight once that has been approved for the pistol, the statement said.
Requirements for qualifying with a pistol will not change with the new pistol, the statement said.
"The only thing changing in the qualification course now is the verbiage in regard to single action/double action and the decocking," said Nelson, the M18 project manager.
The Weapons Training Battalion will hold a marksmanship symposium later this year to review data and decide whether the entire course will need to be changed, he said.
olson.wyatt@stripes.com Twitter: @WyattWOlson