General says no command influence in decision to retry Marine for Iraq death
by
Jennifer Hlad
March 6, 2015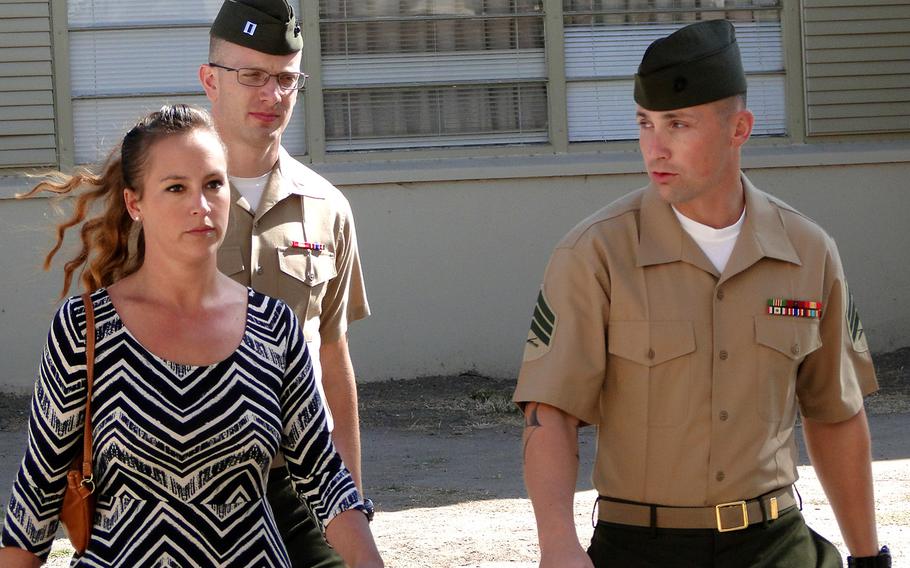 CAMP PENDLETON, Calif. — A Marine general said Thursday that his decision to order a retrial for a sergeant who served six years for the killing of an Iraqi civilian was not affected by Navy Secretary Ray Mabus' statement that the killing was premeditated murder.
Last year, Lt. Gen. Robert Neller ordered the new trial for Sgt. Lawrence G. Hutchins III, who was convicted of unpremeditated murder for the 2006 incident in Hamdania and sentenced to 11 years in military prison. Hutchins' conviction has been overturned by military appeals courts twice.
During a Thursday pre-trial motions hearing, used to determine such things as what evidence might be used or who might testify in a trial, Neller was asked by defense counsel to explain his decision.
"I felt no external influence from anyone," Neller told the court. Instead, he said, he decided to retry Hutchins because "I believe he committed a crime."
In 2009, Mabus denied clemency for Hutchins, saying he thought the original 11-year sentence was "commensurate with the crime."
At the time, Mabus told the Marine Corps Times the killing was "so completely premeditated, that it was not in the heat of battle, that not only was the action planned but the cover-up was planned, and that they picked somebody at random, just because he happened to be in a house that was convenient. He was murdered."
Speaking by phone from Norfolk, Va., where he now serves as commander of Marine Forces Command, Neller said his decision was based on his personal knowledge of the case — he was serving in Iraq when the killing happened — along with statements made by Hutchins' squad members and "a fair amount" of the trial record that he went through.
Six other Marines and a Navy corpsman in Hutchins' unit were convicted in the same killing, but none served more than 18 months.
Though he signed a memo saying Hutchins' actions harmed America's relationship with Iraq and contributed to Iraq not signing a status of forces agreement, Neller said he didn't remember that language and would change it if he could.
"I don't believe they were going to sign a status of forces agreement with us, ever," he said. "I would certainly say I believe what Sgt. Hutchins is alleged to have done did not support or help us politically in Iraq."
Hutchins' civilian attorney, Chris Oprison, said he is hoping to delay the retrial, saying investigators have been holding back roughly 3,000 pages of documents that he just got permission to review.
"NCIS was suppressing this" for the last eight years, Oprison said. "This story gets worse and worse … We're not close to finishing this fight."
Oprison also called to the stand Lt. Col. Joseph Smith, who defended Hutchins in the original trial. Smith said he submitted a request in July 2006 to visit Hamdania and interview witnesses because he deemed it important to go as soon as possible.
The defense team was allowed to go to Iraq in January 2007, but no real effort was made to contact the witnesses they had sought to interview, Smith said.
Instead, on the one day the team was allowed to leave Camp Fallujah for interviews and a site visit, they were only able to interview a man who did not live in Hamdania but was related by marriage to a man the Marines are alleged to have assaulted, Smith said
On the site visit, Smith said, not all of the team members were allowed to get out of the vehicles, and they were not able to see all the locations they had planned to visit.
Oprison has asked the judge, Navy Capt. Andrew Henderson, to send the new defense team to Iraq for a site visit and to interview witnesses.
Henderson ruled Thursday that the government must provide funds for one member of the defense team to visit two out-of-state witnesses the government has interviewed in person, and that the defense must be allowed to inspect the NCIS investigation file, particularly in light of the documents that he ordered released this week.
He rejected a motion to delay the trial but indicated he was open to a motion after Oprison has gone through the documents and determined whether they are duplicates of materials the defense already has or new materials that will require additional work.
The hearing was scheduled to continue Friday morning.
hlad.jennifer@stripes.com Twitter: @jhlad