Coast Guard cutter docks in Yokosuka for repairs days after shipboard fire
---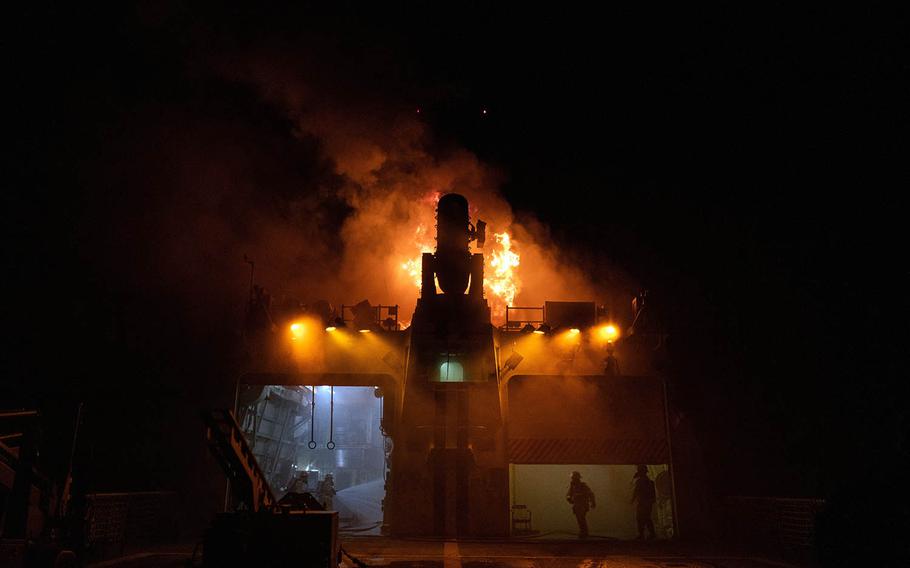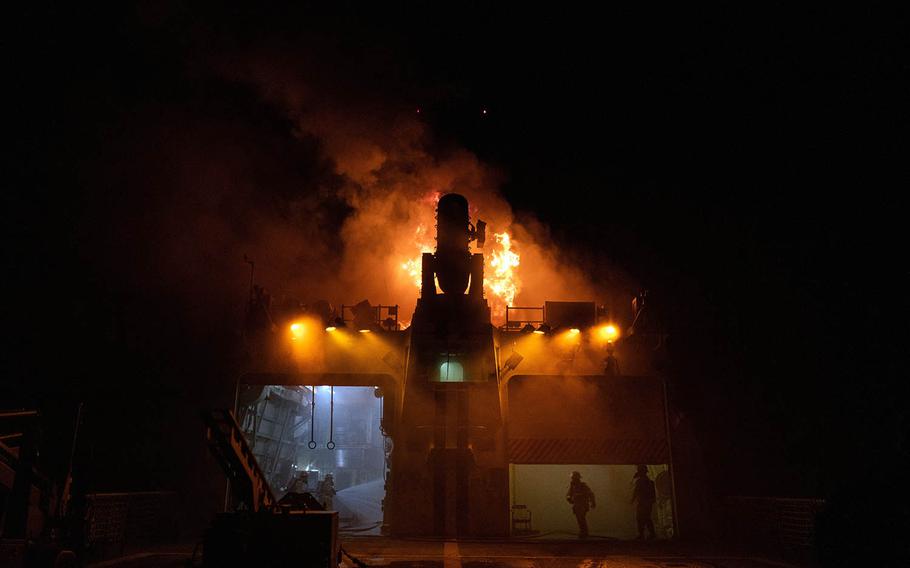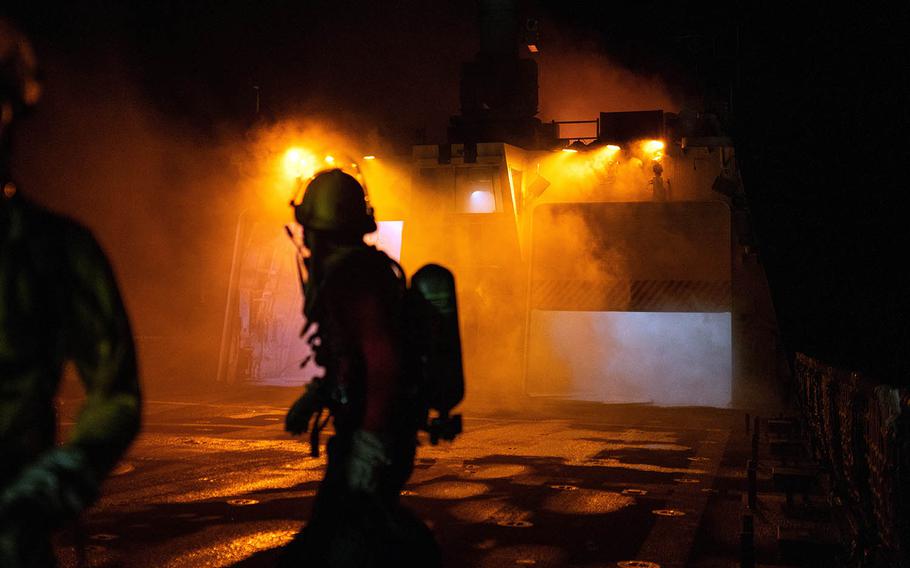 YOKOSUKA NAVAL BASE, Japan — The U.S. Coast Guard cutter Waesche docked here Tuesday for inspection and possible repairs after a 90-minute fire damaged the ship at sea on Sunday, according to a Coast Guard statement.
Five crew members were hurt fighting a fire in the exhaust stack and nearby areas after black smoke was reported on board at 5:18 p.m. Sunday, the statement said. The injuries were not serious and were treated by the cutter's medical team.
Coast Guard photos show orange flames shooting from the Waesche into the night sky.
"The rapid response and courageous efforts from the crew members aboard Waesche to quickly contain and extinguish the fire are a testament to the bravery and skill of this crew," the cutter's commander, Capt. Jason Ryan, said in the statement.
Investigators in Yokosuka are assessing the Waesche to determine the fire's cause and the extent of the damages, according to the Coast Guard statement.
"While at Fleet Forces Yokosuka, the cutter will undergo further inspection and potentially repairs," the statement said.
Yokosuka is home to the U.S. Naval Ship Repair Facility and Japan Regional Maintenance Center.
The Waesch left its homeport in Alameda, Calif., on Aug. 22 to patrol the Western Pacific. Its crew was scheduled "to engage in professional exchanges and capacity-building exercises with partner nations" in the region, according to the Coast Guard.
At more than 400 feet long and with crews of about 150, national security cutters "are among the largest and most technologically sophisticated vessels in the Coast Guard's fleet," according to the statement.
This is at least the second blaze aboard a Coast Guard cutter this year. In August, a fire aboard the Coast Guard cutter Healy, one of two U.S. icebreakers, put a temporary end to U.S. patrols in the Arctic Ocean.
An electrical fire in a main propulsion motor broke out shortly after the Healy departed Seward, Alaska, bound for the Arctic Ocean with 11 scientists aboard. The crew extinguished the fire within a half-hour and no injuries resulted.
Since last year, the Coast Guard has upped its presence in the increasingly contentious Western Pacific. In 2019, the cutters Bertholf and Stratton sailed through the region "for a combined 326 days," according to the service.
The ships combat illegal fishing, train with foreign coast guards and monitor and enforce United Nations Security Council resolutions against North Korea "on vessels conducting ship-to-ship transfers in the East China, South China and Yellow Seas," according to the statement.
Also last year, the Coast Guard made history when the cutter Bertholf joined the USS Curtis Wilbur on a transit of the Taiwan Strait, the first time a cutter had done so.
---
---
---
---