Two-decade uptick in Army suicide rates not linked to combat, study suggests
by
Wyatt Olson
December 20, 2019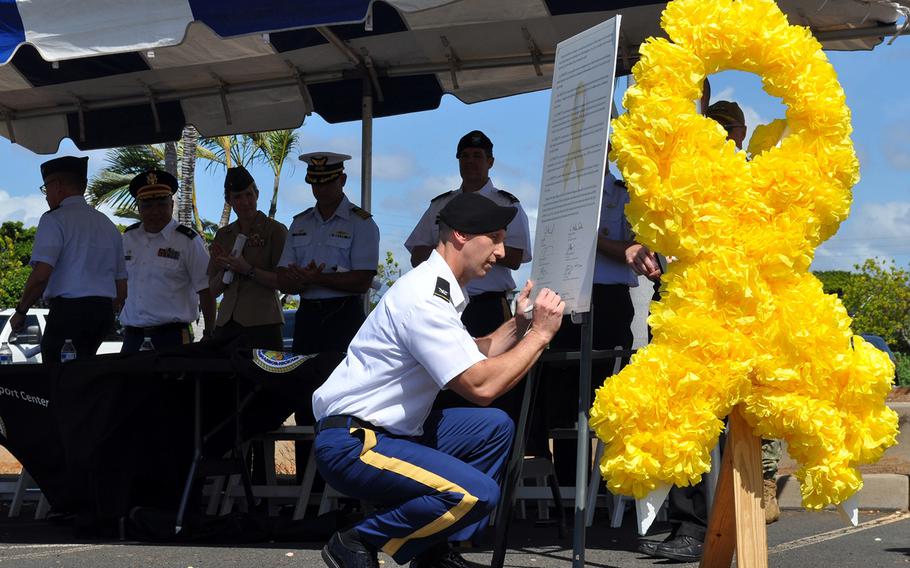 Suicide rates among active-duty U.S. soldiers significantly increased during America's lengthy wars in Vietnam, Afghanistan and Iraq, reversing an earlier historical trend in which rates dropped during wartime, a study found.
The study published Dec. 13 in JAMA Network Open suggests the uptick in active-duty Army suicide rates over the past two decades might not be associated with combat, as has been often assumed.
"There appears to be a paradigm shift that happens with the so-called 'endless wars' — Vietnam, Iraq and Afghanistan," said Jeffrey Smith, a history professor at the University of Hawaii-Hilo and a co-author of the study.
"From a historical standpoint, rates did not increase during wartime, which is part of why we're starting to try to look at these increases from a multifactorial perspective," he said Thursday. "There's probably other factors at play in these increases in rates beyond a singular fixation on combat exposure as the primary driver of what's going on."
Researchers from the University of Hawaii and the Defense Department examined records dating to 1819, the first such in-depth look at military suicide rates. The Army was chosen to review because it is the nation's largest service branch.
Researchers found distinct periods of lower and higher suicide rates, a finding that suggests active-duty suicide rates are not necessarily linked to wartime combat.
Beginning in 1843, suicide rates among soldiers began to increase, with a peak of 118.3 suicides per 100,000 individuals in 1883.
From there, rates decreased through the Spanish-American War in 1898, World War I in 1914-1918 and World War II in 1941-1945. By the last year of World War II, the rate had dropped to 5 per 100,000 soldiers.
Beginning around 2004 — a few years after the U.S. sent forces to Afghanistan and Iraq — suicide rates among soldiers began rising dramatically. It peaked at 29.7 per 100,000 in 2012 and has not fallen below 20.2 for the past 11 years, according to the study.
Smith said his current research is examining suicide more broadly over time to "parse out" causes "indicative of a particular time and place" for society overall.
"We're looking at causal factors that would be beyond the battlefield," he said. "We're looking at socio-economic factors, psychological factors, those type avenues."
A big jump in the suicide rate in the late 1800s came at a time of no major wars and then declined without the military implementing a suicide-prevention program, which "seems to speak to larger factors at play," Smith said.
The findings dovetail with several recent studies that found deployment does not increase the risk of suicide for active-duty personnel. The Defense Department's annual report on suicide released in September described it as a "misconception" to link deployment – including combat experience, length of deployment, and number of deployments – with greater risk of suicide.
It noted, for example, that of the active-duty service members who died by suicide in 2017, 41.7% had no history of deployment.
olson.wyatt@stripes.com Twitter: @WyattWOlson