Thousands of 82nd Airborne paratroopers to return home after rapid deployment to the Middle East
by
Chad Garland
April 26, 2020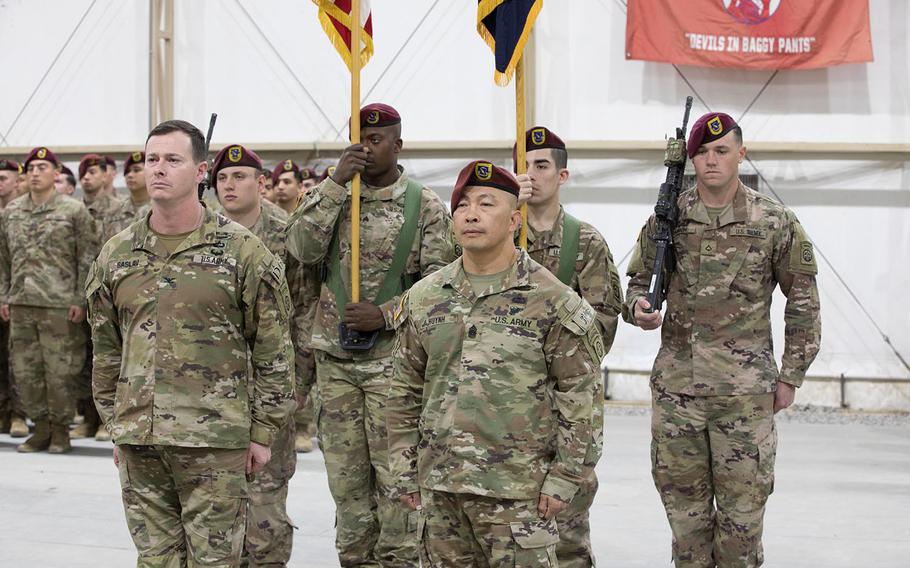 Some 2,500 members of the 82nd Airborne Division will return home soon after being deployed rapidly to the Middle East just after Christmas amid growing tensions with Iran.
Paratroopers with the division's 1st Brigade Combat Team were sent to bolster security in the U.S. Central Command area of operations on short notice after a rocket attack killed an American contractor in Iraq and the U.S. Embassy in Baghdad was stormed by an Iran-backed Shiite militia that U.S. military had hit with retaliatory strikes.
In a Facebook video last week, brigade commander Col. Andrew O. Saslav said the troops had been approved to return home to Fort Bragg, N.C., "in the coming weeks."
Some 800 had returned in February, before the outbreak of the global coronavirus pandemic forced the military to restrict movement around the world, but officials said late last month that the remaining thousands of paratroopers would remain deployed indefinitely, as tensions in the region remained high.
In a livestream on Friday, Lt. Col. Doug Massey, the commander of the brigade's rear detachment, said timelines of the brigade's return would not be discussed publicly. None of the paratroopers with the brigade had tested positive for the coronavirus, Massey said, but all would be subject to a 14-day quarantine upon their return stateside.
The soldiers had seen a drop in quality of life due to the closure of gyms, some dining facilities and other services at Central Command bases meant to combat the spread of the virus. The unknown date of return also was causing increased stress for many who were separated from their families during the pandemic, one paratrooper told Stars and Stripes in March.
Though they will be in quarantine, they will be able to be home with their families upon their return, Massey said.
But they won't get the typical welcome-home reception at the "green ramp," said the rear detachment's Command Sgt. Maj. Cory Bell in the livestream. Instead, there will be a parade at the base's four-acre Pike Field, where the troops will be in buses and families will be gathered while maintaining appropriate distancing.
"I highly encourage any family member within the Devil Brigade to go out and line the road there with flags, banners, streamers, whatever it is to welcome home our Devil Brigade paratroopers," Bell said.
As the U.S. military's Immediate Response Force Brigade, the 1st Brigade sent its first battalion to the Middle East within 18 hours of receiving orders in late December. It was the first such rapid deployment since soldiers were called up in response to a devastating 2010 earthquake in Haiti.
Much of the brigade stayed in Kuwait during its deployment, where some conducted training. Some others operated in Iraq, including bolstering security at the U.S. Embassy in Baghdad, officials have said.
But by late March, the soldiers remaining in Kuwait had complained of a lack of a set mission and a family member told Stars and Stripes that they hadn't done anything for weeks other than sit around in tents and go to chow.
But as tensions between the U.S. and Iran remained high, including a rocket attack in mid-March that killed two American service members and a British soldier, military officials said they were continuing to evaluate whether to redeploy the brigade and when.
In the video message announcing they had been approved to come home, Saslav said he "can't begin to tell you how proud" he and the unit's top enlisted soldier were of their troops.
"The paratroopers and our families have had a historic deployment and now we can't wait to be back in your arms again," he said.
garland.chad@stripes.com Twitter: @chadgarland