The Army Reserve halts monthly training amid coronavirus pandemic
---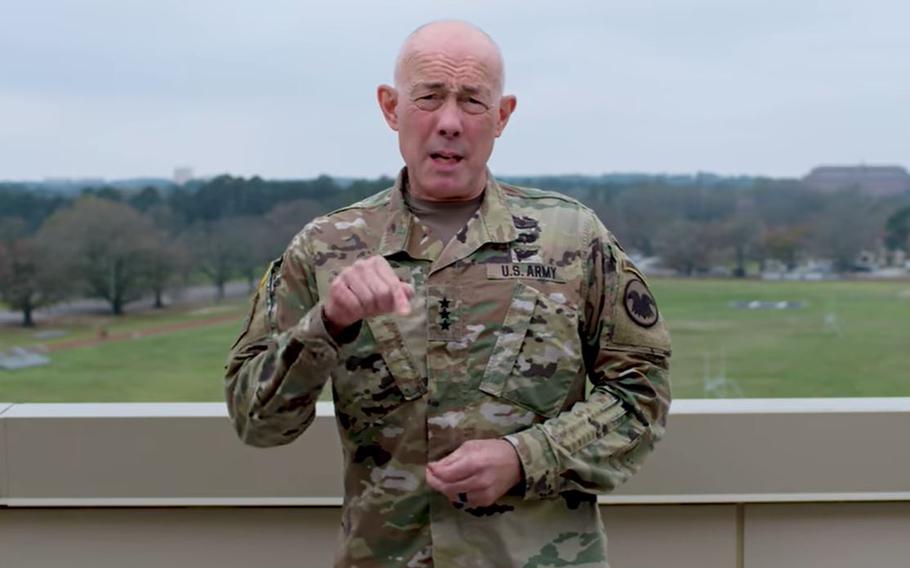 • Stars and Stripes is making this story and other coverage of the coronavirus pandemic available free of charge. See other stories here, and sign up for our daily coronavirus newsletter here.
WASHINGTON — The Army Reserve on Wednesday halted monthly training and virtually all official travel through the end of March for the vast majority of its roughly 200,000 soldiers, Lt. Gen. Charles Luckey, the Army reserve chief announced.
The suspension of monthly battle assemblies for reserve units could last longer, the general said in a Facebook message. The military has halted most movement in an effort to stifle the spread of the fast-moving coronavirus. Luckey instructed reserve soldiers to contact their chains of command, as some units will still need to train.
"When in doubt, just stay where you are, you are not traveling, period, on government business," he said. "There may be certain units that we need to allow to conduct certain activities, and we'll decide that one a case-by-case basis."
Luckey said the temporary pause in operations for most of his command should not erode combat readiness, but protecting troops' health is the priority for now.
The spread of the virus across the globe and throughout the United States has had a drastic impact on the U.S. military, forcing officials to take drastic measures as part of the federal government's efforts to slow the disease. In the United States, troops have been ordered not to travel far from their home stations and commanders have halted some training exercises and delayed long-planned deployments.
In Luckey's social media post, he reminded Army reservists to practice social distancing and wash their hands for at least 20 seconds frequently.
The suspension of most Army Reserve training comes after the Navy made a similar decision to halt training for most of its reserve force through May 11. The Army on Wednesday announced it was canceling some rotations to its combat training centers and earlier this week it scaled back a major training exercise in Europe, known as Defender Europe-20.
Defense Secretary Mark Esper on Tuesday said the military reserves could be activated for domestic duty to help in the coronavirus effort.
But he said such an activation of forces, including calling up National Guard troops for federal duty outside the command of their states' governors, should be considered a "last resort."
"We can come in, rather than being the first, and really help enable through the Guard and Reserve to play that role initially," Esper said in a news briefing at the Pentagon.
More than 2,000 National Guard troops had been deployed in more than 20 states, as of Thursday morning. Those activations were all at the direction and under the control of those states' governors.
The Pentagon reported 51 service members had tested positive for the coronavirus as of Thursday morning. It was not immediately clear how many of the infected were soldiers or if any of them were members of the Army Reserve.
Most active-duty Army units were moving forward with planned home-station training exercises, service officials have said.
Maj. Gen. Brian Winski, the commander of the Army's 101st Airborne Division, said this week that soldiers were safer from the virus while training in the field than elsewhere.
"The way they are arrayed and dispersed, they're fundamentally at less risk than soldiers in garrison or who are traveling and in contact with a lot more people," Winski said during a virtual town hall for the Fort Campbell, Ky., community.
dickstein.corey@stripes.com Twitter: @CDicksteinDC
---
---
---
---