New Army lieutenant from Virginia represents military at White House graduation ceremony
by
Rose L. Thayer
May 23, 2020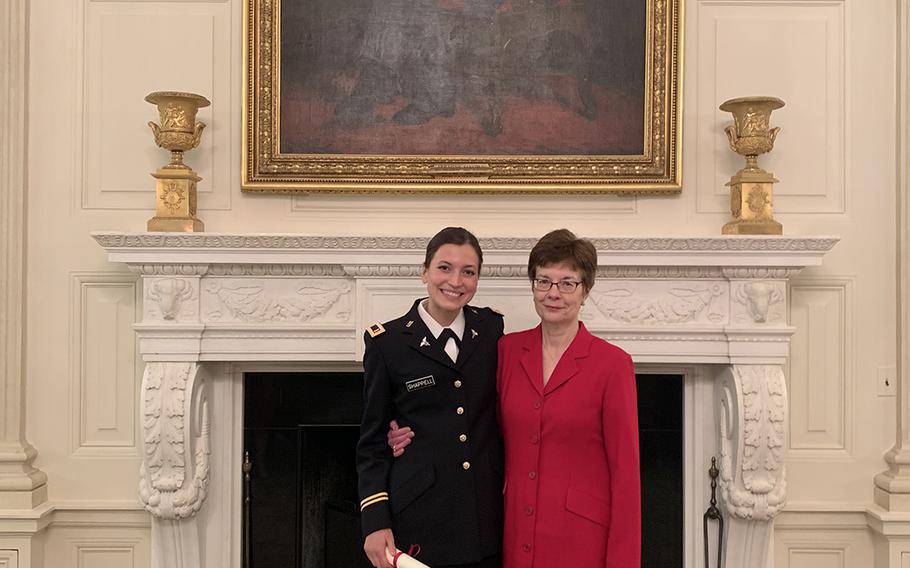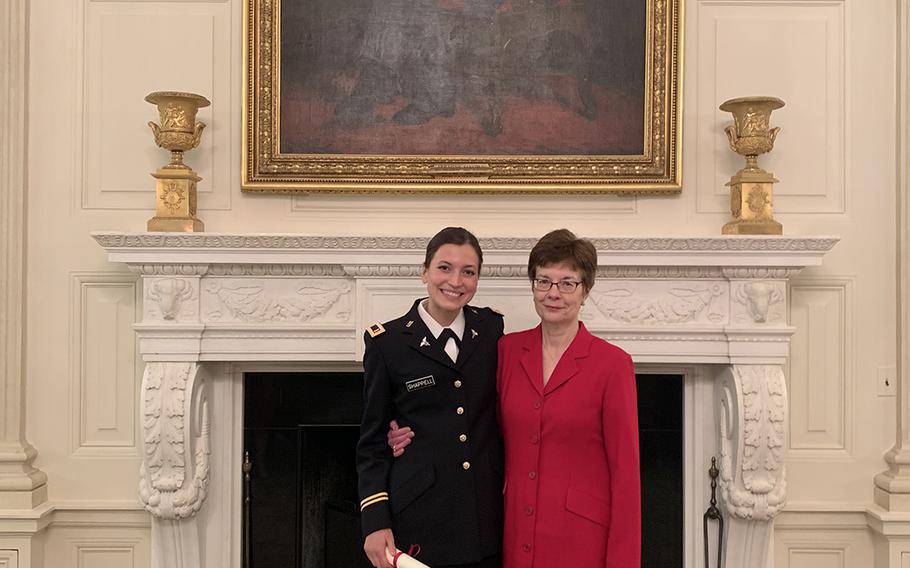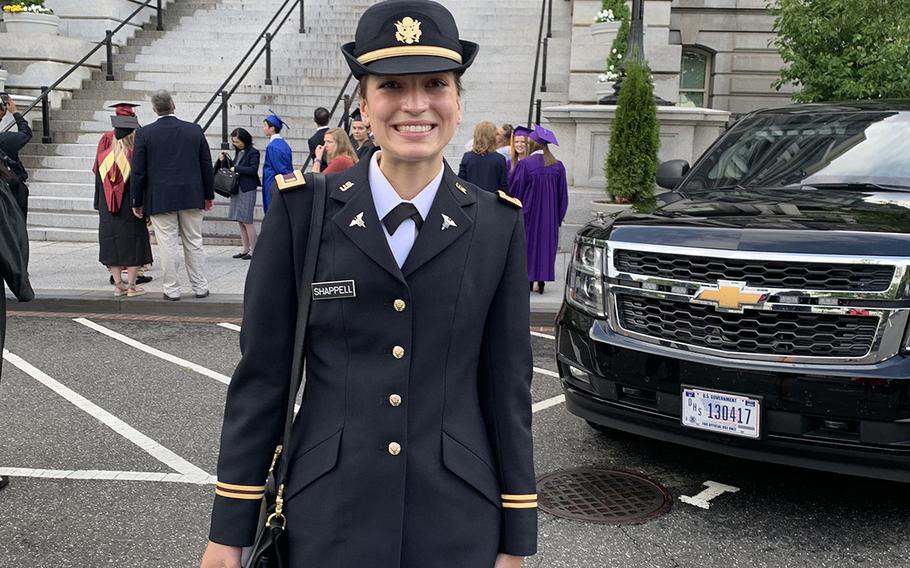 Stars and Stripes is making stories on the coronavirus pandemic available free of charge. See other free reports here. Sign up for our daily coronavirus newsletter here. Please support our journalism with a subscription.
As a newly commissioned second lieutenant in the Army, Lauren Shappell's first assignment attracted a call of support from a four-star general.
Her mission: to represent the military at a White House commencement ceremony Friday afternoon that included only 20 class of 2020 students from across the country.
"There were a lot of lieutenants nominated from the class that just commissioned and somehow I got picked," the 22-year-old said of the selection process, which included her cadre at the University of North Carolina at Chapel Hill nominating her to the Army Cadet Command, which ultimately selected Shappell from its 7,000 graduating cadets. "[But] I haven't felt like I'm traversing this alone."
Shappell received support in preparing for the ceremony from Army leadership, including a call from Gen. Paul E. Funk II, commander of Army Training and Doctrine Command, and traveled to the White House event with her mother from her family's Virginia home.
The East Room ceremony, she said, was "very forward focused" and included students ranging from ages 5 to 50. One fellow participant was graduating kindergarten while another was a nontraditional aged student earning an associate degree.
Shappell was the only military member invited to participate. President Donald Trump, First Lady Melania Trump and Education Secretary Betsy DeVos spoke at the event and acknowledged the students were graduating at a very unique time for the country.
"It was inspirational," Shappell said.
To enter the White House, attendees had to take a coronavirus test on site and have their temperature monitored. After cleared by testing, attendees were able to remove their face masks. Taking the test was reassuring to know she was healthy, Shappell said.
Since her university didn't have a graduation ceremony because of the coronavirus pandemic, this is the only one that she'll attend this year. Her ROTC program did host a series of small commissioning ceremonies where Shappell received her gold bars and recited the officers' oath.
Her mother, Cynthia Shappell, said she thought her daughter's charisma and natural leadership were some of the reasons why she was chosen for the opportunity. Lauren Shappell said she was "just lucky" to be picked.
Her resume, which notes she speaks three foreign languages and graduated from UNC with honors, might have also helped the Army Cadet Command when selecting her as the student to represent the military. She was recommended for the opportunity by her leaders at school and found out she was selected a week ago.
"I'm thrilled to be able to do this, it's a lot of fun," said Cynthia Shappell, a former major in the Army who now works as the senior medical adviser for the Army Review Boards Agency.
Lauren Shappell's father, retired Army Col. Steve Shappell, is a program analyst with the Office of the Assistant Secretary of the Navy for Manpower and Reserve Affairs.
"I grew up so familiar with [the Army] that it didn't seem like an unknown opportunity," Lauren Shappell said. "I had a lot of support going into it. When I have questions, [my parents] talk me through it. They've been really supportive."
Like most military kids, she grew up in locations around the globe. Born in Texas, the Shappells later moved to Turkey, Germany and Rhode Island before settling into high school in Lorton, Va. Lauren Shappell also spent two summers in South Korea while her dad was stationed there without the rest of the family.
"I had a great time traveling," she said.
Now she looks forward to beginning her own Army career in medical services, which is not being delayed by the coronavirus pandemic. She'll travel to Fort Sam Houston in Texas for more than two months of basic officer training and then report to Fort Campbell, Ky., where the new officer expects to join a surgical team.
"It feels important," she said of entering the medical field during a global pandemic. "I know it'll just be logistical [role], but it feels like it's going to be impactful. We need good medical logistics and acquisitions right now."
Thayer.rose@stripes.com Twitter: @Rose_Lori
---
---
---