Lt. Col. Vindman, fired by White House after testifying in Trump impeachment, will retire from Army
by
Corey Dickstein
July 8, 2020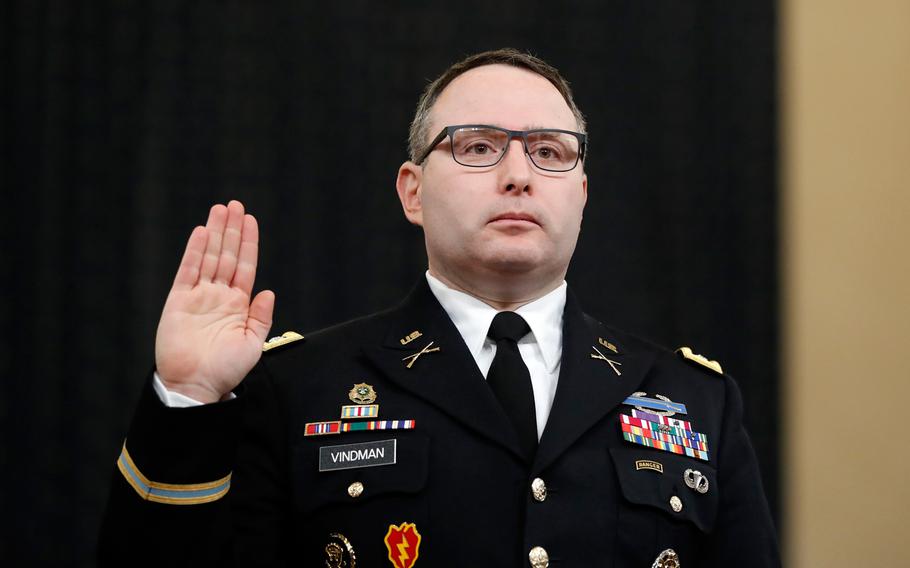 WASHINGTON — Army Lt. Col. Alexander Vindman, the former Ukraine expert for the National Security Council who testified in President Donald Trump's impeachment case, will retire from the military, his lawyer announced Wednesday in a statement that charged Trump with bullying.
Vindman was ousted by Trump in February from his White House role as director of European Affairs after the soldier testified to House lawmakers that a July 2019 phone call between Trump and Ukraine President Volodymyr Zelenskiy had been "inappropriate." Vindman, who received a Purple Heart for injuries sustained in combat in Iraq, testified publicly only after receiving a subpoena from Congress, his lawyer, David Pressman, wrote in the statement.
"[Lt. Col.] Vindman did what the law compelled him to do, and for that he was bullied by the president and his proxies," Pressman wrote. "And yet, [Lt. Col.] Vindman would not be intimidated and will not be corrupted. He did what he has always done: put the interests of his country ahead of his own."
Vindman, 45, will retire after 21 year of Army service. Lawmakers in recent weeks expressed concerns the White House could attempt to block his scheduled promotion to colonel. Last week, Sen. Tammy Duckworth, D-Ill., blocked the scheduled promotion of 1,123 military officers until Defense Secretary Mark Esper provided her a guarantee in writing he would not block Vindman from his expected promotion and the soldier would not face further retaliation in the Army.
Duckworth, who lost both legs after her Army Black Hawk helicopter was shot down in Iraq, said Wednesday that she never received such notice from Esper and she would keep her hold in place until the defense secretary provided transparency on the issue.
"Lt. Col. Vindman's decision to retire puts the spotlight on Secretary of Defense Mark Esper's failure to protect a decorated combat veteran against a vindictive commander in chief," Duckworth said in a prepared statement. "Secretary Esper's failure to protect his troops sets a new, dark precedent that any commander in chief can interfere with routine merit-based military promotions to carry out personal vendettas and retaliation against military officers who follow duly-authorized subpoenas while upholding their oath of office and core principles of service."
A Pentagon official, who spoke on condition of anonymity, said Wednesday that the Army and Esper's office had approved the promotion list with Vindman's name on it before his retirement announcement. The official said the list was expected to be sent to the White House soon.
Pressman's statement indicated Vindman, at least in part, chose to retire so he would not block other promotions. But the statement also acknowledged the lieutenant colonel felt he had no hope of advancing his military career.
"Through a campaign of bullying, intimidation and retaliation, the president of the United States attempted to force [Lt. Col.] Vindman to choose: Between adhering to the law or pleasing a president. Between honoring his oath or protecting his career. Between protecting his promotion or the promotion of his fellow soldiers," Pressman wrote. "These are choices that no one in the United States should confront, especially one who has dedicated his life to serving it."
Vindman's twin brother, Army Lt. Col. Yevgeny Vindman, also was ousted from his job as an attorney on the National Security Council by Trump in February after the president was acquitted by the Senate on impeachment charges.
Trump, in a tweeted explanation for his decision to oust the brothers, labeled Alexander Vindman "very insubordinate." Trump also claimed Alexander Vindman's supervisors had accused the soldier of having "problems with judgment, adhering to the chain of command and leaking information." Trump also called on the military to punish Vindman further.
The Vindman brothers were born in the Soviet Union-run Ukraine before moving to the U.S. when they were 4. Alexander Vindman was commissioned in the U.S. Army in 1999 as an infantry officer. In 2004, he was injured in a roadside bomb attack in Iraq. He joined the National Security Council in 2018.
In addition to his Purple Heart, Vindman's awards and decorations include the Ranger Tab, the Combat Infantryman Badge, four Army Commendation Medals and two Defense Meritorious Service Medals.
Alexander Vindman testified in the House impeachment hearings that Trump had acted inappropriately during the July 25, 2019, phone call by pressing Ukraine's new president to investigate former Vice President Joe Biden, now the presumed 2020 Democratic presidential candidate, and his son, Hunter Biden, over the younger Biden's work with a Ukrainian company called Burisma.
"Vindman's patriotism has cost him his career," Pressman wrote in the statement. "Today our country loses a devoted soldier, but it is incumbent upon all of us to ensure it does not lose the values he represents."
dickstein.corey@stripes.com Twitter: @CDicksteinDC