Inspectors are searching more than 8,000 rooms at Joint Base San Antonio for mold
by
Rose L. Thayer
August 1, 2019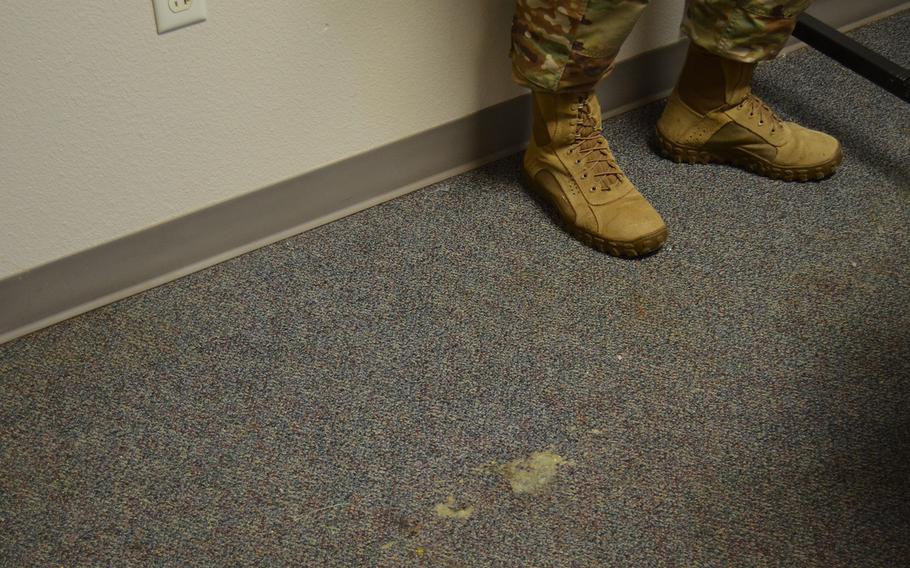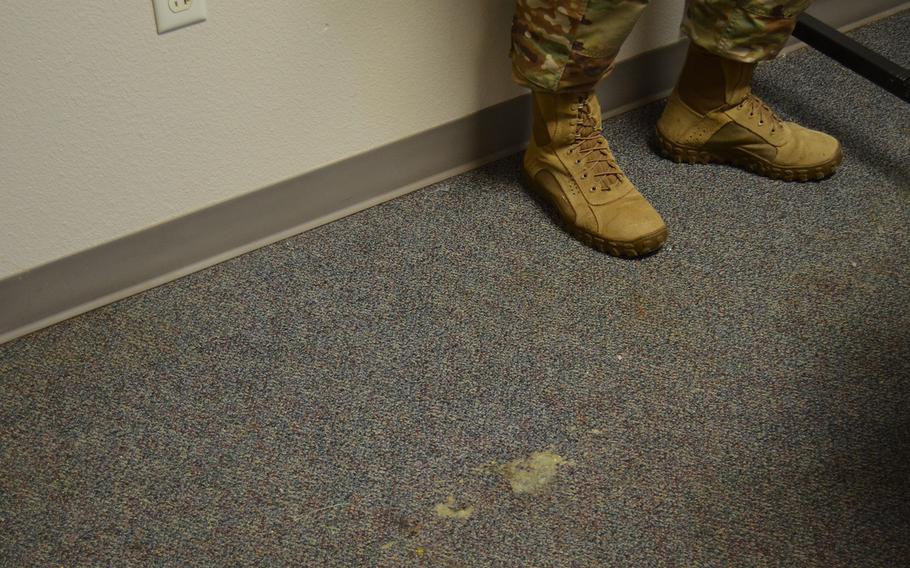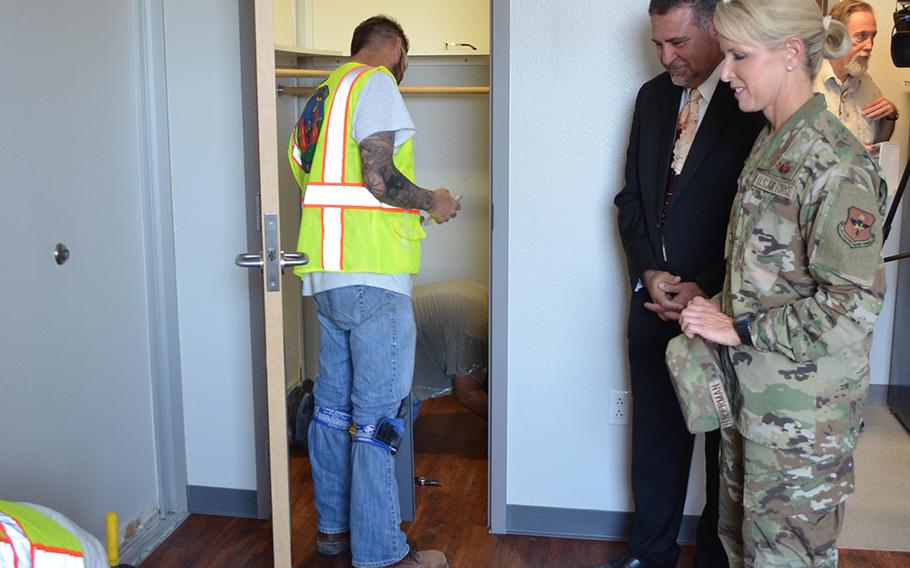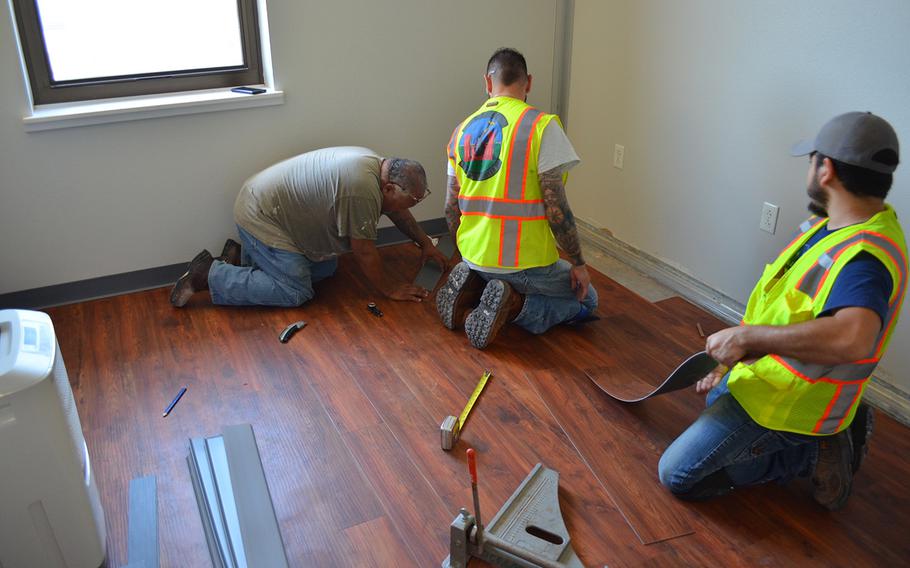 SAN ANTONIO, Texas — Mold has been an ongoing issue in the 77 dormitories spread across Joint Base San Antonio.
Social media chatter during the last two weeks alerted base leadership about how substantial the problem had become, said Air Force Brig. Gen. Laura Lenderman, who has been the base commander for a year.
Now a nearly complete review of all dorms shows about one out of every six rooms has mold.
"We're extremely grateful for them bringing it to the forefront in terms of the extent of the challenge," Lenderman said Thursday. "We knew as a team that we needed a fast and safe and enduring response."
Inspectors are examining all 8,279 rooms and open bays within the joint base's command, with 7,080 inspections complete. So far, 1,146 rooms have shown signs of mold at varying degrees and 224 servicemembers have been moved to new rooms, she said.
The call to review dorms was triggered by photos posted more than a week ago on "Air Force amn/nco/snco," a Facebook group page popular with enlisted Air Force personnel. More than 290,000 people follow the page.
The photos were said to be posted by current and former residents of Lackland Air Force Base, which is part of the joint base, and showed mold growing on shower walls, bedding, sneakers, backpacks and uniforms. In the days following the initial posts, more photos were published as were messages from airmen anonymously sharing stories of a lack of response to their maintenance requests and backlash over the situation.
"How did it bubble over? I think the military housing review had a positive impact on what's happening now. Having advocacy and a voice for residents in base housing has given our airmen and servicemembers on this base a voice as well," Lenderman said.
In 2018, an investigation by Reuters exposed the shoddy conditions of housing for military families across the country who said they'd tried seeking help through proper channels with no success. Stories of lead paint and mold led to congressional hearings, a tenant bill of rights and many efforts among the service branches to remedy the problems.
Every year at Joint Base San Antonio about 27,000 work orders come through the 502nd Civil Engineer Group, a team of civilian personnel that manage the facilities on base. Air conditioning and plumbing are the top two issues, which are often a cause of mold formation, said Richard Trevino, the group director. These requests are also considered emergencies and call for a response within 24 hours.
The presence of mold is a challenge caused by the hot, humid climate of south-central Texas, combined with "the age of the infrastructure, the insufficient funding and the design," Lenderman said.
Most dorms are set up as suites with private rooms, but a small bathroom shared by two or four people. The steam becomes trapped in these small spaces — especially when a ventilation fan breaks — and moisture builds up.
In a tour Thursday of a dorm building, Trevino showed a now vacant room with mold growing in carpet under a bed and another where his workers had already removed old carpet and were replacing it with vinyl flooring.
"We have dedicated dorm teams that are assigned specifically to the dorms to take care of facility maintenance issues," Trevino said. "That is their job 24 hours a day, seven days a week. If a team leader or dorm manager says, 'I have a problem,' they immediately respond."
While there can be health concerns when it comes to mold, it typically impacts people with an already fragile immune system, said Maj. Gen. John DeGoes, commander of the 59th Medical Wing. Some people, especially ones impacted by allergies, can experience itchy, burning or watery eyes, sneezing, a dry cough, or a rash. Getting away from the mold alleviates symptoms.
Less than 10 residents have come in with complaints of these symptoms, DeGoes said.
"No one was referred to an allergy specialist because their allergy symptoms weren't more than what a primary care manager can take care of," he said. "Typically, people who are sensitive to [mold] and have a history of allergies, they can smell it. Those are the people actually who have come to see us."
As the base finishes its review of the remaining dorms, Lenderman encouraged servicemembers who feel their concerns are not being heard or see mold that should be addressed immediately to reach out for help. They've put a hold on 300 rooms within the base's lodging for people who made need to be relocated because of mold.
"We're working very closely with [military training leaders] to make sure that it limits the impact on the training," Lenderman said. "We're offering vehicles to help move folks. We're personally offering to help move folks. Because the last thing you want to deal with in training is a distraction like that."
If initial requests for support aren't met, Lenderman offered a direct line to her by emailing RandolphPublicAffairs@us.af.mil using the subject line "FeedbackFridays." Contacting her shouldn't leave airmen worried they will face repercussions from their leadership.
"Transparency and trust is what we're shooting for," said Chief Master Sgt. Christopher Lantagne, the base command chief. "We talk to our peers and very clearly articulate that that's important. Reprisal and retaliation is unacceptable."
Thayer.rose@stripes.com Twitter: @Rose_Lori