Fort Bragg welcomes back first wave of troops from Middle East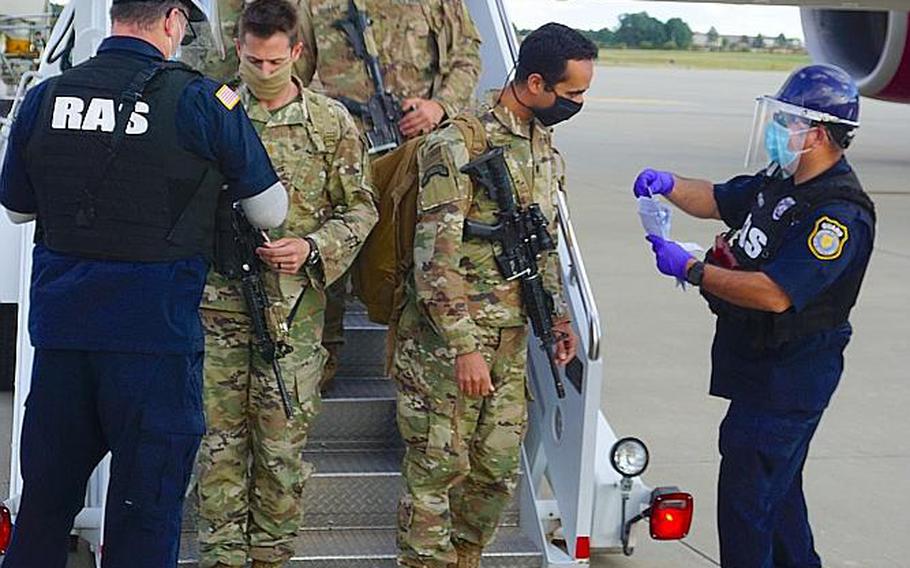 Stars and Stripes is making stories on the coronavirus pandemic available free of charge. See other free reports here. Sign up for our daily coronavirus newsletter here. Please support our journalism with a subscription.
Almost 300 paratroopers from the 82nd Airborne Division returned from the Middle East Friday, ending a rapid deployment meant to deter Iranian aggression in the region.
The returning soldiers of the 1st Brigade Combat Team were greeted by dozens of loved ones who lined Pike Field on Fort Bragg, N.C., the division said in a statement on Saturday. Due to coronavirus precautions, a traditional welcome home was not possible, so the soldiers were to be bused by the field in a sort of parade, officials said late last month.
More than 2,500 more paratroopers will return in the coming weeks, the division said, as the Immediate Response Force Brigade ends the no-notice deployment that was ordered in late December, as Iran-backed Shiite militia members in Iraq stormed the U.S. Embassy in Baghdad.
Soldiers will undergo 14-day quarantine, but those with families will be able to spend that period at home with their loved ones, with certain precautions in place, officials have said.
While deployed to the U.S. Central Command area of responsibility, the troops trained individually and at the unit level, the statement said. They conducted airborne jumps, including the first expeditionary Jumpmaster qualification in CENTCOM, it said.
The deployed elements included mission command elements of the Division Tactical Command Post, the Immediate Response Force Brigade, a multifunctional aviation task force called Task Force Saber, and others.
Task Force Saber supported recent air integration exercises at sea with the U.S. Navy. Army helicopters have trained in recent months to land on ships and attack seaborne targets in an effort to bolster maritime security in the Persian Gulf.
"The Brigade's deployment has been historic," said commander Col. Andrew Saslav. "Our Paratroopers deployed on no-notice to deter foreign aggression and were prepared to defeat the enemies of our Nation, and for almost five months we remained postured and ready to respond wherever needed."
---
---
---