Ex-Green Beret Golsteyn pleads not guilty to murder charge in suspected Taliban bombmaker's death
by
Corey Dickstein
June 28, 2019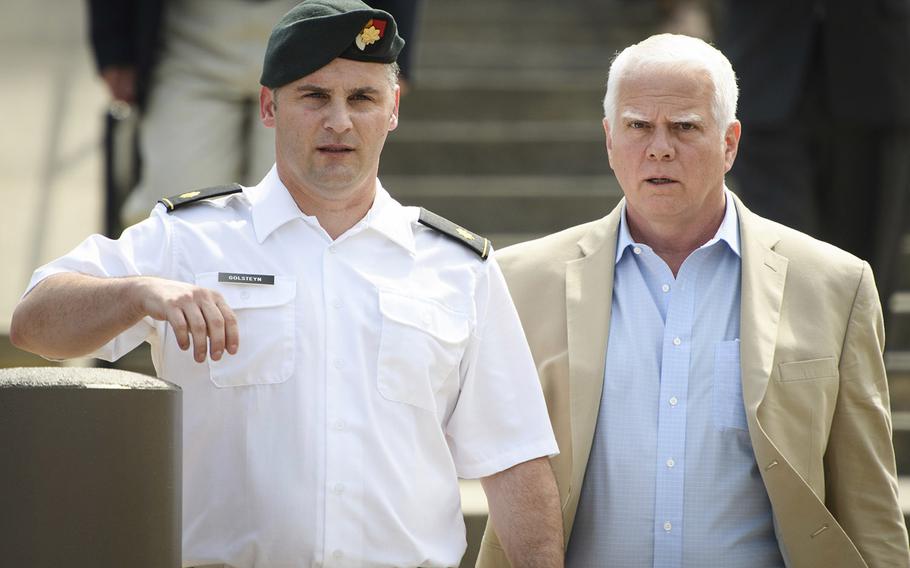 WASHINGTON – Army Maj. Matthew Golsteyn pleaded not guilty in a military court Thursday to allegations that he wrongfully killed an unarmed Afghan man in Helmand province almost a decade ago, Army officials said Friday.
Golsteyn is a former Green Beret officer charged with a single count of premeditated murder in the Feb. 22, 2010 shooting death of an Afghan man named Rasoul. Golsteyn has long admitted the killing in interviews with media and Army investigators, but he has for years maintained it was justified in wartime, identifying the man as a Taliban bombmaker responsible for the deaths four days earlier of two Marines under his command.
The Army, in charging documents filed in December, contends Golsteyn ambushed the man after he was released from American custody for questioning, executed him and later destroyed the man's body in a burn pit on a forward operating base. Golsteyn told the Washington Post in February that Rasoul was returning to the Taliban, making him a legal target at the time of the killing.
Phillip Stackhouse, Golsteyn's civilian attorney, entered the plea for his client during his arraignment in a Fort Bragg, N.C., courtroom Thursday morning. It marked Golestyn's first court appearance in the case before the military judge, Army Lt. Col. Christopher E. Martin.
"It's very disappointing the Army took this action, second guessing Maj. Golsteyn's decision-making on the battleground," Stackhouse said Friday. "Marine task force commanders under which Maj. Golsteyn's [Special Forces detachment] was attached are satisfied with his actions and trust his decision-making, even today… We will be mounting a relentless defense to clear Maj. Golsteyn's name."
During the hearing, Golsteyn advised Martin that he wanted to be tried by a military jury, said Army Lt. Col. Loren Bymer, a spokesman for U.S. Army Special Operations Command.
Trial dates have not been scheduled in the case, Bymer said. The Army's court docket shows no additional pre-trial hearings had been scheduled as of Friday.
Army investigators first learned of the killing in 2011 when Golsteyn discussed it during a polygraph test that he took while attempting to join the CIA. In November 2013, the Army closed its probe into the incident after failing to find enough evidence to prosecute the soldier. But the service took other steps to punish him including revoking his security clearance and stripping him of his Special Forces Tab and the Silver Star that he was awarded for actions in Afghanistan unrelated to Rasoul's death, the Army said at the time. He was also issued a reprimand that ultimately ended his career.
When the Army charged him in December, Golsteyn was returned to active-duty and assigned to U.S. Army Special Operations Command at Fort Bragg. He checks in twice daily with his command, and he has not been held in pre-trial confinement, according to the Army.
The incident occurred in the early days of the Battle of Marja, which would last months and become the bloodiest battle of the U.S. war in Afghanistan. Golsteyn, then a captain, was awarded his Silver Star, the nation's third highest honor for battlefield valor, for actions two days before the killing in an hourslong firefight in which he was credited with repeatedly running into enemy fire and saving the life of an Afghan soldier.
The case has faced its own controversies in recent months.
The Army's lead investigator into Golsteyn's case, Mark Delacruz, pleaded guilty in May to charges that he made false official statements in his military records and wore unauthorized decorations on his uniform. Delacruz, who was reduced in rank from sergeant first class to specialist as part of his sentence, admitted he wore a Purple Heart, a Pathfinder Badge and an Air Assault Badge, none of which he had been awarded.
President Donald Trump has also weighed in on the case. In December, he tweeted that he would review Golsteyn's case. The New York Times, citing unnamed U.S. officials, reported in May that Trump was considering a pardon for the soldier and had ordered Pentagon and Justice Department officials to assemble a pardon package for Golsteyn.
dickstein.corey@stripes.com Twitter: @CDicksteinDC
---
---
---
---