DOD investigates two soldiers who appeared in uniform as part of the Democratic National Convention
by
Steve Beynon
August 19, 2020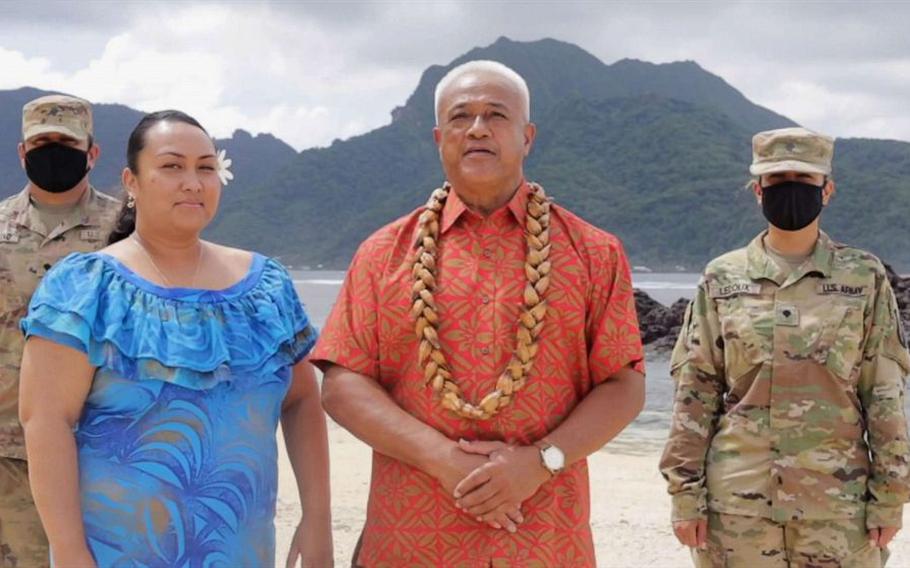 WASHINGTON — The Pentagon is investigating two junior enlisted soldiers who violated an Army regulation when they appeared in uniform during the Democratic National Convention broadcast Tuesday night, a Defense Department spokesman said.
During a roll call of all the states and territories pledging their convention delegates to former Vice President Joe Biden to formalize his nomination as the Democratic candidate for president, American Samoa used two Army Reserve specialists from the 9th Mission Support Command as a backdrop behind two delegates.
"Wearing a uniform to a partisan political event like this is prohibited," Lt. Col. Emanuel Ortiz, a Defense Department spokesman, said Wednesday in a statement. "The Army follows the Department of Defense's longstanding and well-defined policy regarding political campaigns and elections to avoid the perception of DoD sponsorship, approval or endorsement of any political candidate, campaign or cause."
The two uniformed reservists' participation in the convention came after the Democratic Party's message to troops earlier in the evening that promised to end the politicization of the military.
Defense Department Directive 1344.10 forbids service members from participating in any partisan political campaign, or elections, candidate, cause, or issue while in uniform. Service members are allowed to engage in virtually any political activity out of uniform, but the activity cannot be perceived as being endorsed by the military.
"Military personnel should abide by DOD regulations regarding political conduct while in uniform," said Rep. Ruben Gallego, D-Ariz., who is an Iraq War veteran. "If you are in uniform, do not get involved in political events."
The soldiers stood at the position of attention as Aliitama Sotoa, the chairman of the American Samoa Democratic Party, cast the territory's 11 votes to Biden in a brief segment. Standing next to Satoa was Petti Matila, who serves as an executive assistant at the American Samoa Department of Commerce. The soldiers did not speak and were not acknowledged.
"Members on active duty may not participate in partisan activities such as soliciting or engaging in partisan fundraiser activities, serving as the sponsor of a partisan club, or speaking before a partisan gathering," the Defense Department policy states. "In addition, all military members, including National Guard and Reserve forces, are prohibited from wearing military uniforms at political campaign events."
An official with the Democratic Party told ABC News that the inclusion of the soldiers was an oversight.
"Each state was asked to highlight issues and values that matter most and the American Samoa delegation wanted to highlight their commitment to military service when they filmed their segment," the unnamed official said.
American Samoa has one of the highest rates of military enlistment of any state or territory, according to Army. In 2014, recruiting in Pago Pago ranked the best out of the Army's 885 recruiting stations. It is home to the 100th Infantry Battalion, the only infantry unit in the Army Reserve. The battalion also has elements in Hawaii, Guam and Saipan.
Paul Rieckhoff, who founded Iraq and Afghanistan Veterans of America, a nonprofit veterans-advocacy group, called using troops as a backdrop a "failure of leadership," and the soldiers are likely to face serious consequences.
"The bigger issue of politicizing the military is it put these soldiers in a bad position; these soldiers should get reprimanded and will," said Rieckhoff, who now hosts "Angry Americans," a podcast about veterans issues and national security. "Even if the soldiers didn't know better, the DNC does or should know better … This is why you need people who understand the military around … You can dismiss it, our military is supposed to be divided from our politics; we aren't a banana republic."
Ahead of the roll-call vote, more than a dozen Democratic lawmakers and key figures spoke at the party's veterans and military families caucus, which was livestreamed. Lawmakers attacked the administration of President Donald Trump for its use of the armed forces for political purposes.
"Using our troops as political props, we've all seen it, we know it," Rep. Patrick Murphy, D-Fla., said Tuesday evening.
Murphy criticized Trump for deploying troops against protesters to counter the recent civil upheaval sparked by the killing of George Floyd while in police custody.
"The military can't be seen as the tools of one particular president," said Rep. Chrissy Houlahan, D-Pa.
Houlahan, an Air Force veteran and member of the House Armed Services Committee, said if the military is seen as "a political institution," it could threaten democracy.
beynon.steven@stripes.com Twitter: @StevenBeynon
---
---
---