Army: Soldiers who can't PCS should stay in current housing, seek legal advice if needed
---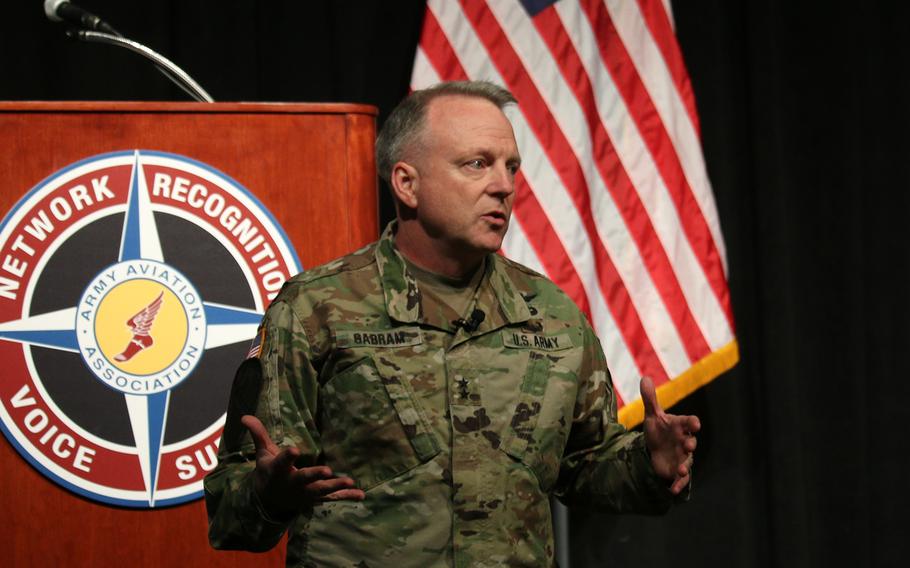 Stars and Stripes is making stories on the coronavirus pandemic available free of charge. See other free reports here. Sign up for our daily coronavirus newsletter here. Please support our journalism with a subscription.
WASHINGTON — Soldiers stopped by the coronavirus pandemic from moving to new locations should attempt to work with their landlords to remain in their housing through the outbreak, Army officials said.
Service officials acknowledged Wednesday that, in some cases, soldiers might run into problems with housing, and the Army is working to help troops mitigate issues that they could face with landlords at either their current locations or their planned next duty stations. Army lawyers have drafted letters that soldiers can provide to landlords in an effort to solve any lease-agreement disputes, said Lt. Gen. Doug Gabram, the chief of Army Installation Management Command.
"We're kind of in the process to work through that, quite frankly," the general said during a telephone news briefing from his headquarters at Joint Base San Antonio. "The housing aspect of this whole crisis is emotional with the stop-move [orders]. We've had people moving here, now they're not moving, they're staying."
And they could be staying for quite some time.
Defense Secretary Mark Esper said Tuesday that he would extend the orders halting nearly all official international and domestic movements for service members, their families and Defense Department civilians past May 11, when they initially were set to expire. The Pentagon has not announced a new target date for the travel restrictions to end, but some military leaders have acknowledged they could remain in place well into the summer.
Gabram said Wednesday that he expected the opening of travel and other activities at American military bases worldwide would occur gradually, based on the outbreak's impacts in their local areas.
"It's not a cookie cutter [solution]," he said. "I'd like to wave a wand and it's all going to be the same on one day. I don't believe it's going to go like that."
The Army had taken some steps to help the thousands of soldiers stuck in place amid the pandemic. Among the new measures, the Army is allowing soldiers who like their current assignments to request to remain in them for up to one additional year, canceling their planned permanent-change-of-station orders.
Federal law protects active-duty service members from facing penalties for breaking their leases to move to new duty stations or to deploy for more than 90 days. But it does not require landlords to extend leases or to reinstate previous agreements for troops whose plans change — including under unusual circumstances such as the stop-movement orders meant to help thwart the coronavirus pandemic.
The guidance issued April 7 on lease issues caused by the stop-movement orders instructs a soldier who cannot come to terms with a landlord to contact their chain of command and Army attorneys at their installation.
If a soldier cannot reach an agreement with a landlord to remain in their current housing, the soldier could request that the Army pay for them to move to a nearby location, said Melissa Halsey, the legal assistance policy division chief for the Army's judge advocate general. The Army can authorize such short-distance moves when soldiers are forced to stay at their current assignments without being given a choice, she said.
For soldiers who already have signed leases for their next assignments, Halsey said they also should attempt to resolve them with their landlords or property managers before seeking Army legal assistance.
"We are suggesting service members contact their landlords directly and explain their situation," she said. "They should then ask the landlord to end their lease voluntarily."
Ultimately, Army lawyers could work with Human Resources Command to issue new orders with delayed PCS dates, which could allow soldiers to terminate those leases through the federal Service Member Civil Relief Act, she said.
Gabram said installation commanders across the service were engaged with soldiers and community leaders in the areas around their posts to work to help soldiers dealing with the crisis.
"They understand that folks may have a problem financially … or housing-wise," he said. "We have to work through that. We have to do the right thing."
dickstein.corey@stripes.com Twitter: @CDickstein
---
---
---
---