Army parachute riggers and civilians in Kaiserslautern make masks to protect the force
by
Jennifer H. Svan
April 16, 2020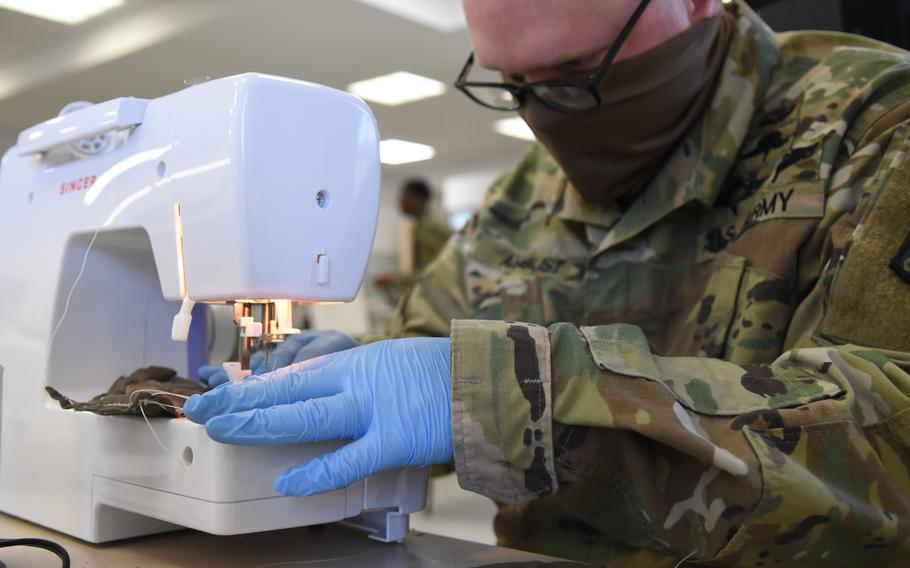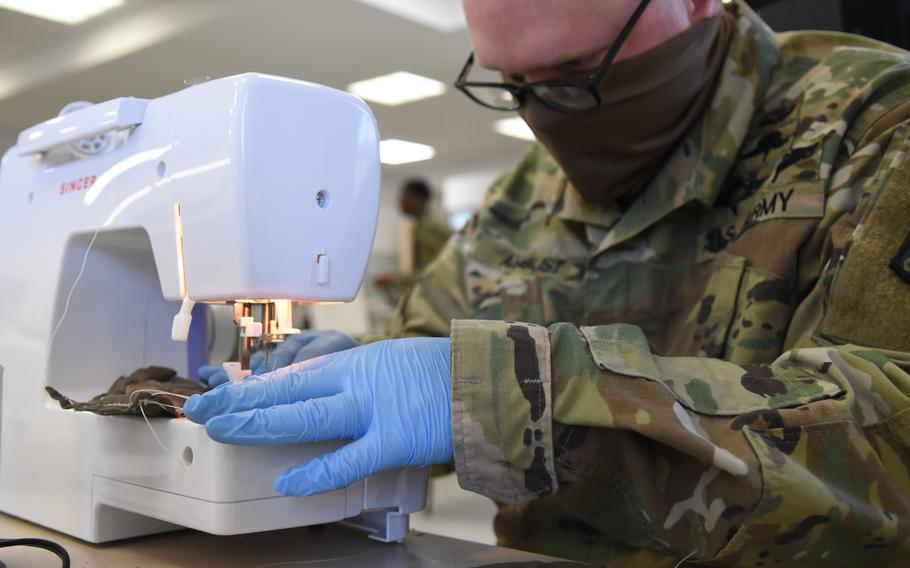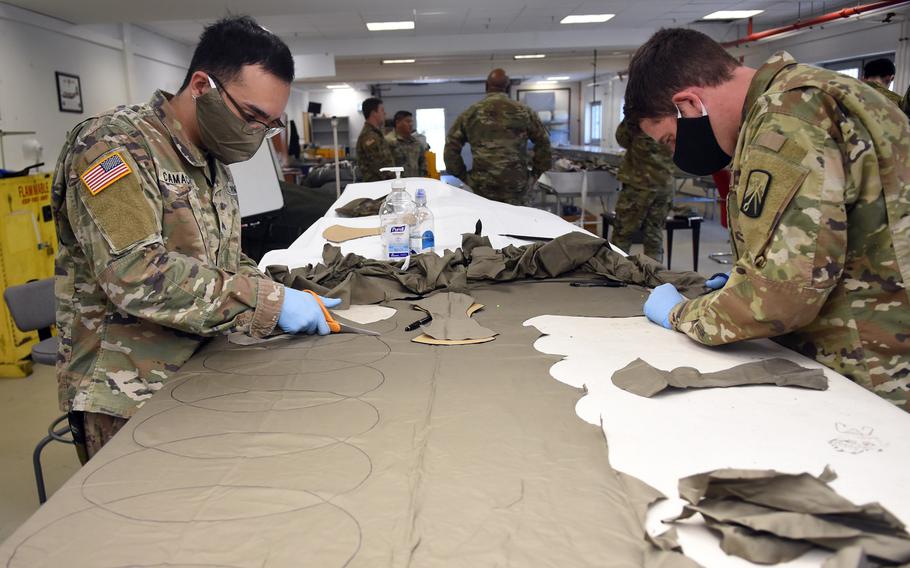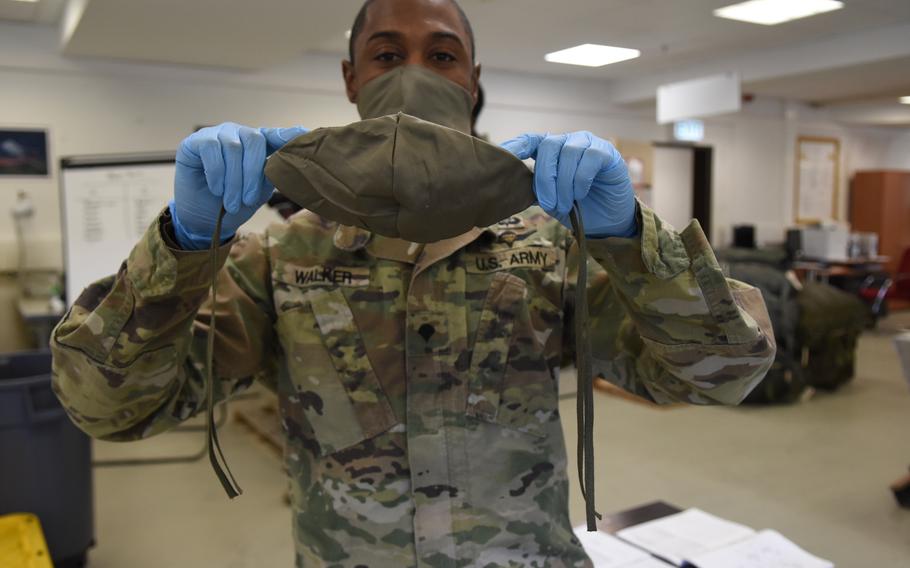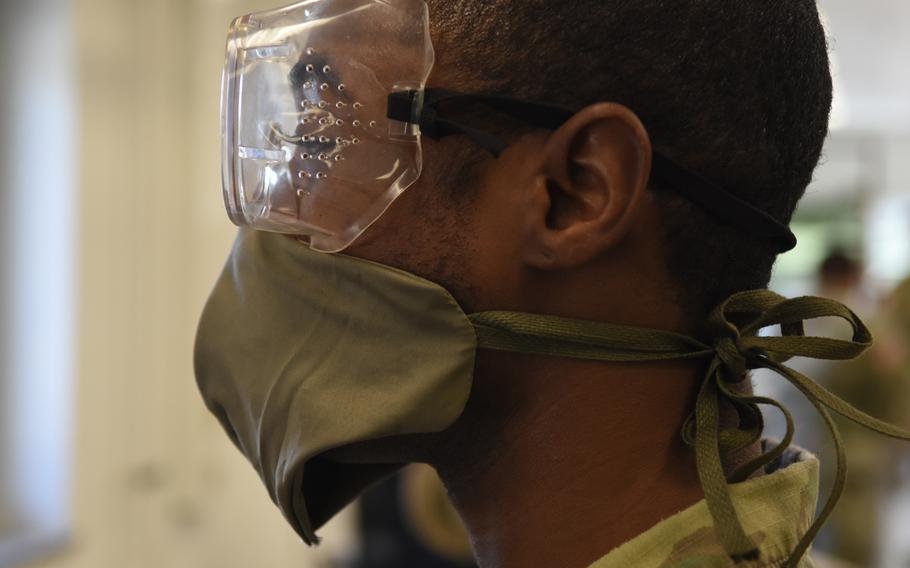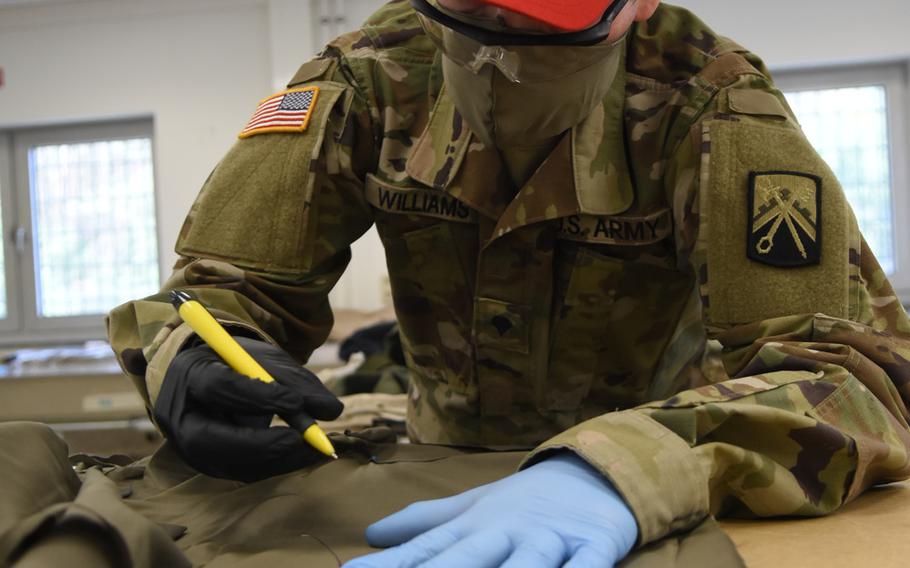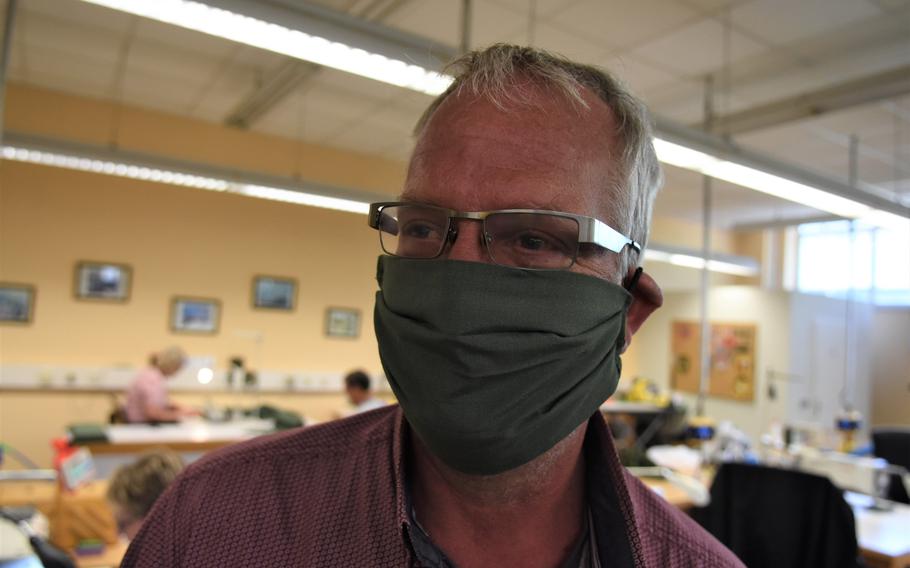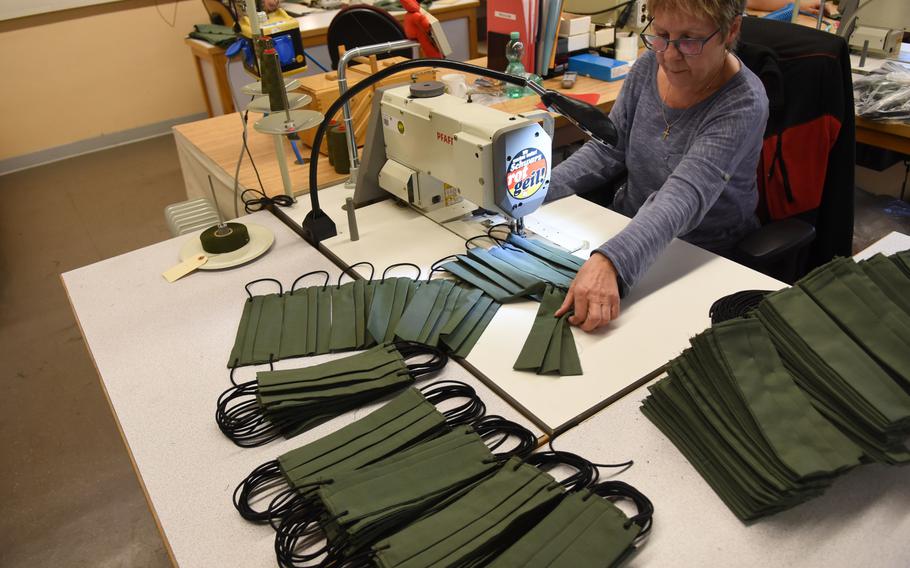 Stars and Stripes is making stories on the coronavirus pandemic available free of charge. See other free reports here. Sign up for our daily coronavirus newsletter here. Please support our journalism with a subscription.
KAISERSLAUTERN, Germany — Sewing machines continue to hum inside the workshop at Rhine Ordnance Barracks, where U.S. Army parachute riggers who normally mend torn canopies have taken up a new project: face masks.
The 5th Quartermaster-Theater Aerial Delivery Company soldiers have produced about 150 a day since Monday, as part of an effort to contain the spread of the coronavirus.
The first batches of masks have been distributed to cooks, gate guards, postal workers and finance specialists — essential workers in jobs where social distancing is difficult, soldiers said this week.
"Obviously, we don't want to have those essential operations shut down," said Capt. Tom Barcomb, 5th QM-TADC commander. "We want people to be as little exposed as possible."
The Pentagon earlier this month ordered troops to wear masks when they're unable to maintain 6 feet of social distance, following a sharp rise in coronavirus infections among the ranks.
The Centers for Disease Control and Prevention, which initially didn't recommend wearing masks, changed its guidance this month to lower the risk of people with mild or no symptoms from spreading the virus.
At the riggers' workshop, 14 soldiers work on alternating days: five operate sewing machines at a time while two soldiers stencil and cut fabric. One mask takes up to about 10 minutes to produce.
Stitching together face coverings on commercial sewing machines is easier than repairing parachutes and rigging on the industrial-size machines the soldiers typically use, they said, and they're easier to repair when they go down.
"There have been some guys who have not sewn in a couple of years, and they're sitting down and using the machines," said Warrant Officer Alejandro Vaquero, an air drop systems technician with the 5th Parachute Company.
The soldiers use a combination of straight and locking stitches.
"I'm enjoying it. Every single one gets a little better," said Spc. Robert Walker, a parachute rigger.
Across town at the Kaiserslautern Army Depot, a similar assembly line is producing masks for the 1,300 civilians in the Theater Logistics Support Center Europe, including mechanics, truck drivers and craftsmen in the mostly German workforce.
The unit has had a few confirmed cases of the virus, including a longtime German employee who died after contracting the virus last month.
"We thought (to do this for) preservation of the workforce and support of the soldiers," said David Little, the operational division chief of Supply Activity Europe.
On Wednesday, his employees turned out 240 face masks cut from green fabric used to make coveralls.
The riggers at Rhine Ordnance Barracks had to be creative in finding fabric. T-shirts didn't work; the thicker cotton bunched in the sewing machines. With fabric stores closed locally due to the virus, the soldiers purchased bedsheets in subdued colors at the Ramstein and Baumholder exchange stores, Vaquero said.
Each sheet set yields 59 double-layered masks wide enough to cover the mouth and nose, he said.
The masks tie in the back with straps the shop uses for rigging. Velcro was the first choice but Vaquero bought it all the BX last week and the shop quickly ran out.
They're issuing two masks to each soldier and don't know how many they'll end up making.
"We're kind of treating this like indefinite demand, indefinite quantity," Barcomb said.
The Army on Wednesday said units could start ordering more face coverings through the Defense Logistics Agency, said Master Sgt. Dan Bailey, 21st Theater Sustainment Command spokesman.
The locally made masks are "a temporary solution" until the DLA-issued masks arrive at an undetermined date, Bailey said.
svan.jennifer@stripes.com Twitter: @stripesktown