Army MP falls from tower, dies while serving in Saudi Arabia
---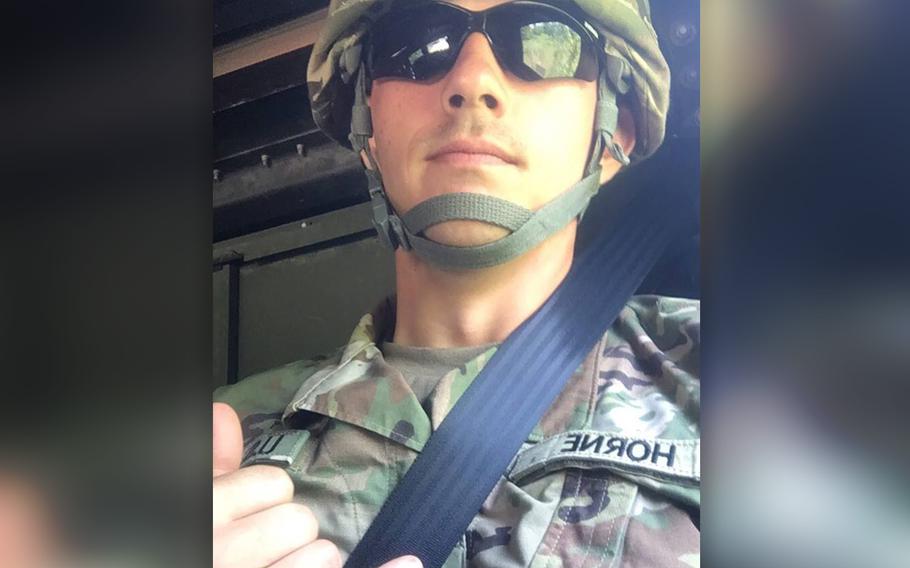 WASHINGTON — An Army Reserve military policeman who also worked as a Louisiana sheriff's deputy was killed after falling off a tower while deployed to Saudi Arabia, Army and law enforcement officials said Monday.
Army Spc. Clayton James Horne, 23, died Saturday in the Saudi capital of Riyadh from wounds that he sustained in a noncombat incident, the Army said in a news release. He was deployed with the 351st Military Police Company, 160th Military Police Battalion in support of Operation Inherent Resolve, the U.S. military's anti-Islamic State mission.
Army officials on Monday declined to provide additional information about Horne's death, saying it was under investigation. However, Horne's other employer, the Winn Parish Sheriff's Office, said he had fallen to his death from a tower while overseas.
Horne was a sheriff's deputy in the central Louisiana parish, which includes his hometown of Atlanta, according to that agency. He joined the force after graduating from the police academy in nearby Alexandria, La., in November 2018.
Winn's Sheriff Cranford Jordan described Horne as a good person who was dedicated to serving others.
"Clayton was an excellent deputy and I was looking forward to him completing his tour and returning to work at the sheriff's office," Jordan said in a statement. "Please keep his family and friends in your prayers during this most difficult time."
Friends and family members who posted on the Winn Sheriff's Office's Facebook page said Horne was engaged to be married.
He also previously served as an assistant boys basketball coach at the high school from which he graduated, Louisiana's Atlanta High School.
The school's former head coach, Tyler Johnson, wrote in a public Facebook post that Horne had greatly impacted his life.
"When I asked you to be my assistant coach a little over [three] years ago, I was hoping to gain someone who could help me out a little here and there," Johnson wrote. "While that did happen, in the process, I also gained a brother and another family."
---
---
---
---