22 women to join Army's infantry, armor branches as officers
---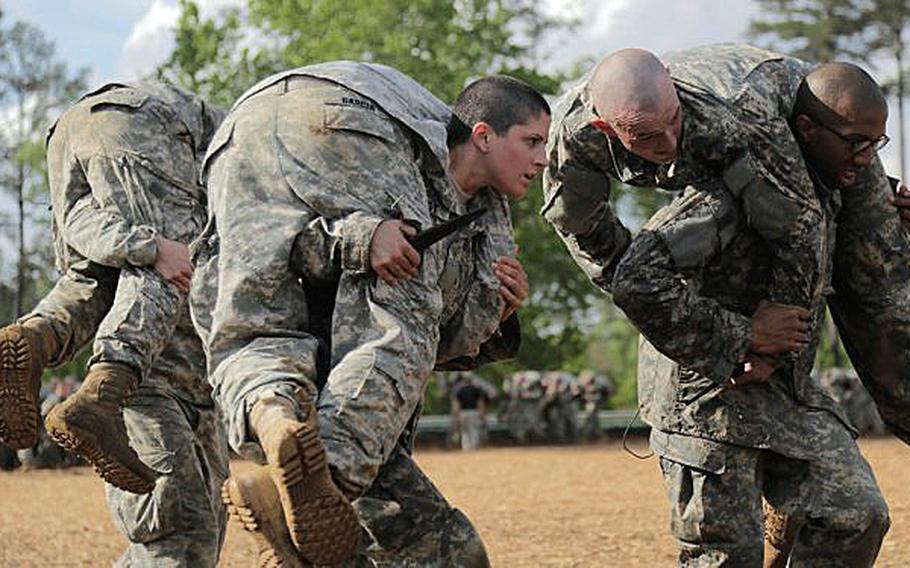 WASHINGTON – Twenty-two women will become officers in the traditionally all-male infantry and armor fields in the coming weeks, the Army announced Friday.
The female soldiers will become the first women to serve in the front-line combat branches that were officially opened to them April 1. Each will have to spend months passing additional job-specific training and meet a series of physical requirements before they are assigned to a unit to serve as platoon leaders.
"We're not going to turn our back on 50 percent of the population," acting Army Secretary Patrick J. Murphy said. "We are opening up every occupation to women. I think that's pretty historic."
Seven of the women will commission through West Point when they graduate May 17. Another 14 will come through ROTC programs at several universities across the nation. One will commission through Officer Candidate School, according to Army officials. Nine of the women will join the infantry and 13 will serve as armor officers, according to an Army statement.
The seven U.S. Military Academy graduates are among 176 female cadets expected to graduate next month, according to numbers provide by the school.
Some cadets at West Point have mixed feelings about women serving in fields such as the infantry and armor, a male cadet set to graduate next month told Stars and Stripes recently.
The women who will commission as second lieutenants of infantry and armor "are very tough, very prepared to serve in combat," said EJ Coleman, who will become an artillery officer but attend graduate school before joining an Army unit. "I would have no issues serving with any of them. I can tell you that those girls are tougher than most of the men here."
The Army has established a "leaders-first" approach to integrating women into the infantry and armor branches, according to the gender-integration plan submitted last month to Defense Secretary Ash Carter. Army leadership believes having several female officers in place to serve as mentors to enlisted female soldiers will help smooth the transition process.
Army leaders have been adamant that opening ground combat jobs to female soldiers will be beneficial to the force. Chief of Staff Gen. Mark Milley told lawmakers last week all female soldiers will be held to the exact same standards required of their male counterparts for decades.
"Those standards were developed through years upon years of blood-soaked lessons learned in combat," Milley told the Senate Armed Services Committee during an April 7 hearing. "They are neither male nor female. They are combat standards. And if you meet the standards for combat, then you pass go, collect $200 and move on your way. If you don't, then you do something else in life. Those standards are inviolable."
The Army does not expect to see large numbers of women interested in serving in the infantry or armor. Since it officially opened the fields to women on April 1, only three female recruits have enlisted with the intention to serve in infantry or armor military occupational specialities, said Kelli Bland, spokeswoman for Army Recruiting Command. Two women enlisted with the intentions of serving in the infantry and one intends to serve on a tank crew.
It will take longer than one year before enlisted women reach an infantry or armor unit. Female recruits intending to serve in armor jobs must attend initial entrance training in May 2017 and female infantry recruits will ship off to basic training in June 2017. They will attend one-station basic and advanced individual training at Fort Benning, Ga. alongside male recruits.
In 2013, the Pentagon ordered the military services to open all positions to women by early 2016. It allowed the services to conduct extensive studies to determine whether any jobs should remain closed to women and develop gender-neutral standards to determine who was physically qualified to serve. In December, Carter ordered all military jobs, including in special operations fields, opened to women.
Since 2012, more than 1,000 women have enlisted into Army jobs that were previously closed to them, Bland said. Hundreds of female officers have now served in recently opened branches.
Among traditionally all-male positions, there are 314 women serving as active-duty field artillery officers, 200 enlisted female combat engineers and 55 female cannon crewmembers, said Bill Costello, a spokesman for Army Human Resources Command.
Some women serving in the Army will have the opportunity to move into the infantry or armor fields. Female lieutenants in the Army Competitive Category in the groups for 2015 and 2016 have until May 31 to submit an application to switch to infantry and armor. A panel is expected to determine which women can transition by the end of June, according to an Army memo. Some enlisted female soldiers in the ranks of sergeant or lower will be allowed to apply to attend infantry or armor training and to add those fields as a secondary military occupational specialty, according to another Army memo. The memo did not specify a timetable for enlisted women to apply to attend infantry or armor training.
Three female West Point graduates last year passed the Army's highly demanding Ranger School. The female Ranger-qualified soldiers have served as the key inspiration to women who want to serve in front-line combat jobs, Carter said recently after meeting with female West Point cadets.
"Everybody likes to look above them and see someone who's like them who has succeeded," he said while visiting West Point last month. "That's an inspiration to them to join and succeed... I thought it was interesting that it was those Rangers."
dickstein.corey@stripes.com Twitter: @CDicksteinDC
---
---
---
---