Two airmen killed in T-38 crash during training mission at Vance Air Force Base
---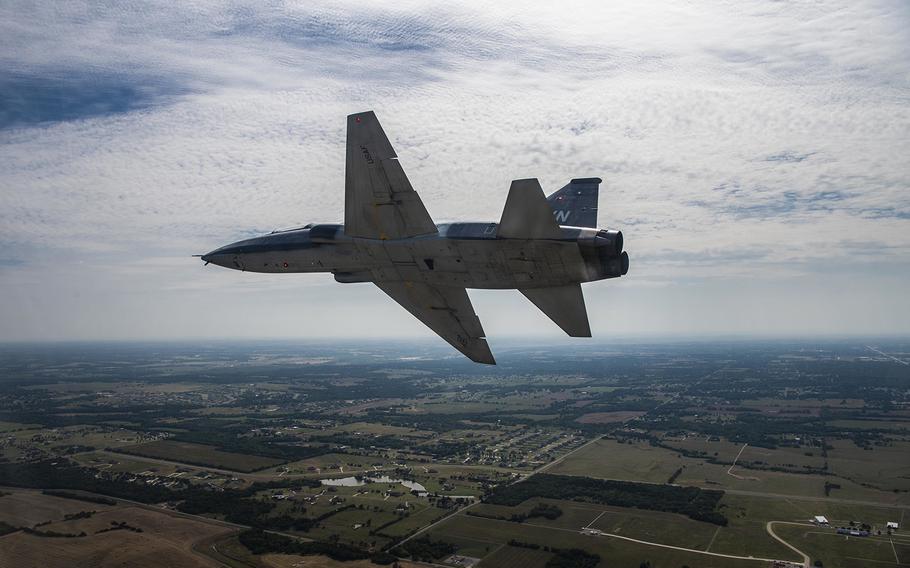 WASHINGTON — Two airmen were killed Thursday morning in a crash of jet trainers at Vance Air Force Base in Oklahoma, according to service officials.
The officials said the airmen died in a mishap that occurred during a routine training mission involving two T-38C Talon aircraft. They said two airmen were in each aircraft when the incident occurred just after 9 a.m. local time. Officials did not provide the status of the two airmen who survived or indicate the nature of the crash.
"Vance emergency response personnel are on scene to treat casualties and assist in recovery efforts," according to a statement from the base. It added an Air Force team would launch an investigation into the incident.
Video shot by Oklahoma City's KOCO News shows one T-38 flipped over a few hundred feet off of a runway with markings in the ground that indicate its path from the runway. A second T-38 was resting upright several hundred feet from the flipped jet and just off the runway, according to the video footage.
Vance AFB is about 90 miles north of Oklahoma City, and is home to an undergraduate pilot training program.
Student pilots training to fly fighter jets or bombers typically fly the T-38Cs during the third and final stage of their undergraduate training program, according to the Air Force. The T-38C is a Northrup Grumman-built twin-engine, supersonic-jet trainer that has been used by the Air Force since 2001, and it is scheduled to be replaced by a new jet trainer in the coming years. Versions of the T-38 have been used as the Air Force's primary jet training aircraft since the 1960s, and the service claims more than 70,000 pilots have trained using the plane.
In 2018, Boeing was awarded a $9.2 billion contract to build T-X aircraft to replace the Air Force's T-38Cs. That contract calls for 350 of the new trainer jets to be ready for full operational deployment by 2034.
Five T-38s crashed between November 2017 and November 2018, including one from Vance AFB in August 2018. Two of those crashes during that time were fatal.
Air Force Capt. Paul J. Barbour was killed when his jet experienced total hydraulic failure in November 2017 at Laughlin Air Force Base in Texas, according to an investigation into the wreck.
Another Laughlin-based T-38C crashed in November 2018, killing Air Force Capt. John Graziano. That crash was blamed on a compressor stall, the Air Force reported in June following an investigation.
dickstein.corey@stripes.com Twitter: @CDicksteinDC
---
---
---
---