Name of Air Force pilot who died in North Sea crash is stenciled on two F-15s
---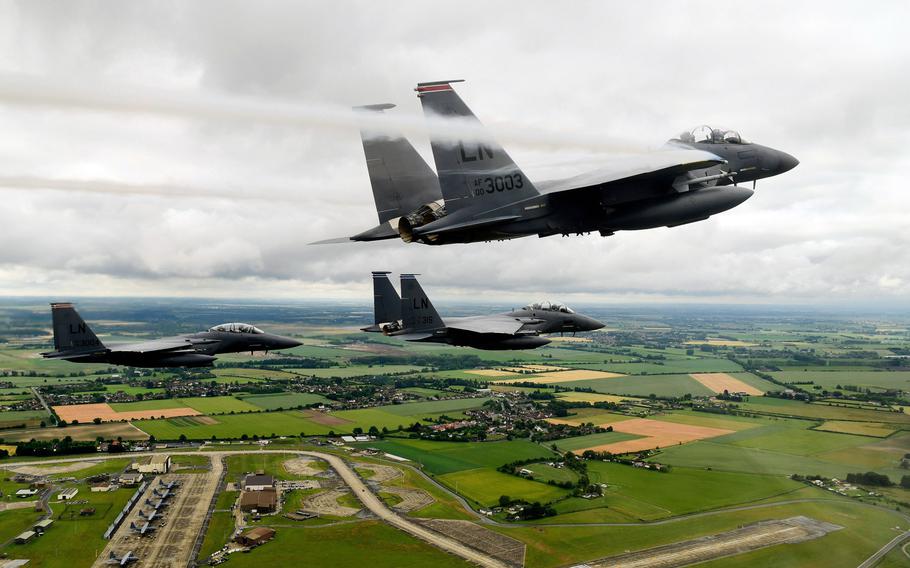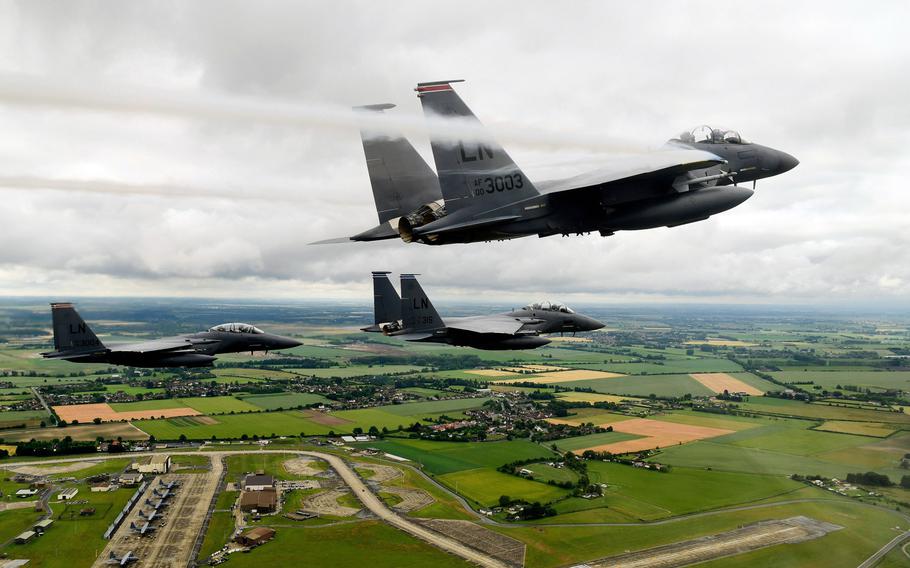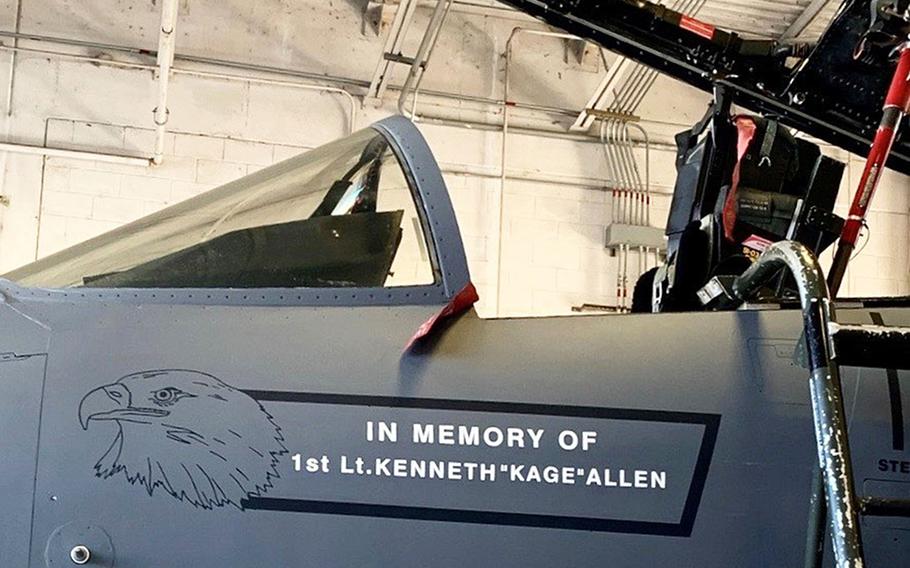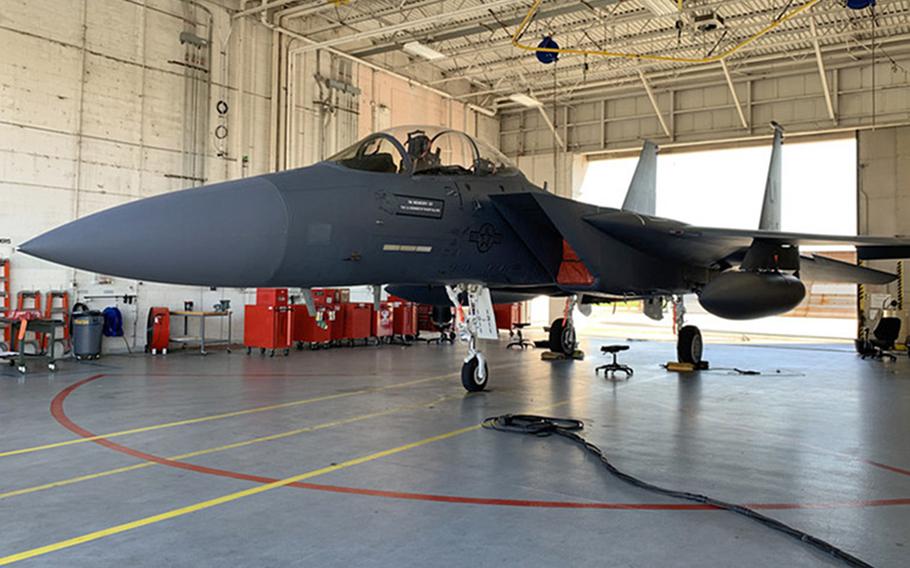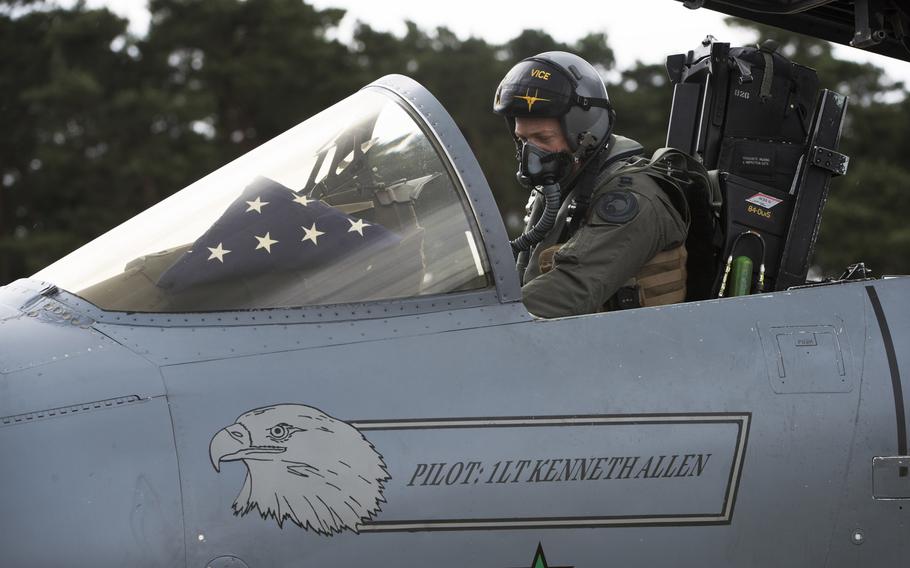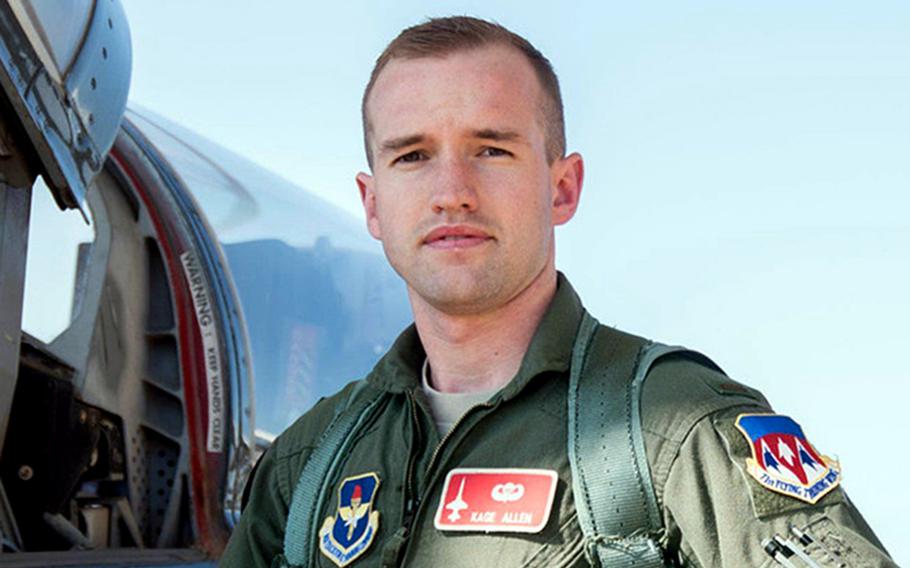 Air Force maintainers on both sides of the Atlantic have honored the memory of 1st Lt. Kenneth "Kage" Allen, who died this week when his F-15C crashed in the North Sea, by temporarily stenciling his name on two fighter jets.
Maintainers with the 48th Fighter Wing at RAF Lakenheath added Allen's name to the wing's flagship F-15C Eagle, which is the same model that Allen flew for the 493rd Fighter Squadron, Air Force officials at Lakenheath said.
The jet departed Lakenheath for depot maintenance Friday, "signifying Lt. Allen's final departure from the Liberty Wing," said wing spokeswoman Maj. Sybil Taunton.
At Robins Air Force Base, Ga., another team of maintainers also paid tribute to Allen by adding his name to an F-15 Strike Eagle assigned to the 48th Fighter Wing that had just completed maintenance, the Air Force said.
"It was a lovely gesture. We weren't expecting it," Taunton said.
The jet is scheduled to return to Lakenheath next week.
Because Air Force regulations stipulate that the name of the lead pilot assigned to a plane must feature on operational aircraft, the lettering will eventually be removed, Taunton said.
Allen's jet crashed off the coast of northern England on Monday during a routine training mission. The cause of the crash is under investigation, the Air Force said.
The 494th Fighter Squadron conducted a flyover that included a "missing man" for-mation Thursday, the same day Allen's body was returned to his family in the U.S., Taunton said. During the flight, the "missing man" jet climbs away from the for-mation, "leaving a gap that signifies his absence from the 48th Fighter Wing and the hole in our hearts from his untimely depar-ture," Taunton said.
Others who wish to pay tribute to Allen can tie a yellow ribbon on a sign featuring the 493rd Fighter Squadron patch that has been placed inside the fence by one of the gates at Lakenheath, Taunton said.
Yellow is one of the colors of the squadron, nicknamed "The Grim Reapers." People on base and in the local community have been wearing gold and yellow to show support for the squadron as it mourns the loss of Allen, Taunton said.
"The support for Lt. Allen, the 493rd Fighter Squadron, and the family has been clearly felt, not only on both sides of the Atlantic, but from around the world and the Liberty Wing is very thankful for this," 48th Fighter Wing commander Col. Will Marshall said in a statement.
Allen, who was 27, is survived by his wife, Hannah, and his parents.
A Gofundme page set up by the family to help with travel and funeral expenses has raised $39,600 out of a $50,000 goal.
svan.jennifer@stripes.com Twitter: @stripesktown
---
---
---
---