Keesler will soon welcome its last group of Air Force trainees
by
James Bolinger
September 22, 2020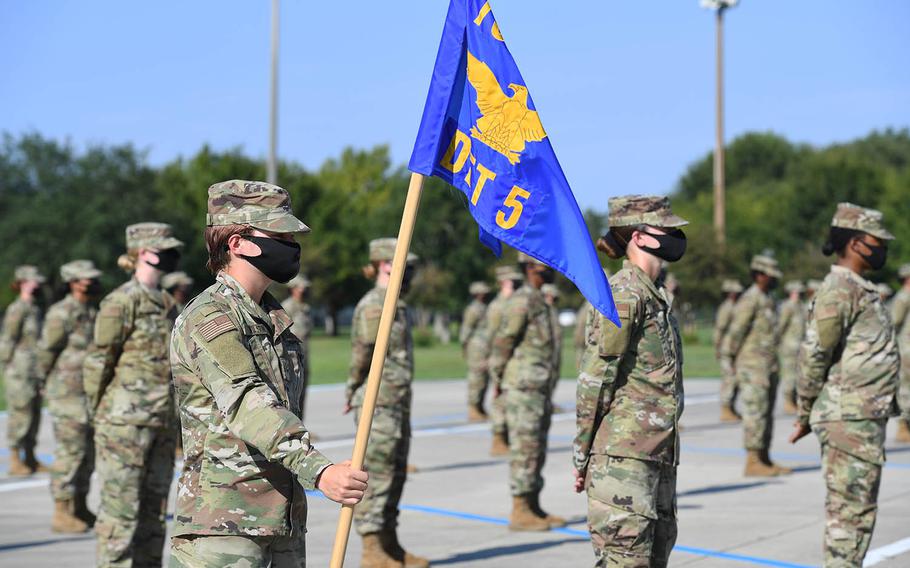 Stars and Stripes is making stories on the coronavirus pandemic available free of charge. See other free reports here. Sign up for our daily coronavirus newsletter here. Please support our journalism with a subscription.
The final group of recruits expected to undergo Basic Military Training at Keesler Air Force Base, Miss., during the coronavirus pandemic will arrive at the installation the last week of September, Air Force Magazine reported Monday.
The recruit flight, the equivalent of an Army platoon, will graduate before Thanksgiving, the 2nd Air Force commander, Maj. Gen. Andrea Tullos, told the publication, which is part of the Virginia-based Air Force Association.
"We'll then take about 90 days to do an after-action and a reassessment of how that operation went, and we will have plans, if asked and if necessary, to resume BMT probably no earlier than February of next year," she said, according to the report.
The Air Force sent its first group of recruits to train at Keesler in April to reduce trainee numbers for social distancing purposes at Joint Base San Antonio-Lackland, the primary Air Force recruit training base.
Keesler was never meant to serve as alternative site for basic training beyond Oct. 1, the end of the fiscal year, Tullos said in May. The last recruit flight arrives prior to that deadline.
Coronavirus precautions meant basic training was shortened to six weeks at Keesler and 7 ½ weeks at Lackland. The Air Force reduced the overall number of recruits it accepted during the pandemic but plans to increase that number in the next fiscal year.
Training at Lackland was trimmed by one week due to the training area layout, the reduced number of recruits and the implementation of a surge schedule. That schedule extended training from eight to 10 hours per day, six days a week.
At its maximum capacity, Keesler could accommodate 360 new recruits at one time. That expanded capacity allowed the Air Force to bring as many as 9,400 airmen into the service under pandemic conditions before the end of the fiscal year.
According to Tullos, Keesler will not be needed to meet the Air Force enlistment goals for fiscal year 2021, unless the coronavirus further impacts training sites at Lackland.
"If we have challenges, and we see spikes and outbreaks, and the [Centers for Disease Control and Prevention] issues us guidance that causes us to lose our ability to use San Antonio as our full production site, we'll be prepared to reopen that capability and resume again next year," she told the magazine.
bolinger.james@stripes.com Twitter: @bolingerj2004