Gen. Charles Brown takes Air Force reins, becomes first Black military service chief
by
Corey Dickstein
August 6, 2020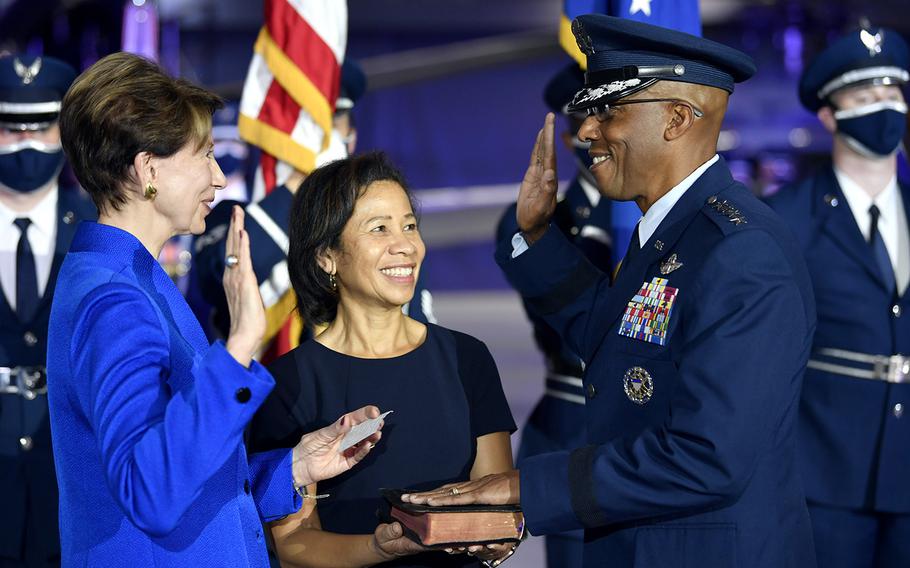 WASHINGTON — Gen. Charles Q. Brown was sworn in Thursday morning as the Air Force's 22nd chief of staff, becoming the first Black military service chief in the 245 year history of the U.S. armed forces.
The longtime fighter pilot known as "CQ" beamed as top Pentagon leaders praised his service that has taken him across the globe, commanding in recent years all U.S. air forces in the Middle East and the Pacific. He took over the service during a ceremony at Joint Base Andrews, Md., from another career fighter pilot, as Gen. David Goldfein retired after leading the service since July 2016.
"I'm simply in awe today," Brown said in brief remarks after assuming the role of the service's top general. He acknowledged his selection made Thursday a "very historic day" in U.S. history as he thanked past African American military leaders for paving his way, including the famed Tuskegee Airmen of World War II and Air Force Gen. Daniel "Chappie" James, who in 1975 became America's first Black four-star general.
"I do not take this moment lightly," he said. "It is due to their trials and tribulations in breaking barriers that I can address you today as the Air Force chief of staff."
In his remarks, Brown noted his promotion to lead the Air Force would never have come had his father — a career Army officer — not talked him out of quitting the ROTC program at Texas Tech University after just one semester. Even after commissioning into the service in 1994, Brown said he only planned to serve four years.
But Brown fell in love with flying fighter jets. During his career, he's flown some 20 different airplanes and helicopters, primarily F-16 Fighting Falcons, including some 130 hours in combat, according to his service biography.
Brown has commanded a fighter squadron, the U.S. Air Force Weapons School, two fighter wings, and served as an adviser to top Air Force uniformed and civilian leaders, according to bio. He also served as the No. 2 general for U.S. Central Command from July 2016 to July 2018 before taking command of U.S. Pacific Air Forces, his most recent assignment.
Army Gen. Mark Milley, the chairman of the Joint Chiefs of Staff, described the new Air Force leader as "a seasoned warrior" who will advance the Air Force as a fighting force and as an institution that takes care of its people.
"In 'CQ,' we have all that is good about America," Milley said. "In 'CQ,' we see that America can be a better place."
Goldfein, too, noted Brown's elevation to chief of staff was among the most historic in the service's 73 years.
"The future of our Air Force has never looked brighter" than it does under Brown's leadership, he said.
Though Brown became the first African American leader of a military service, he is not the first Black member of the Joint Chiefs of Staff. Retired Army Gen. Colin Powell served as the Joint Chiefs chairman from 1989 to 1993, but he was never Army chief of staff. Powell went on to serve as President George W. Bush's secretary of state from 2001 to 2005.
Brown told airmen that they can expect his full attention as he takes over the service in the midst of changes. Those include a shift in focus from counterterrorism operations to large-scale combat operations against military rivals with similar weapons, such as fighter jets and anti-aircraft missiles, as well as a renewed focus on improving racial equality in the service's ranks.
"No doubt there are challenges ahead that will be difficult but not impossible," Brown said. "You can expect my leadership to be framed by the same four tenets I have used throughout my career: Execute at a high standard, be disciplined in execution, pay attention to details, and have fun."
dickstein.corey@stripes.com Twitter: @CDicksteinDC
---
---
---
---