Eight military families in Texas sue housing company over water leaks, mold and bugs
---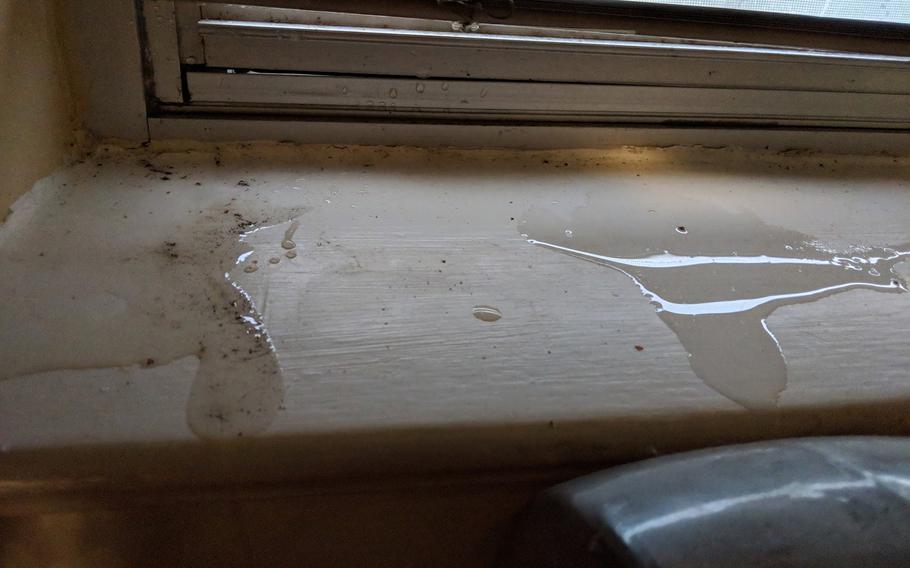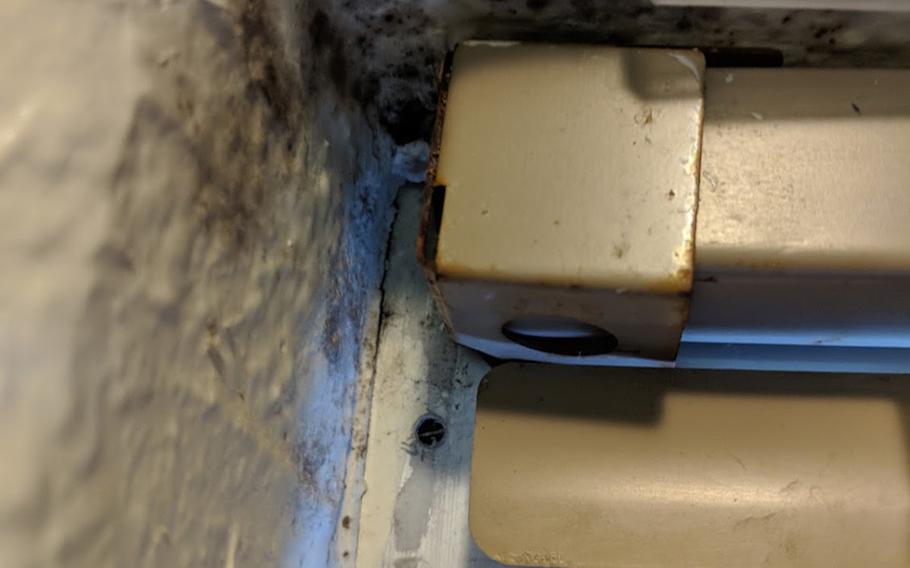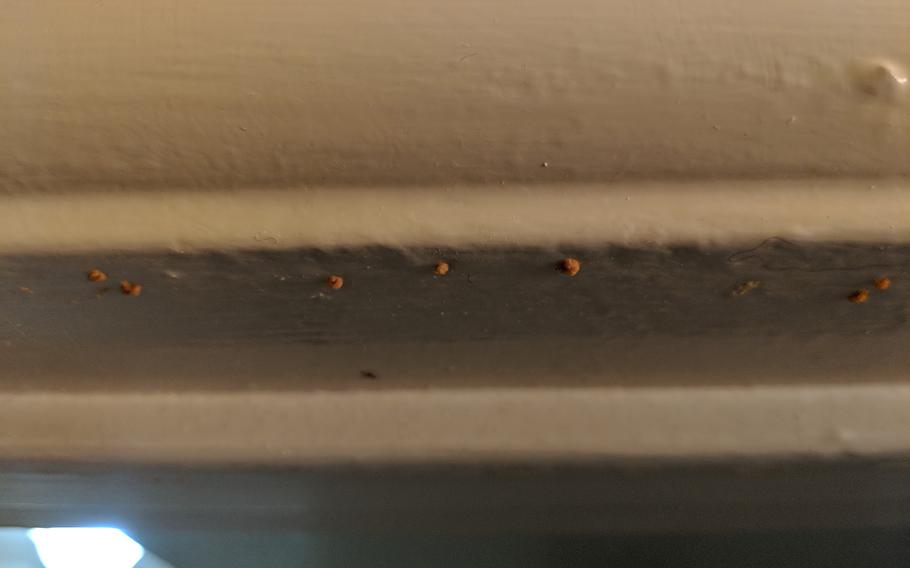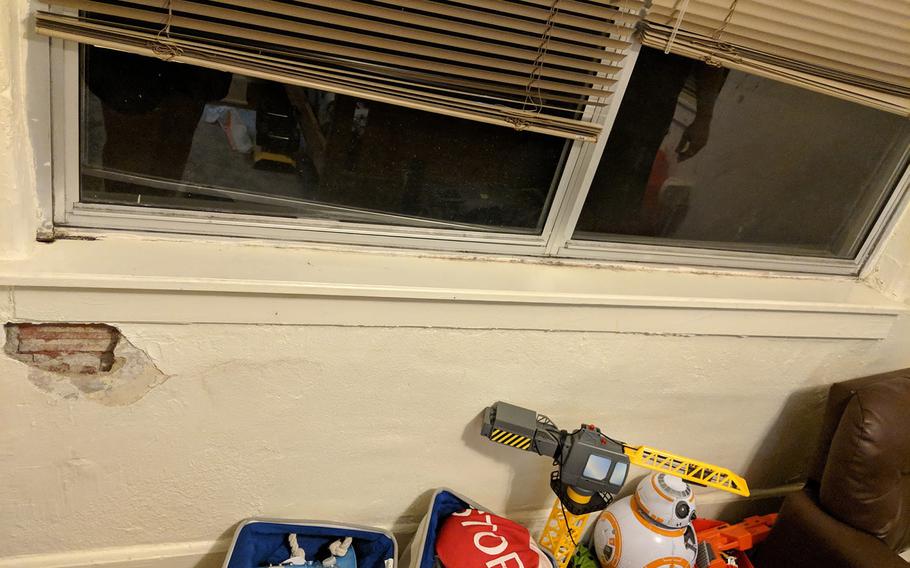 AUSTIN, Texas — Six years ago, Leilani Hamilton and her family of four moved into an historic home at Randolph Air Force Base near San Antonio.
Within a week, Hamilton submitted her first request to Hunt Military Communities, the company responsible for base housing, to make a repair to the duplex, which was built in 1932 and is part of the Randolph Field National Historic District.
For the five years that the Hamiltons lived there, she continually filed requests for home repairs in an effort to help keep the house habitable for her family.
"In my son's room, it took the walls to come crumbling down under the window sill for them to act," Hamilton said.
Every time it rained, the 16 windows of the house leaked so much that the walls began to deteriorate beneath them. The air vent in the bathroom blew directly into the attic instead of out of the home. Once, the Hamiltons left for a week and came home to orange spots growing on the walls of the children's bathroom. Her husband, Air Force Tech. Sgt. Samuel Hamilton, waged war against "innumerable" cockroaches that invaded the house by sealing openings under the house himself.
Though the Hamiltons relocated to Fairchild Air Force Base, Wash., where they purchased a home off base, they are one of eight military families who filed a federal lawsuit Tuesday against Hunt Military Communities for mold- and pest-infested housing at Randolph, which is part of Joint Base San Antonio, and Laughlin Air Force Base near Del Rio in west Texas.
"These people need their day in court, and they need it now. These families have been dramatically and adversely affected," said Jim Moriarty, a Houston-based attorney representing the families in the lawsuit.
Last month, a San Diego jury awarded $2 million to a Marine Corps family for mold problems in family housing managed by Lincoln Military Housing. The company said in a statement following the verdict that they intend to appeal. Another Marine Corps family received $350,000 in a lawsuit against Lincoln in Virginia in 2016, but it took more than five years to close the case.
"I've been trying lawsuits for about 45 years," Moriarty said. "That San Diego verdict is a hell of a lot closer to the value of what these cases are."
Both cases predate the increased scrutiny on military family housing that began more than a year ago when a Reuters investigation made public the ongoing problems of mold, pest infestations and poor maintenance faced by military families. Congressional hearings in February provided a public scolding of the leadership of the military and private housing management companies, and some changes have been rolled out since then.
On Tuesday, a spokesperson for Hunt Military Communities said the company is aware of the lawsuit.
"We believe the lawsuit is without merit and intend to vigorously defend the company against these baseless claims," according to a housing company statement.
According to the lawsuit, filed in the U.S. District Court for the Western District of Texas, San Antonio Division and assigned to Magistrate Judge Richard B. Farrer, Hunt Military Communities "systematically under-maintained the military housing, subjected service members and their families to atrocious conditions, including pervasive mold that sickened them and destroyed their possessions, utilized substandard service providers to allegedly remediate the mold problems, subjected service members and their families to pest infestations and misled tenants about the remediation actions allegedly undertaken."
Moriarty said they are seeking personal injury damages, primarily for the children involved, but he did not include a dollar amount. He said he will wait to hear what a jury will do when they have heard the facts.
Another family's story stood out to Moriarty, he said. Air Force Tech. Sgt. Thomas and Kassandra Wolf and their four children lived at Randolph for three years. But they moved out in May. Their son was bitten by ants so often that the school contacted Child Protective Services, according to court documents.
"When I listen to Kassandra talk about her little boy and the fact that he wouldn't wear shorts because of all the scars on his legs from ant bites, that is beyond the pale. That is not acceptable. No child of any service member ought to live in what borders on being slums," Moriarty said.
The housing companies need to change their ways, or the military should change companies, he said. Hunt signed a 50-year contract with the Air Force in 2007, according to court documents. Moriarty intends to work with Congress to right the wrongs that he said are occurring within the privatization of military family housing.
Other families listed on the lawsuit are Capt. Michael J. Daniels, his wife, Barbara High-Daniels and their two children, Capt. Jonathan and Sarah Kline and their three children, Lt. Col. Mark and Rachel Hiatt and their four children, Lt. Col. Shane and Becky Vinales and their two children, Petty Officer 1st Class Jon and Allison Alexander and their two children and 2nd Lt. Lance and Megan Konzen, who are the only family suing from Laughlin Air Force Base. The service members are in the Air Force, Army and Navy.
"We decided to move forward [with the lawsuit] because even after housing was put in the spotlight, they continued to downplay our concerns and didn't repair or fix what they said they would," Hamilton said. "It was still a constant fight to make our home livable."
For years, the Hamiltons thought they would be moving from San Antonio, so it always seemed they were close to ridding themselves of their home. They never wanted to move off base because of the expense and they also wanted to keep their 14-year-old daughter, who is autistic, in the same school.
But during the more than five years in the house, Hamilton's 6-year-old son was diagnosed with sleep apnea and her daughter with asthma. She herself suffered migraines, sinus infections and nose bleeds, while her husband found the smell coming from the master bathroom, where mold was discovered, so unbearable he often slept in the spare bedroom with the vents closed and an air purifier running.
"I just stopped going [to the doctor], because no one believed me. No one did anything about it, so I just suffered," Hamilton said.
Following congressional hearings on the poor conditions of military family housing, Hamilton said Hunt seemed to be finally taking her maintenance requests seriously. The family spent 11 days displaced from the house in June while mold remediation occurred. They also elected to participate in a pilot program through Hunt, which the company refers to as the Humidity Project.
New York-based Makovsky, a public relations firm employed by Hunt, has said the scope of work included in the Humidity Project was developed in accordance to guidelines from the Environmental Protection Agency and the national Centers for Disease Control and Prevention, as well as the Texas Department of Licensing and Regulation's rules and regulations to address humidity challenges that exist in the historic homes on Randolph.
The Humidity Project includes the installation of a whole-home dehumidifier, the cleaning of ducts, gutters and windows, sealing all penetrations from under the home and installing humidity-controlled exhaust fans in full baths. Hunt intends to increase overall spending by about $5 million to address all concerns as they arise and to specifically fund the Humidity Project based upon 27 homes that have been through the inspection process. Ten homes have already had worked completed through the project as of Sept. 16, according to information from Makovsky.
"Our house was actually worse than before they did it," Hamilton said of the cleaning and upgrades.
The air conditioning stopped cooling the downstairs of the home, so Hunt provided a portable unit during their final month at Randolph. The windows in the home also continued to leak after the repairs. On July 31, the family moved and in the following months, many of the health conditions that they faced cleared up.
"They are more active. They're not sleeping half the day away," Hamilton said of her kids. "They're both more pleasant, not grumpy, and that's just my kids. I've seen the difference in myself and my husband as well."
Her daughter has not used her inhaler for asthma since they moved. In San Antonio, she used the medical device at least twice a day.
Other families included in the lawsuit also note their symptoms diminished once they moved away from their homes. Thomas Wolf deployed to Kuwait during their housing problems. The headaches and nose bleeds that plagued him in San Antonio disappeared once he deployed, according to court documents.
"Put these people in jail for the misconduct they've done or put them out of business, or fire them from the contracts that they're not honoring and if you did that maybe they'd straighten up," Moriarty said. "But I don't think they're going to do anything until somebody gets their attention."
Thayer.rose@stripescom Twitter: @Rose_Lori
---
---
---
---