Air Force to study drilling for oil off California coast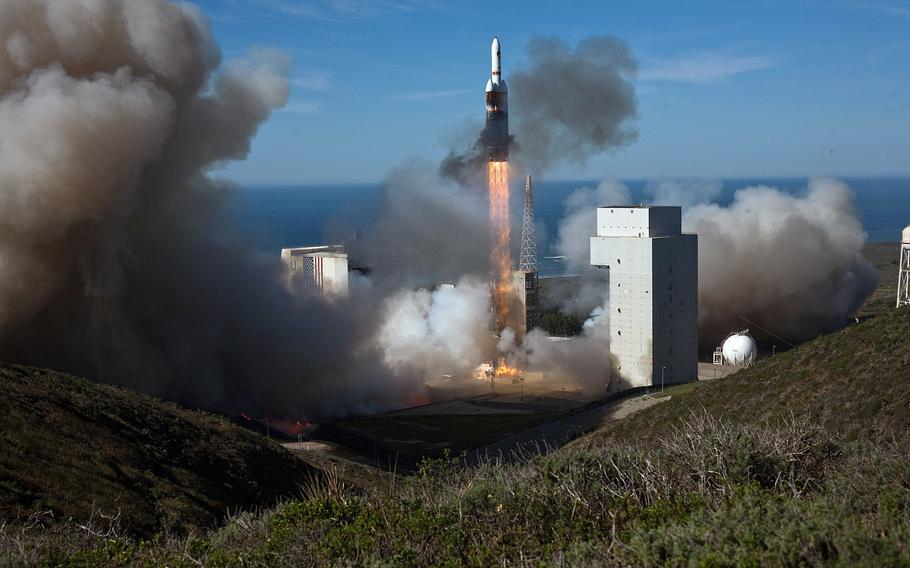 The U.S. Air Force will consider leasing land on Vandenberg Air Force Base for private companies to extract offshore oil and gas from the central California coast, officials said Wednesday.
The proposal would allow oil companies to use onshore equipment with new extended reach "slant drilling" technology to access deposits several miles offshore. Sunset Exploration and Exxon Mobil recently asked the Air Force to revisit their proposal to use the technology to build an oil and gas drilling project on the base near Lompoc, officials said.
Over the next several months, the military will study whether the new type of drilling is compatible with the base's space and satellite-launching missions and determine if it is "economically, environmentally and politically feasible," the Air Force said in a statement.
"Initial information obtained by the Air Force indicates there may be potential for new technology slant drilling capable of targeting oil deposits off Vandenberg Air Force Base's coastline from locations with minimal or mitigable mission/environmental impacts," Master Sgt. Kevin Williams, a spokesman for Air Force Space Command, wrote in an email to The Times.
Environmental groups, which have long fought attempts to open the California coast to new drilling, say land-based drilling operations can pose many of same risks to marine life as offshore platforms.
"We have tremendous concerns about their proposal," Linda Krop, chief counsel for the Santa Barbara-based Environmental Defense Center, told The Times. "This would be a new oil drilling project along a very biologically rich and sensitive area of the California coast. It would threaten migrating whales and other important species with oil spills and other impacts that result from offshore oil drilling."
[Updated at 6:11 p.m.: Sunset Exploration President Bob Nunn said the land-based drilling operation the company has proposed would fully avoid the marine environment, with its drill bit sitting one-half mile below the seafloor. "It's the antithesis of offshore drilling," he said.]
Sunset and Exxon for years have sought to drill for oil from the base, but Santa Barbara County deemed their application incomplete in 2006 because the Air Force did not sign off on it.
U.S. law allows the military to lease land for oil development, and Vandenberg currently has five active oil wells, Air Force officials said.
U.S. Rep. John Garamendi (D-Walnut Creek), California's former lieutenant governor, and State Supt. of Public Instruction Tom Torlakson are among the politicians who have urged the Air Force to move forward with Sunset Exploration's drilling project.
California regulators rejected a previous proposal to drill for oil near the base from an offshore rig over concerns it would harm the marine environment.
Last month, House Republicans launched a new effort to open federal waters off California to drilling, reviving an idea that has been controversial ever since a 1969 spill off Santa Barbara devastated the coast.